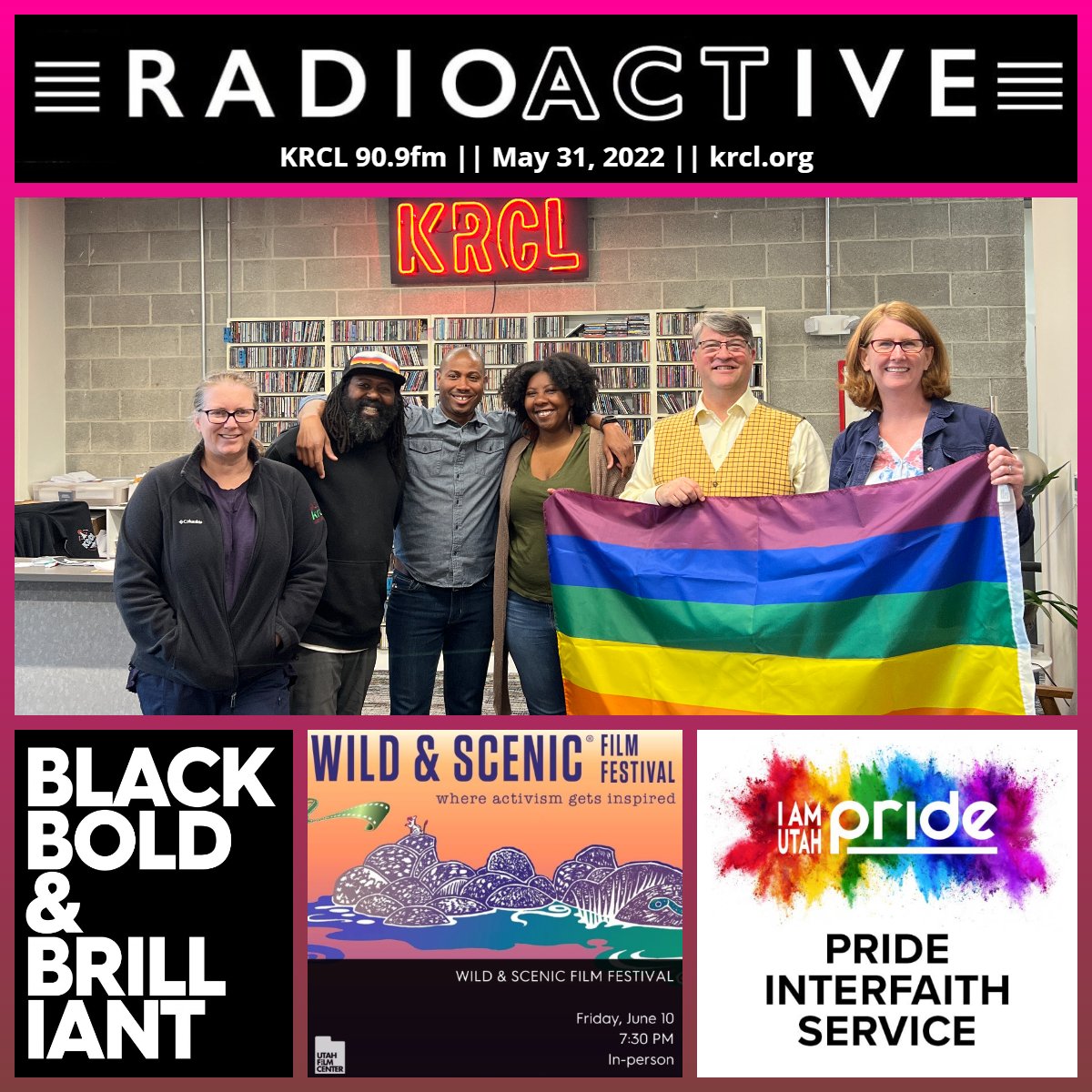 RadioACTive's Roundtable Tuesday with volunteer host Risshan Leak, featuring Interfaith Pride and a Glitter Blessing. Gov. Cox on farmers' markets, rain, and the first taste of summer. Plus, the Black Bold and Brilliant team previews the Wild and Scenic Film Festival, which aims to inspire environmental activism and a love for nature through film.
Tonight's show featured the following people, organizations and/or events, led by Volunteer Host Risshan Leak:
Celebrating 31 years of the Downtown SLC Farmers Market with Utah Gov. Spencer Cox. RadioACTive's Lara Jones shared a conversation recorded at a press conference earlier today.
Pride is this weekend. Tonight, Rev. Dr. Curtis Price, Pastor of First Baptist Church of Salt Lake City, and Rev. Lora Young from South Valley Unitarian Universalist Society shared details of the annual Interfaith Pride Worship service and Glitter Blessing happening Thursday evening.
June 2: Pride Interfaith Coalition Worship Service and Glitter Blessing, 7:00 p.m. at First Baptist Church, 777 S. 1300 E., SLC. "Kick off the pride festival with the annual Pride Interfaith Worship Service. Many faiths and traditions come together to celebrate the sacred in all of us as we unite for a service of song, prayer, and inspiration. Each of the many communities represented welcomes and fully embraces the LGBTQIA+ community."
A RoundtableTuesday panel discussion featuring Black Bold and Brilliant's Aja Washington, Russell Roots and Risshan Leak.
June 10: Wild & Scenic Film Festival, 7:30 p.m. at Tracy Aviary in Liberty Park on 1300 South in SLC. Event by Utah Film Center and Black Bold & Brilliant SLC: "Outdoor Afro– Utah Network is partnering with the Tracy Aviary and Utah Film Center's Black Bold & Brilliant program to present the Wild & Scenic Film Festival. Join us on Friday, June 10th for our Juneteenth fundraiser featuring Black, Indigenous, People of Color, and LGBTQ+ communities engaging with outdoor sports, public lands, and environmental activism. All tickets include your admission to Tracy Aviary and ticket sales will be donated to Outdoor Afro National and Black, Bold & Brilliant. We'll have food and refreshments for purchase at The Bird Feeder Cafe and a lawn full of outdoor sports vendors. Arrive early for the birds and stay for the movie, so bring your blanket and chairs! If you can't attend the in-person event the films are available online. You can still support and participate! Online tickets available here for $10."
Guests' views, thoughts or opinions shared by guests are their own and do not necessarily reflect those of the board, staff or members of Listeners' Community Radio of Utah, KRCL 90.9fm.
Volunteer Risshan Leak hosted tonight's show, which was produced by
Lara Jones
.
###