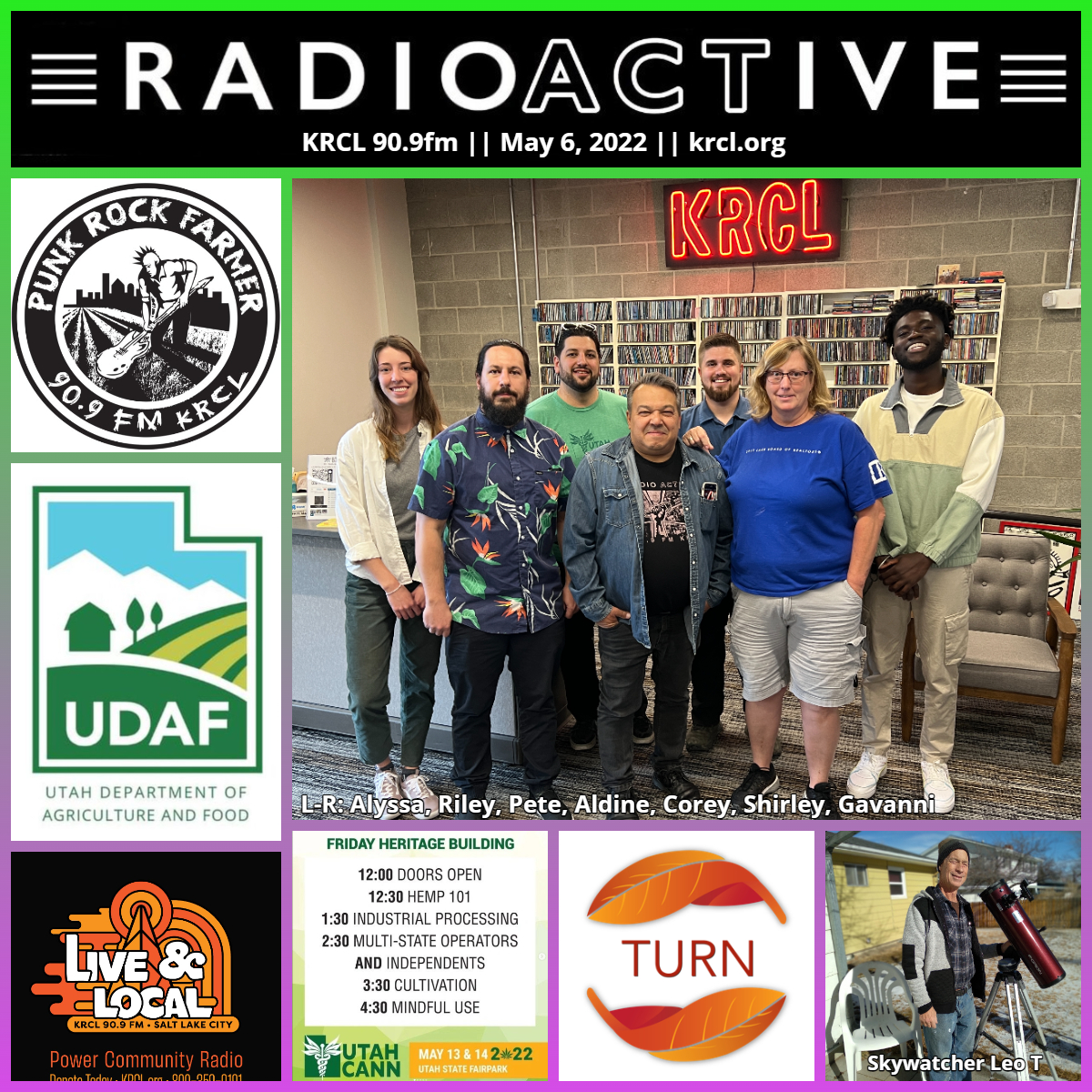 True Tales from the Agrihood with Aldine, KRCL's Punk Rock Farmer. Featuring the music of Gavanni, plus hemp growers, a community garden project, conservation districts with the Utah Department of Agriculture and Food, and Skywatcher Leo T.
Tonight's show featured the following people, organizations, and/or events. Check them out and get plugged into your community!
Fresh, homegrown music from Gavanni, who was born in Nigeria and now makes music in SLC and LA. Check him out on Soundcloud or live at SLG gigs this month:
Pete Saltas of City Weekly on the alt-weekly's third annual Utah Cannabis Business Conference and Expo May 13-14 at the Utah State Fairpark. Joining Pete was Riley Ellis, a grower for Beehive Farmacy.
#ManyCulturesOneSky with SkyWatcher Leo T, a RadioACTive volunteer-contributor who shares his love for the night sky, cultural tales of the constellations, and more during #PunkRockFarmerFridays. Follow Leo on his Facebook page: SkyWatcher Leo T.
Shirley Barnes of TURN Community Services. Aldine helped pull together community resources to install a new garden for them last weekend. They can always use volunteers! To check them out, click here.
Aldine's #UrbanFarmReport, featuring the Utah Department of Agriculture and Food (aka UDAF). Our guests included:
Views, thoughts or opinions shared by guests are their own and do not necessarily reflect those of the board, staff or members of Listeners' Community Radio of Utah, KRCL 90.9fm. Tonight's show was produced and hosted by Lara Jones and Aldine, KRCL's Punk Rock Farmer.
###