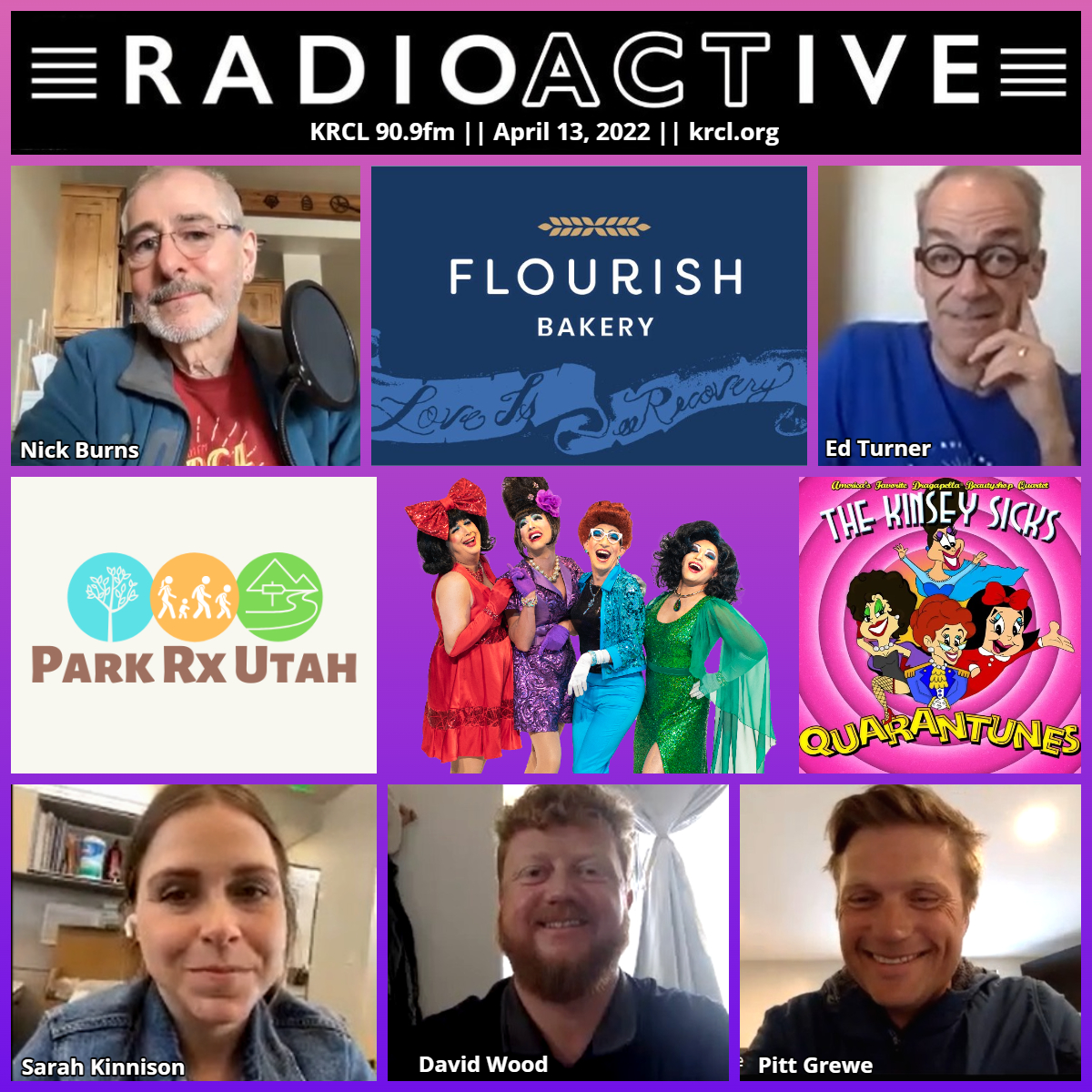 Community Co-Host Nick Burns talked with The Kinsey Sicks, which will bring their Dragapella to SLC as a benefit for Flourish Bakery next month. Plus, Park Rx Utah's Get Outdoors Challenge and lawmakers' investment in outdoor recreation.
Tonight's show featured the following people, organizations and/or events. Check them out and get plugged into your community!

Ed Turner of Flourish Bakery, a nonprofit celebrating five years of employing individuals in recovery from substance use disorders as well as those working to reintegrate their lives post-incarceration.
May 13: The Kinsey Sicks Benefit Concert for Flourish Bakery, 7:00 p.m. at Salt Lake Masonic Temple, 650 E. South Temple, SLC. "Join Flourish at the Salt Lake Masonic Temple for an event you will not likely forget: a performance by The Kinsey Sicks - America's Favorite Dragapella® Beautyshop Quartet. It's the hottest ticket in town in a theatre few get to see. Be warned though, the show will be performed with a handbag full of fun with a touch of bawdy humor. The Kinsey Sicks shows are for mature audiences. The Kinsey Sicks are so much more than a cabaret act, the Masonic Temple is more than a theatre, and Flourish is more than a bakery. Tickets are on sale for $35 until May 10. Tickets will be sold for $50 at the door."
Tomorrow marks the start of Park Rx Utah's challenge to encourage Utahns to Get Outside. RadioACTive got the details -- including prizes -- from our guests:
Sarah Kinnison, Salt Lake County Health Dept. health educator and founder of Park Rx Utah. To take the challenge, click here.
David Wood, Outdoor Program Coordinator, SL County Parks & Recreation. He's also on the Park RX Utah committee
Pitt Grewe, Utah Office of Outdoor Recreation. Stay up to date on Utah's outdoor community by signing up here.
Upcoming Programs in SL County Parks
Meet up Series (Outdoor Fitness)

Partner with UOOR & Burn Boot Camp & Park RX

Jordan River Trail Cleanups

Build-in volunteer programs for people
Go along sections of the Jordan River Trail

HawkWatch Park Pop-ups

Bi-weekly programs starting in May-June
Programs in different parks around the valley (focus west of I-15)

Star/Solar Parties

Partnering with Clark Planetarium
Take place at Wheeler Farm

Books in the Parks

Partner with SL County Libraries

Art in the Parks (club/group)

In discussion with Art Education non-profit group: Draw-Ink
Views, thoughts or opinions shared by guests are their own and do not necessarily reflect those of the board, staff or members of Listeners' Community Radio of Utah, KRCL 90.9fm. Tonight's show was produced and hosted by Lara Jones and Community Co-Host Nick Burns.
###


1:00 p.m. Session over