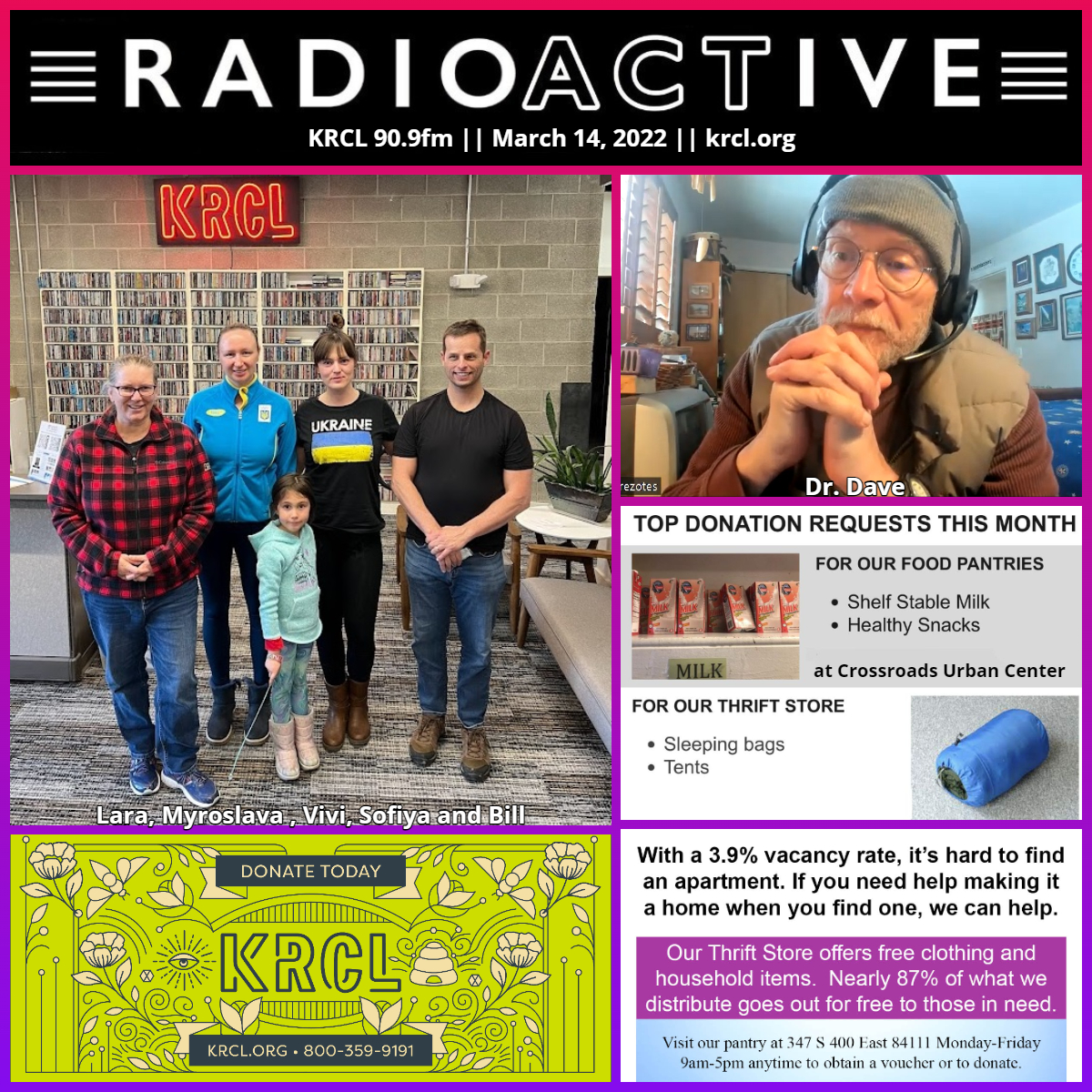 RadioACTive plugs you into the community. Tonight we passed the mic to Myroslava Rudnyk and Sofiya of the Utah Ukrainian Association. Crossroads Urban Center needs help eliminating the sales tax on food and other initiatives to eradicate poverty in our community. Bill Tibbits explains. Plus, Dr. David Derezotes on watching Ukraine and how to process our feelings.
Tonight's show featured the following people, organizations and/or events. Check them out and get plugged into your community!
Myroslava Rudnyk and Sofiya of the Utah Ukrainian Association with an update on local efforts to support refugees fleeing the war. The association offers the following ways to get involved here in our community:
March 21: Voices for Ukraine, 7:00 p.m. at Cathedral of the Madeleine, 331 E. South Temple Street, SLC. Hear music from musicians from the Utah Symphony, singers from The Choristers of the Madeleine Choir School, and local Ukrainian speakers, singers, and musicians. See art from local recognized artists. Invite others! This is something you do not want to miss. 100% of proceeds will go to Ukrainian war and humanitarian efforts.
Want to help Ukrainian refugees come to Utah? Perhaps you and your family might want to host some? Or perhaps you would be willing to teach English to refugees? Something else? Please visit and fill out the following form: https://forms.gle/BWEFCA8HP98cCXwu7 Doing so not only opens up opportunities for refugees to come to the United States but increases the chances for U.S. borders to open to up to these refugees - alleviating the burden in Europe and reuniting Ukrainians with their family members here in America!
Ask your company or organization how they might get involved, and connect them to us! (If your question inspires a desire in them to get involved, but they do not know how, reach out to us!)
Visit our new website at https://utahukrainians.org. If you are interested in donating cash or items to a cause, you can find out what and how on our website too, as well as find donation drop-off locations!
Participate in the Driven to Assist initiative! You can donate cash or supplies or volunteer to sort and pack the items. Visit the following website to learn how: https://www.lhm.com/driven-to-assist/
Donate gently used items to 547 N 500 E, Orem for a Ukrainian benefit garage sale, tentatively planned for March 26th. Donations are welcome between 12pm and 9pm, Mon-Thurs (DM Kaitlyn Larsen Dyshkant to make arrangements)
Sign petitions, such as the petition to open America to Ukrainian refugees: https://www.change.org/.../grant-refugee-status-to-the... , or to NATO to close the skies over Ukraine: https://www.change.org/.../nato-secretary-general-close... You can also write to your Representative and Senators regarding their support of initiatives to help Ukraine.
Invite children you know to write letters to soldiers on the front lines in Ukraine. Many will understand simple English, and art will always bring a smile to their face. Deliver the letters unmarked to 547 N 500 E, Orem, Utah.
Crossroads Urban Center's Bill Tibbitts, who is the director of CUC's Coalition of Religious Communities.
Utah Peace & Conflict Studies Director Dr. David Derezotes on watching Ukraine and how to process our feelings. Join Dr. Dave online for an extended conversation on the subject this Wednesday, March 16. Click here to get the Zoom information.
Views, thoughts or opinions shared by guests are their own and do not necessarily reflect those of the board, staff or members of Listeners' Community Radio of Utah, KRCL 90.9fm. Tonight's show was produced and hosted by Lara Jones.
###