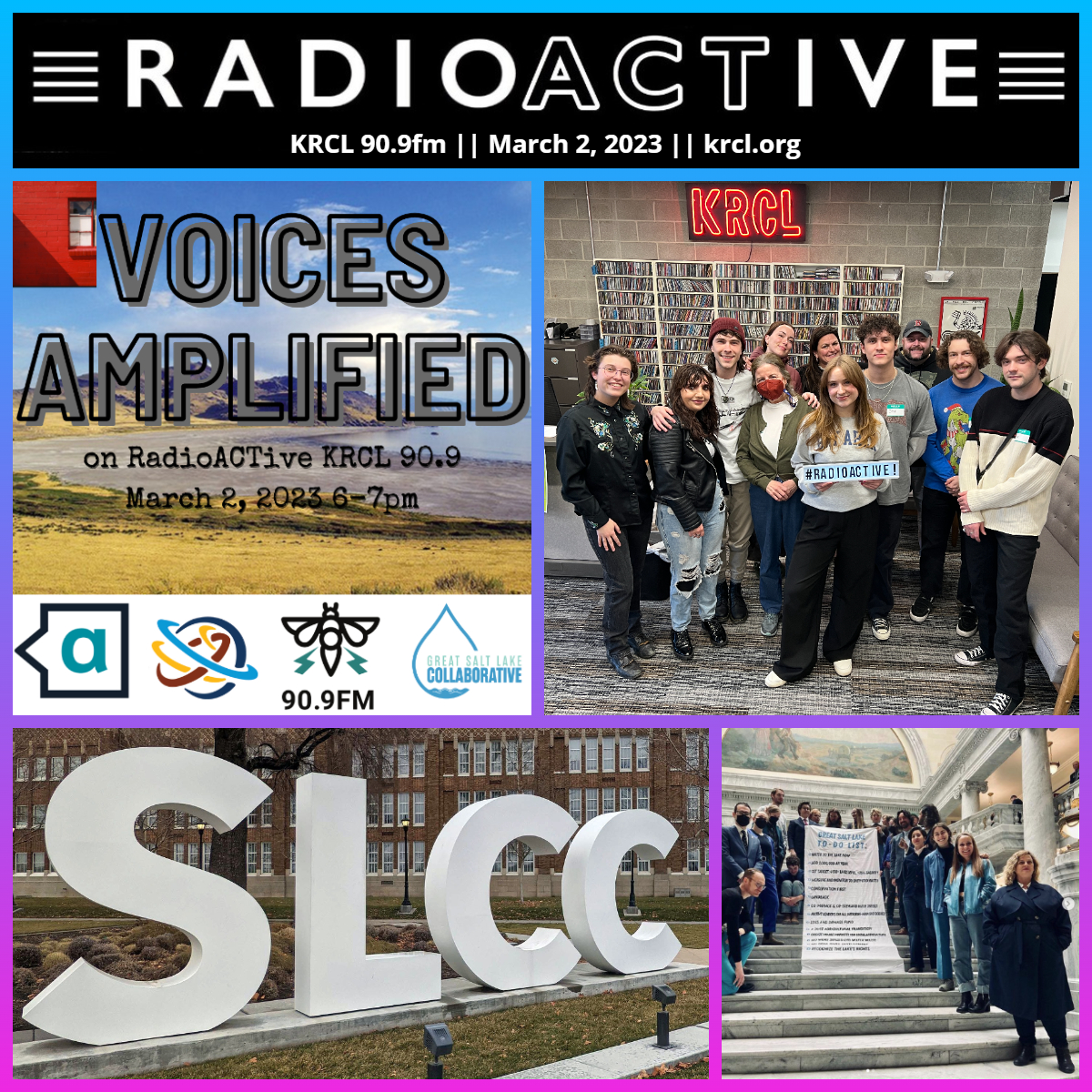 Rising journalists of SLCC take over the show. Tune in as host Nicole Spearman talks with local band Poolhouse about their new EP. Poet Nan Seymour on year two of holding vigil for Great Salt Lake, and fellow student journalist Alexis Perno on legislation affecting the shrinking body of water. Plus, #PopCultureNuggets and Sports with Sean.
Tonight's show features the following people, organizations and/or events. Check them out and get plugged into your community!
Poet Nan Seymour of the River Writing Collective. She's been back at Great Salt Lake holding vigil six days each week during this year's legislative session. Look for her tomorrow at Friday's for Future's Global Climate Strike, 3:00-5:30 p.m. at Washington Square, 451 S. State St., SLC, and she'll lead Gathering in Gratitude, Poetry Praise & Songs for Great Salt Lake on Saturday, 2:00-5:00 p.m. at Antelope Island State Park Visitor Center.
Homegrown music from Poolhouse, featuring Lucas Oliver, Jake Buckner, Jonny Steed.
#RisingJournalist Alexis Perno, University of Utah student journalist and Great Salt Lake Collaborative intern, with a breakdown of legislation affecting Great Salt Lake.
Read all the latest coverage about Great Salt Lake at greatsaltlakenews.org. Great Salt Lake Collaborative is a group of news, education and media organizations, including KRCL, that have come together to better inform and engage the public about the crisis facing the Great Salt Lake — and what can be done to make a difference before it is too late.
#PopCultureNuggets with Nicole and fellow student journalists Rory Weber, Anna Gardner and Sean Stetson.
Check out the #VoicesAmplified playlist:
Guests' views, thoughts, or opinions are their own and do not necessarily reflect those of the board, staff, or members of Listeners' Community Radio of Utah, KRCL 90.9fm. Questions, comments or suggestions for the show? Email radioactive@krcl.org and put "Voices Amplified" in the subject line. Tonight's RadioACTive team included:
Executive Producer: Lara Jones
Academic Advisor: Marcie Young Cancio, Assistant Professor of Journalism and Digital Media at Salt Lake Community College; Executive Director of Amplify Utah
Lead producer: Braden Timmerman
Associate producer: Rory Weber
Host: Nicole Spearman
Booker: Teresa Chaikowsky
Digital: Anna Gardner
###