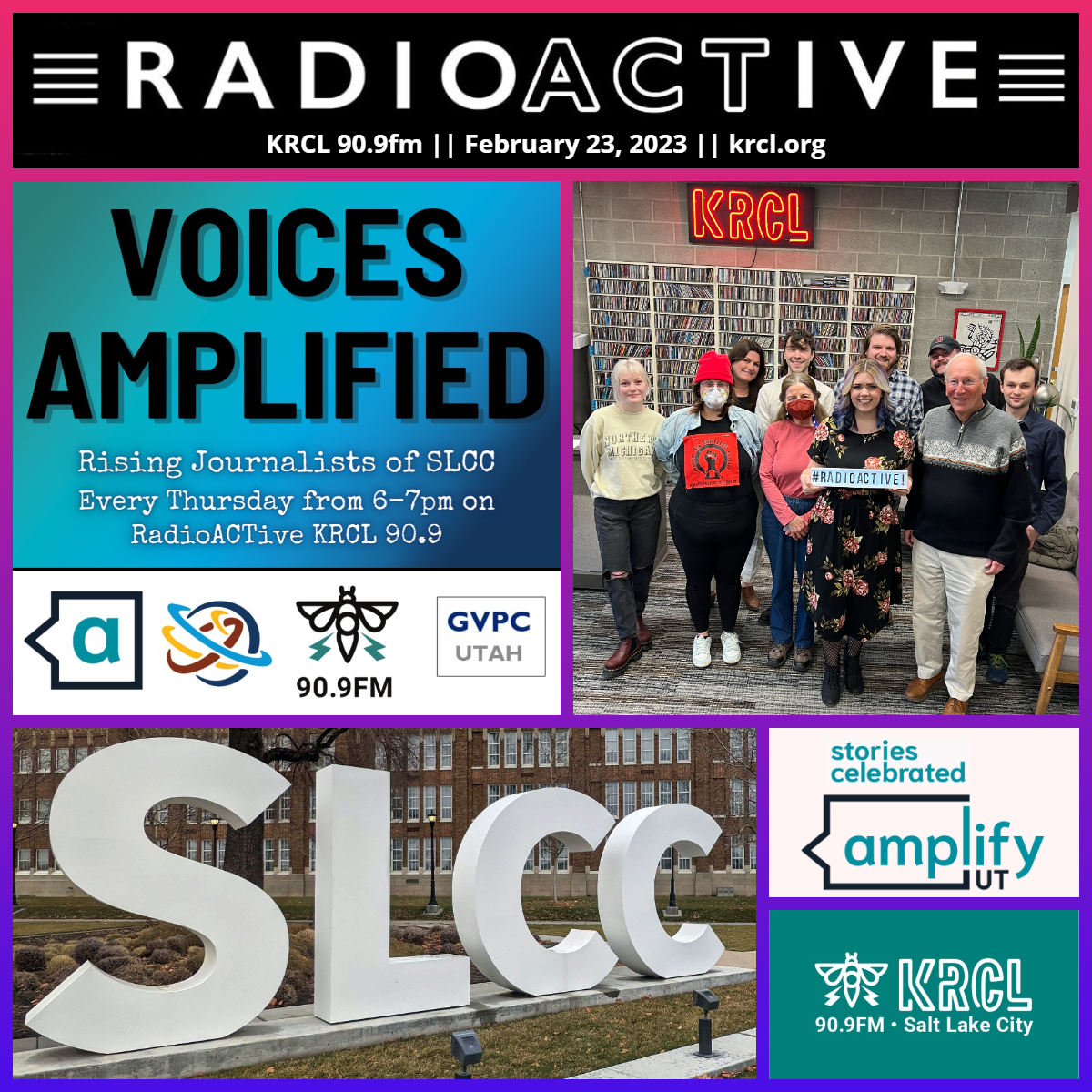 SLCC rising journalists takeover KRCL's RadioACTive for another important and informative hour. Host Mavaney Burnham talks to guests about gun control and the soon-to-end legislative session at the Utah State Capitol. Guests include Ed Rutan of the Gun Violence Prevention Center of Utah and a student panel on some important bills from the 2023 legislative session. Plus, pop culture nuggets and Sports with Sean.
Tonight's show featured the following people, organizations and/or events. Check them out and get plugged into your community!
Ed Rutan, attorney at the Gun Violence Prevention Center of Utah (GVPC-U), and SLCC student journalist Kyle Forbush on gun legislation, including H.B. 354 -- Firearm Access Amendments (Rep. Stoddard, A.) and H.B. 107 -- Concealed Weapons Permit Fee Amendments (Rep. Lisonbee, K.).
Student journalists McCaulee Blackburn, Braden Timmerman and Kyle Forbush and Professor Marcie Young Cancio in a panel discussion regarding a few pieces of legislation from this year's legislative session:
ALERT!! March 3rd marks the end of Utah's 2023 General Session of the 65th Legislature. Click Here To Use Your ZIP Code to Find and Contact Your Representatives by District!
Sports with Sean: Rising Journalist Sean Stetson explored last weekend's NBA All-Star Weekend in Salt Lake, the non-profit NBA Cares, Real Salt Lake, and #8 UoU Women's Basketball team vs. #3 Stanford game set for Saturday at the Huntsman Center.
Check out the #VoicesAmplified playlist:
Guests' views, thoughts, or opinions are their own and do not necessarily reflect those of the board, staff, or members of Listeners' Community Radio of Utah, KRCL 90.9fm. Questions, comments or suggestions for the show? Email radioactive@krcl.org and put "Voices Amplified" in the subject line. Tonight's RadioACTive team included:
Executive Producer: Lara Jones
Academic Advisor: Marcie Young Cancio, Assistant Professor of Journalism and Digital Media at Salt Lake Community College; Executive Director of Amplify Utah
Lead Producer: McCaulee Blackburn
Associate Producer: Haily Askerlund
Host: Mavaney Burnham
Booker: John Kohles
Digital Producer: Kyle Forbush
###