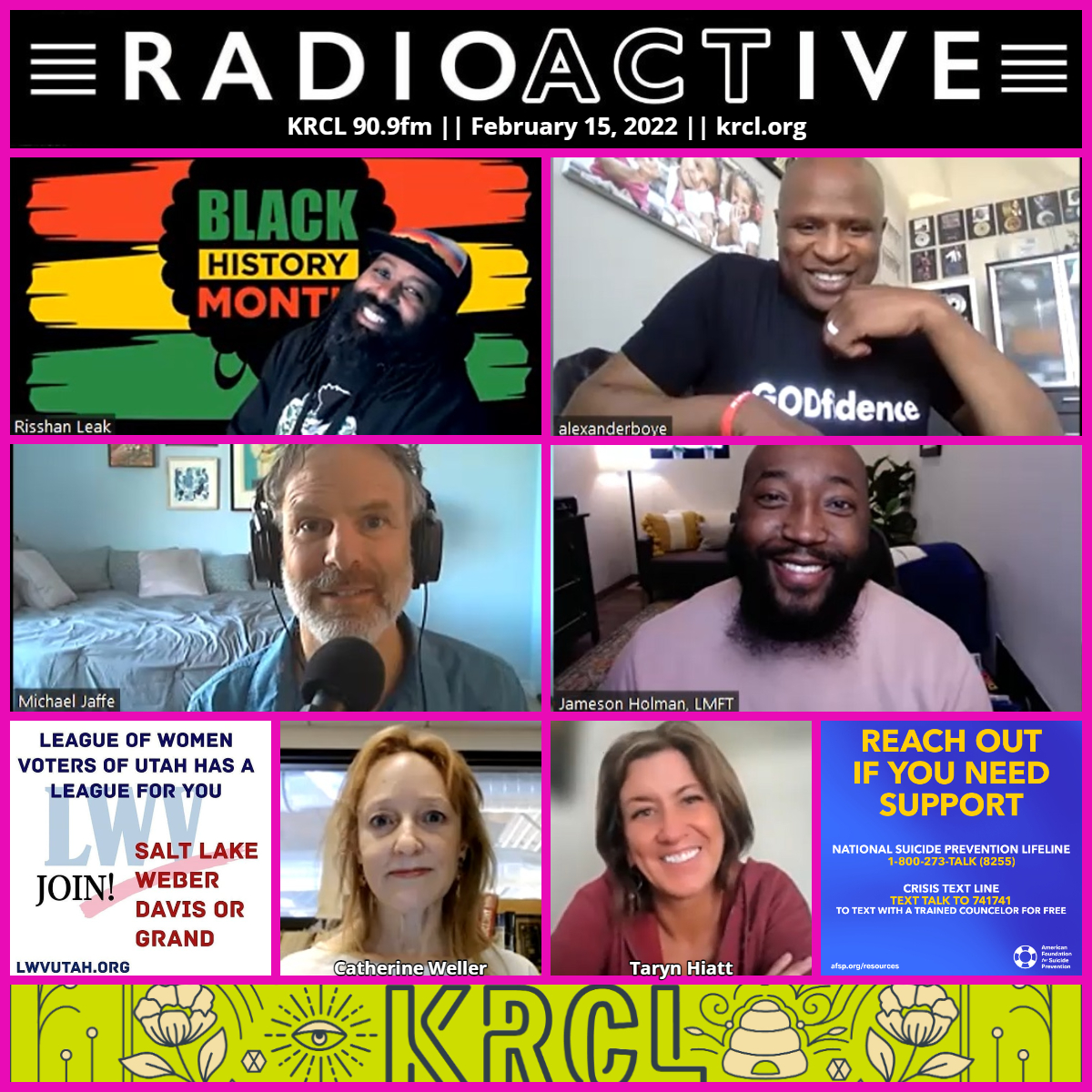 A #RoundtableTuesday edition of RadioACTive digs into Utah's ranking as 6th highest rate of suicide in the U.S. Community Co-Host Risshan Leak leads a panel discussion with musician Alex Boyé, Dr. Mike Jaffee and therapist Jameson Holman. The American Federation for Suicide Prevention Utah's Taryn Hiatt with a call support bills supporting mental health services. Plus, Catherine Weller of the League of Women Voters on voting and election bills making the rounds at The People's House.
Tonight's show featured the following people, organizations and/or events. Check them out and get plugged into your community!
Another round of #ThePeoplesBusiness, a recap of legislative action on Utah's Capitol Hill. Tonight's guests:
Catherine Weller of the League of Women Voters of Utah, a nonpartisan political organization that encourages the informed and active participation of citizens in government.

Taryn Hiatt, area director of the American Foundation for Suicide Prevention-Utah. The nonprofit creates a culture that's smart about mental health through education and community programs, develops suicide prevention through research and advocacy, and provides support for those affected by suicide.
#RoundtableTuesday Community Co-Host Risshan Leak led an all-male panel discussion on mental health. Panelists who shared their own stories as well as expertise in the pursuit of positive mental health included:
Dr. Michael Jaffe, who will soon be part of The SMART Clinic in Draper. He shared the mental health benefits that come from a plant-based diet, regular exercise and mindfulness practice.
Jameson Holman, a Licensed Marriage and Family Therapist with Lioncrest Counseling in Salt Lake. Last month, he and his colleague, Melanie Davis, started providing an extra layer of support and connection for teens with a BIPOC Teen Social Skills and Therapeutic Connection Group.
IF YOU ARE IN SUICIDAL CRISIS PLEASE CALL 800-273-TALK (8255).
Views, thoughts or opinions shared by guests are their own and do not necessarily reflect those of the board, staff or members of Listeners' Community Radio of Utah, KRCL 90.9fm. Tonight's show was produced by Lara Jones and hosted by Risshan Leak.
###