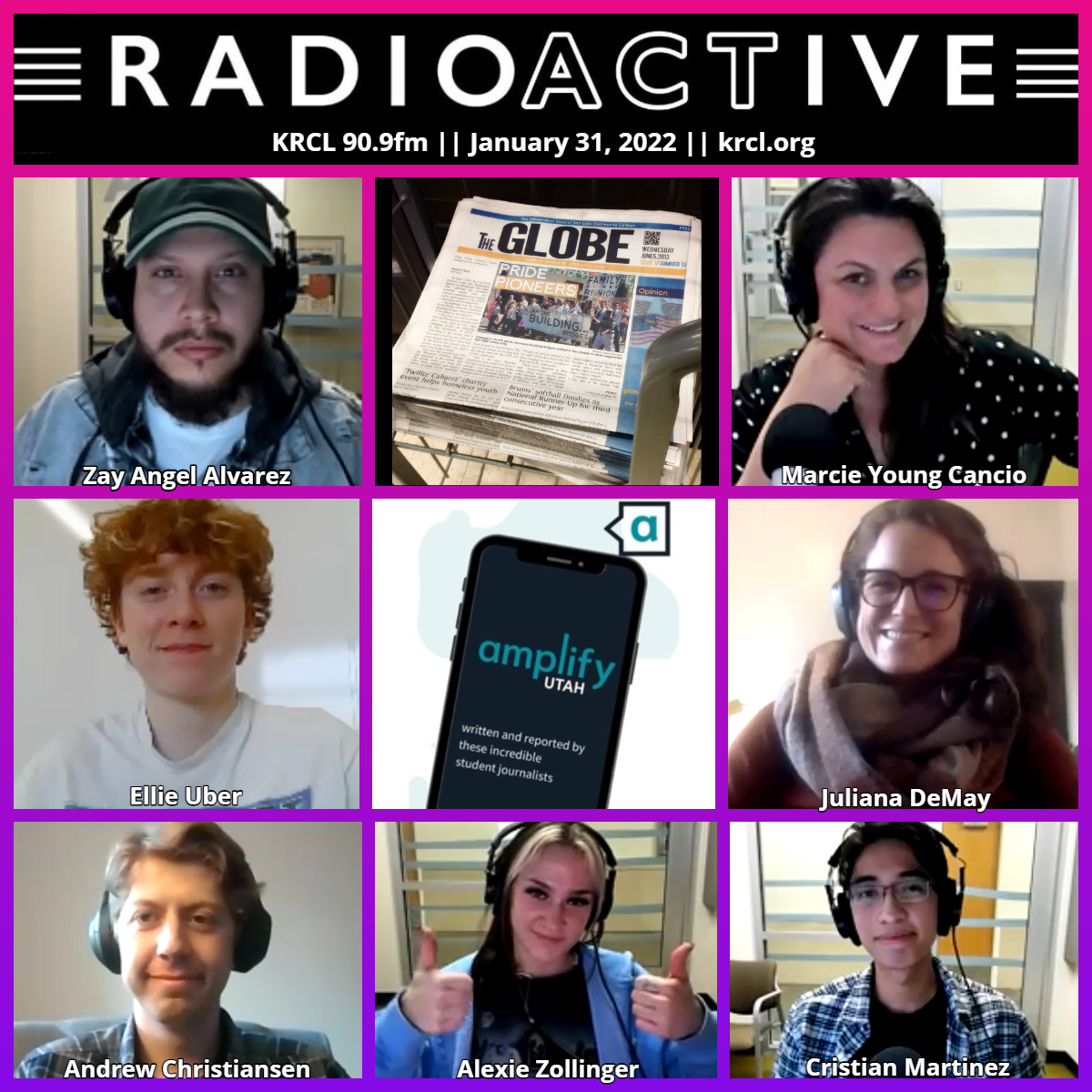 Voices Amplified, student journalists from SLCC's The Globe and Amplify Utah, started their Monday night RadioACTive takeover. Listen for stories of sex education in Utah -- what students do and don't learn in the classroom, why some LGBTQ students in Utah say their health education is inadequate. The difficulties of returning to in-person classes and why SLCC is having a hard time hiring enough custodians. Plus, the Voices Amplified team shares their #PopCultureNuggets for the week.
Tonight's show featured the following people, organizations and/or events. Check them out and get plugged into your community!
Rising journalists take over RadioACTive for the first edition of
Voices Amplified
, a collaboration between
Amplify Utah
and KRCL 90.0fm. Diversity, stories that matter, the things you care about — amplified. Monday nights at 6 p.m.
For the project's first edition, Voices Amplified discussed the mission of Amplify Utah. Guests included Marcie Young Cancio, assistant professor at Salt Lake Community College and Amplify Utah executive director, and Cristian Martinez, student journalist at Salt Lake Community College and Amplify Utah board member.
From Amplify Utah's website: "We see a dynamic media landscape representative of our culturally rich and diverse communities that not only amplifies voices but encourages media literacy through a more inclusive understanding of the world around us."
Amplify Utah works with media partner The Salt Lake Tribune to publish the work of student journalists. Tonight, featured student journalists and their stories included:
To view the entire collection of work published in collaboration with
Amplify Utah
and
The Salt Lake Tribun
e, or to sign up for Amplify Utah's newsletter,
click here
. Views, thoughts or opinions shared by guests are their own and do not necessarily reflect those of the board, staff or members of Listeners' Community Radio of Utah, KRCL 90.9fm. Tonight's show was executive produced by
Lara Jones
. From the Voices Amplified team, Amie Schaeffer served as lead producer, Lucas Lithgow as associate producer, Zay Angel Alvarez as host, Marcie Young Cancio as co-host, Alexie Zollinger as booker, and Cristian Martinez as digital producer.
###