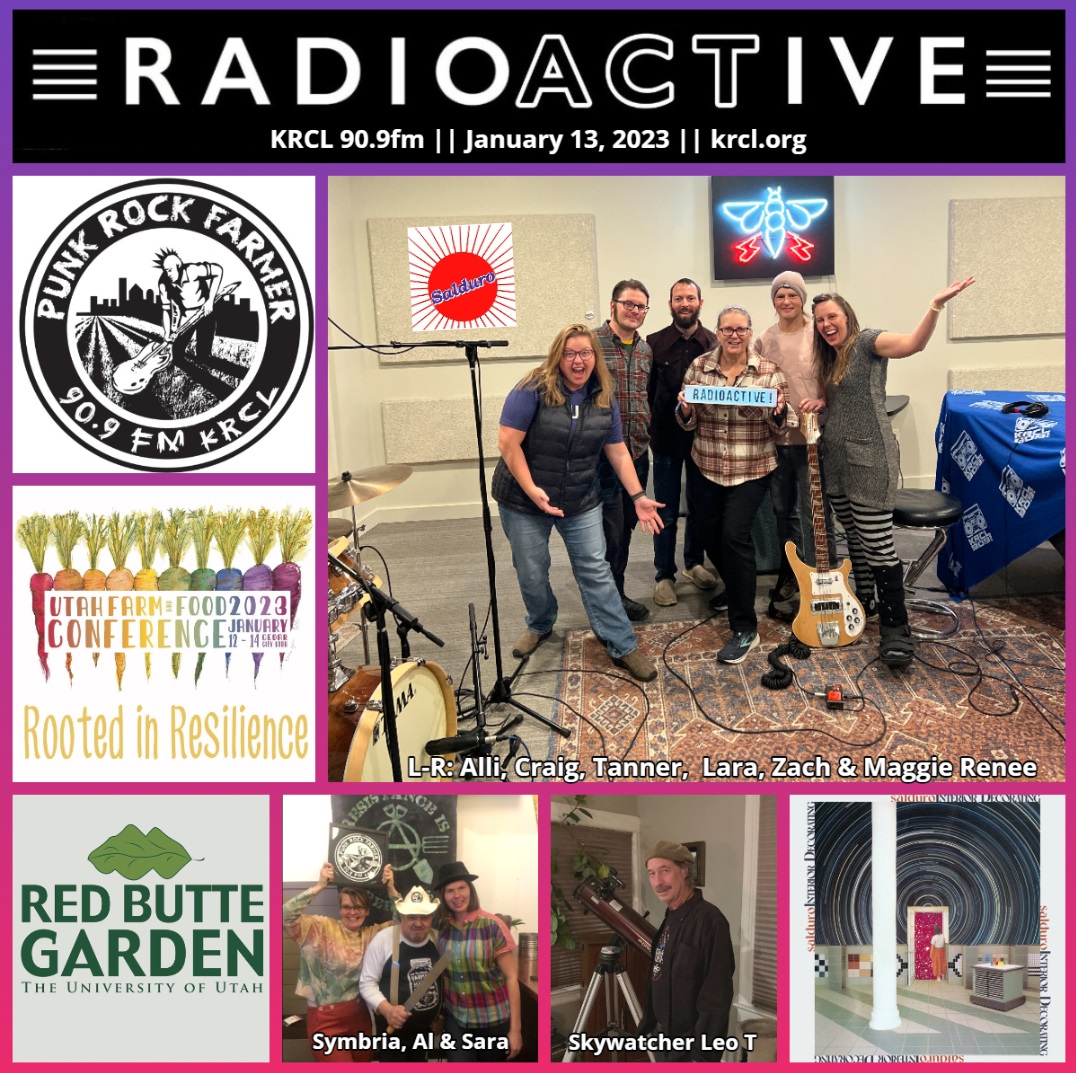 Punk Rock Farmer Friday, with more true tales from the agrihood Aldine, KRCL's Punk Rock Farmer, and Lara. Aldine live from the Utah Farm and Food Conference, Red Butte Garden's Craig England with fruit tree pruning tips, tools and timing, Skywatcher Leo T, RMCR stories from the region, and fresh, homegrown music from Salduro!
Tonight's show featured the following people, organizations and/or events. Check them out and get plugged into your community!
Aldine Strychnine, KRCL's Punk Rock Farmer, zoomed in from the 2023 Utah Farm & Food Conference where he's representing KRCL & RadioACTive. Check out his exploits on his Instagram: @punk_rock_farmer
Fresh, homegrown music from Salduro, a 4-piece rock-and-roll band from Utah's Siberia (Logan). Their new album is Interior Decorating, a 14-song digital download with customizable album art.
#ManyCulturesOneSky with SkyWatcher Leo T, a RadioACTive volunteer-contributor who shares his love for the night sky and cultural tales of the constellations during #PunkRockFarmerFridays. Tonight: a look at the new incoming comet...don't worry, it'll be close at 28 million miles away on February 1st. It's a beautiful green streak that is hopefully going to be visible in the morning of the 12th in the northeast above the Moab rim, or the Wasatch Front in the twinkly constellation, Corona Borealis! It will get brighter as we move toward February.
From our partners at Rocky Mountain Community Radio, a coalition of non-commercial radio stations in Colorado, New Mexico, Utah (including KRCL), and Wyoming:
Urban Farm Report, featuring Craig England Jr, who for four years has been the horticulturist at Red Butte Garden. England manages the Floral Walk, Amphitheatre, and Rose Garden. Prior to Red Butte, he owned and operated a bicycle-based garden maintenance and design service in Berkeley, CA for nearly a decade. His passion is finding places for fruiting trees and shrubs in an otherwise ornamental garden, and then bending them to his will through careful direction and pruning. He has a bachelor's degree in Environmental Design from the University of Minnesota – Twin Cities.
FOLLOW: @untamedearth or @rosesofutah

LEARN: Pruning Fruit Trees with Craig England, Feb. 1, 4 & 8 on Zoom and at Red Butte Garden, SLC. "Apples and pears, stone fruits, and more — get the best results from your home fruit trees. Learn how to properly care for your existing fruit trees and give new ones a healthy start as we cover pruning, thinning, rejuvenation, pollination needs, recommended varieties, and common insects and diseases. Class registration covers all three sessions." To register, click here.
Guests' views, thoughts, or opinions are their own and do not necessarily reflect those of the board, staff, or members of Listeners' Community Radio of Utah, KRCL 90.9fm. Questions, comments or suggestions for the show? Email radioactive@krcl.org. Tonight's RadioACTive team included:
###