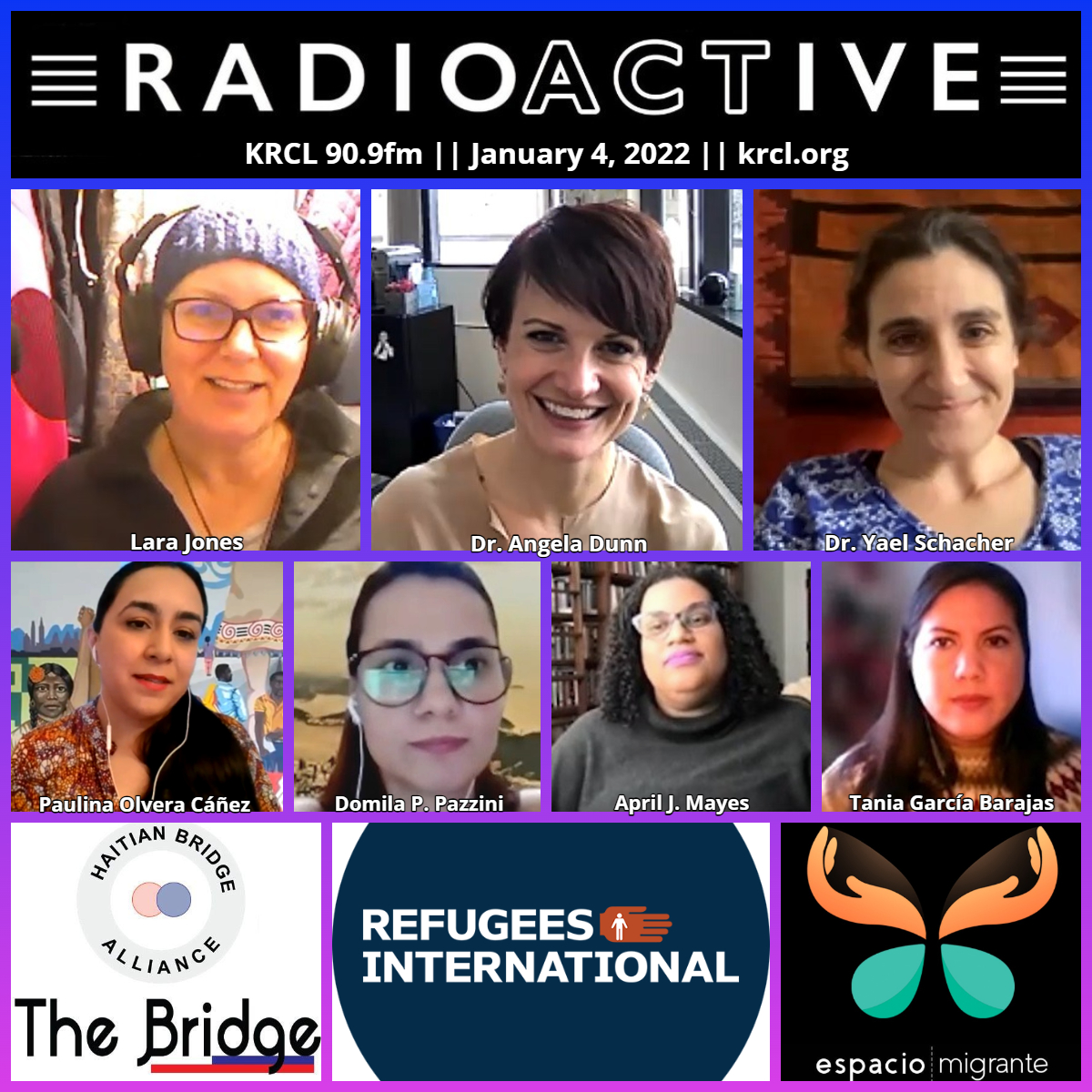 Dr. Angela Dunn on why she issued a public health advisory today and what folks in Salt Lake County should do as COVID cases surge. Refugees International's report on refugee and migrant communities in Tijuana during the pandemic.
Tonight's show featured the following people, organizations and/or events. Check them out and get plugged into your community!
Dr. Angela Dunn of the Salt Lake County Health Department. Earlier today, she issued a formal public health advisory due to the post-holiday surge in COVID cases. In effect through January 31, 2022, Dunn's advisory strongly encourages people who live and work in Salt Lake County to engage in several precautions known to be effective in preventing the spread of COVID:
Wear a face mask, regardless of vaccination status, whenever indoors in public. Masks should always cover the nose and mouth, and the advisory notes that higher-quality masks, such as KN95s or KF94s, may offer additional protection.

Stay home if they are exhibiting any symptoms of illness—regardless of vaccination status or past infection—and get tested for COVID.

Follow CDC guidance for isolation if they test positive for COVID.

Get vaccinated and (if eligible) boosted. Visit thisisourshot.com for vaccination, testing info in Salt Lake County.

Avoid all large gatherings if they are not vaccinated and (if applicable) boosted.
Dr. Yael Schacher, Senior U.S. Advocate, Refugees International. Last month the nonprofit released Voices from the Border: "It's very hard to have rights" | Refugee and Migrant Communities in Tijuana During the Pandemic, a report based on 335 phone surveys Espacio Migrante and Haitian Bridge Alliance conducted with Central American, Haitian, and African migrants and asylum seekers in Tijuana in the spring of 2020. In addition, the researchers hosted focus groups and observed and documented changes in U.S. and Mexican immigration and border policies from late 2020 through July 2021. RadioACTive spoke with Schacher and shared some of her virtual discussion with the following scholar-advocate-community organizers:
Paulina Olvera Cáñez, Executive Director of Espacio Migrante and Master's Degree Candidate at University of California, San Diego focused on experiences of Haitian and African migrants in Baja California
Domila P. Pazzini, Board Member of Espacio Migrante pursuing a Ph.D. in Social Sciences at the State University of Campinas, Brazil focused on the mobility of Haitians who left there
April J. Mayes, Treasurer of the Board of Haitian Bridge Alliance and an Associate Professor of History at Pomona College

Tania García Barajas, Coordinator of the Legal Clinic at Espacio Migrante and professor at the Universidad Autónoma de Baja California
Views, thoughts or opinions shared by guests are their own and do not necessarily reflect those of the board, staff or members of Listeners' Community Radio of Utah, KRCL 90.9fm. Tonight's show was produced and hosted by Lara Jones.
###