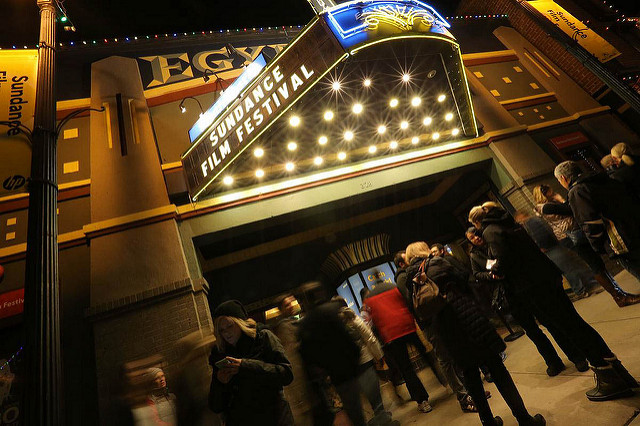 January 24 marks the kick-off of the 41st Sundance Film Festival. That's 41 years of bringing independent filmmakers from around the globe to Utah. But some might be feeling a bit jaded about the annual event. Looking beyond the glitz and glamour — or outright Hollywood takeover — of the festival, there are opportunities to participate in Sundance for locals to get excited about.
"There are several ways for locals to access Sundance," said Betsy Wallace, managing director and chief financial officer for Sundance Institute. "We had the early pass and package sale this past October for locals. On January 17, we have our early ticketing window for locals — five days before tickets go on sale for the public."
Wallace advises that moviegoers visit the Sundance website before January 17 to check out the descriptions of the 200+ films being screened and create their screening wish list. Purchasing tickets online through the locals-only sale requires an account login, which ideally, should be set up in advance.
"We also provide screenings known as Townie Tuesday and Best of Fest," Wallace said. "These are ways for us to try and make it an easier process for residents to either enjoy or tolerate the festival. We know we are asking a lot of people, we know it can be overwhelming. This is really our way of giving back and thanking everybody."
Townie Tuesday is for Summit County residents and happens at various locations throughout the county on Tuesday evenings during the festival. Participation in Townie Tuesday requires an ID with a Summit County zip code on it. The Best of Fest screenings, which are an opportunity for viewers to see the highest-rated films of the festival, are open to anyone with a Utah ID and happen on the last Sunday of the festival.
Wallace said the best way to attend one of the local screenings is to download the Sundance app on your mobile device, get on the e-waitlist and show up to the venue 30 minutes early.
Want to experience Sundance outside of film? Wallace encourages visiting Park City's Main Street. "It's a community of people that love film and there's a lot of excitement," she said. "Most of the sponsor buildings are open for the public to go in and you don't need a credential in most instances to get in."
Sundance Film Festival also hosts New Frontier, a program that features cinematic visions by revolutionary artists and exhibitions through film, art and technology. This year, New Frontier exhibits will be at the newest Sundance venue, New Frontier Central, as well as at The Ray Theater. Tickets or credentials are required for New Frontier, and there are often waitlists for some of the more highly anticipated virtual reality experiences, but it's usually worth the wait.
After 41 years of success, it's not surprising that the Sundance Film Festival can feel a bit overwhelming and inconvenient. But it's actually kind of cool to remember that there is much more happening than some of the celeb-obsessed media outlets focus on. It's an event that introduces new artists and filmmakers to the world; it's launching careers and it's changing lives.
"[Our programmers] are constantly looking around the world for filmmakers that are starting their careers," Wallace said. "We are always looking for independent new voices and trying to make sure those filmmakers have a platform from the audience perspective that they can utilize the festival for. Our primary film styles that come through are documentaries or full features, and both of those are very relevant as to the current message that artists are trying to get out. The underlying tone and message that [filmmakers] are experiencing is relevant for all of us as we are trying to understand what's happening around the world and the U.S."
The Sundance Institute website has all the information needed to navigate Sundance as well as how to see festival films throughout the year. Visit www.sundance.org/festivals/sundance-film-festival/ for information.

Quick links:
How to Fest: http://www.sundance.org/festivals/sundance-film-festival/how-to-fest
Sundance app: https://www.sundance.org/mobile
Ticket info: http://www.sundance.org/festivals/sundance-film-festival/get-tickets
Townie Tuesday: http://www.sundance.org/projects/townie-tuesday-late-night-summit-county-locals-only
What's screening? https://www.sundance.org/festivals/sundance-film-festival/program