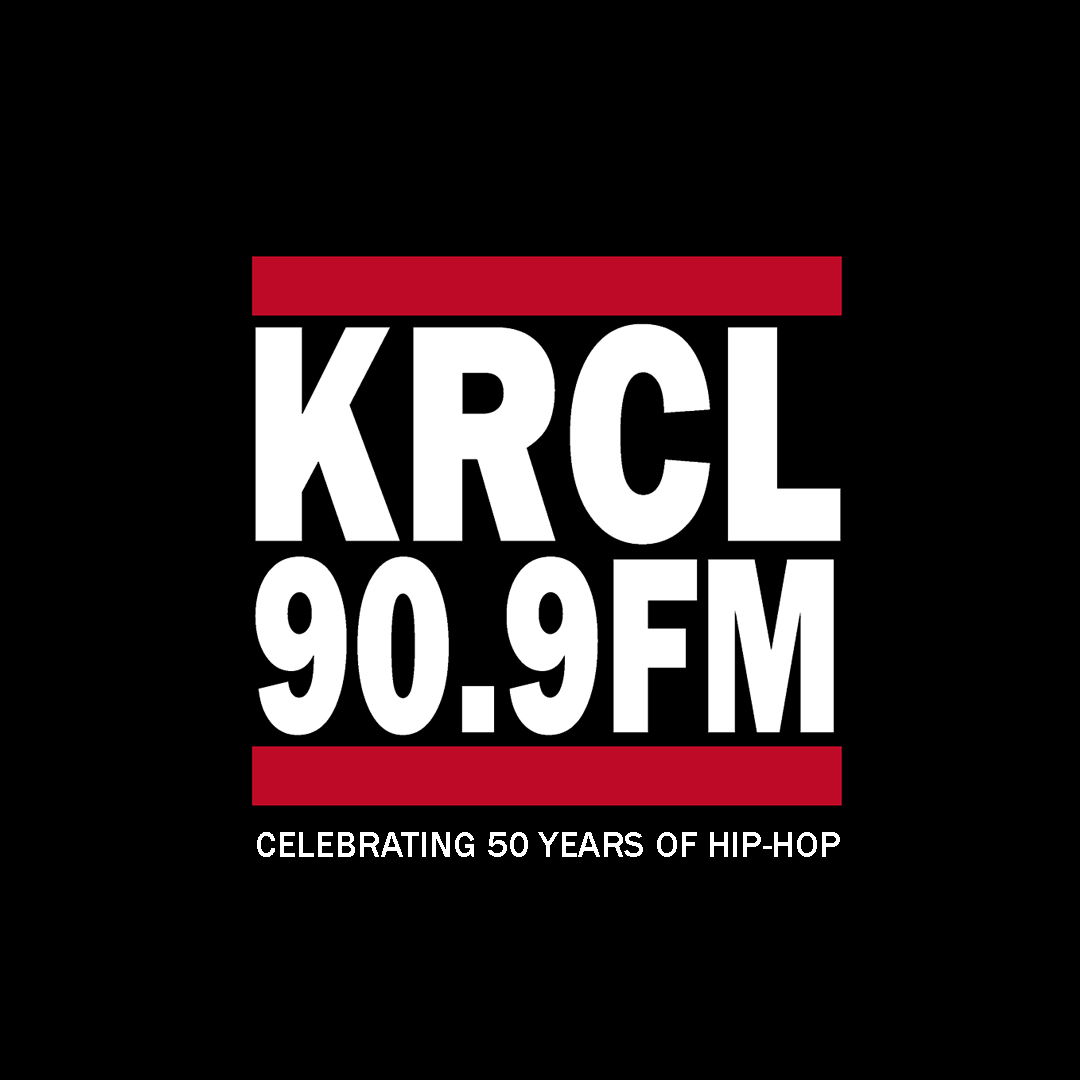 On August 11, 1973, Hip Hop Pioneer, DJ Kool Herc, was DJing his sister's back-to-school party in the Bronx when he did something that, according to legend, had never been done before. Using two turntables and two copies of the same record, he extended the "break" in a song, isolating what he considered to be the best part of the song, and repeated the break, over-and-over, going back-and-forth between the two records. The crowd was blown away and a new form of music, and culture, was born.
Hip Hop has come along way from those parties in the park, but at its core is still a musical style born out of using whatever tools were available to make something new, unique, expressive, and creative.
I grew up in the 90's and Hip Hop was a huge part of my life. Breakers, Graffiti Artists, DJs, and Emcees (Rappers) were some of my favorite people to be around. Hip Hop was also a big part of how I was introduced to KRCL. Every Friday night, my best friend Myles and I, would stay home and listen to DJ Buzz with Rap Attack on KRCL. We'd often record the show and listen to the recorded tape until the next Friday when we'd repeat the process all over again.
When I started volunteering at KRCL in 1993, Rap Attack was the first show I subbed for. Years later, when DJ Buzz decided to retire from the program, he asked me to take it over. I did the show for a few years, eventually changing the name to the Friday Night Fallout Show, which can still be heard on KRCL every Friday Night at 10:30 pm.
Hip Hop can be polarizing, and throughout the years I've had many conversations about it. I've often heard people say that they "listen to everything except Rap and Country" and have even heard others say they don't believe Hip Hop is music.
If you've ever found yourself thinking either of those things, might I suggest that you just haven't listened to the right stuff? Maybe you just need some suggestions on Artists/Albums to try out, and I'm going to do my best to introduce you to some great records that just might help you change your mind about one of the most loved musical genres in the world.
This is Hip Hop for People Who Don't Like Hip Hop (or Hip Hop for Everyone. Even You.)
#1 - A Tribe Called Quest / People's Instinctive Travels and the Paths of Rhythm
First on the list is A Tribe Called Quest. This is easily my favorite Hip Hop group of all-time, and a great first step for the uninitiated into the world of Hip Hop music.
Formed in the mid 80's in Queens, New York, by Q-Tip, Phife Dawg, Ali Shaheed Muhammad, and Jarobi White. Their groundbreaking debut, People's Instinctive Travels and the Paths of Rhythm, came out in 1990, and to date is one of the most influential Hip Hop albums ever released.
Their debut is very sampled based album but done in the most creative way. Taking multiple samples that shouldn't necessarily work together, and finding ways to combine them into a very appealing, smorgasbord of sounds, beats, and as the title implies, rhythms. Q-Tip produced the album himself (although he didn't take credit for it at the time.) He started working on the production for the album while he was still in high school, creating what were known as "pause tapes." Jazzy samples, groovy beats, and melodic flows make this an easy and fun record to listen to. Years later you can still ask a random stranger "Can I Kick It?" and 7 times out of 10 they'll respond with "Yes You Can!" Proof of this record's legendary status and why it takes the top spot on my list.
Also check out their follow-up sophomore album The Low-End Theory. Taking a deeper dive into Jazz samples and even bringing in bass legend Ron Carter to play. Try: Can I Kick It, Bonita Applebum, Excursions, Check the Rhime
#2 - Digable Planets / Reachin' (A New Refutation of Time and Space)
Digable Planets formed in 1987 with Ishmael "Butterfly" Butler, Mariana "Ladybug Mecca" Vieira, and Craig "Doodlebug" Irving.
Their debut album Reachin' (A New Refutation of Time and Space) was produced by Butterfly and features mostly Jazz samples. The album came out in 1993 to critical acclaim and won the group a Grammy the following year.
The group only released two albums before breaking up in 1995 due to "creative differences" later reuniting for a tour and a couple of stand alone shows. They also released a compilation of previously unreleased tracks, remixes, and b-sides following their breakup. Try: Rebirth Of Slick (Cool Like Date), Where I'm From, Nickle Bags
#3 - The Roots / Do You Want More?!!!??!
The Roots formed in 1987 in Philadelphia with Ahmir "Questlove" Thompson and Tariq "Black Thought" Trotter while they were both attending school at the Philadelphia High School for the Creative and Performing Arts. The pair started off as buskers with Questlove playing bucket drums and Black Thought rapping. They later moved to London and released their debut album in 1993 but it was their followup Do You Want More?!!!??!, and the addition of more band members (eventually including a full-time Tuba player) that established their "Organic Hip Hop Jazz" sound and made waves outside of the Hip Hop world. They played Lollapalooza and The Montreal Jazz Festival following the release of Do You Want More?!!!??!
Their breakthrough album Things Fall Apart came out in 1999 and went to #4 on the Billboard Charts, and eventually went Platinum.
Many of the members have side-projects including producing and acting. They continue to put out albums and have also been the house band for NBC's The Tonight Show Starring Jimmy Fallon since 2009. Try: Proceed, The Seed (2.0), You Got Me
#4 - Lauryn Hill / The Miseducation of Lauryn Hill
Rapper, Singer, and Actor, Lauryn Hill joined the Translator Crew when she was just a freshman in high school. They later changed their name to the Fugees and released their debut album Blunted On Reality in 1994. Two years later they released their second. album The Score which landed at number #1 on Billboard and won the group a Grammy. The group split the following year due to internal turmoil, and to work on solo projects.
While The Score is a great album, it's Lauryn Hills solo debut, The Miseducation of Lauryn Hill that lands her on this list. Produced by members of New Ark, recorded at Tuff Gong Studios in Kingston, Jamaica, and featuring D'Angelo, John Legend, Santana, and Mary J. Blige.
Lauryn sings and raps on this masterpiece about her struggles with the Fugees, heartbreak, and becoming a mother for the first time.
During the 1999 Grammy's, Lauryn Hill became the first women to be nominated for 10 categories in a single year; then she became the first women to win 5 awards in the same night, including Album of the Year. Try: Doo Wop (That Thing), Ex-Factor, Ready or Not (with the Fugees)
#5 - De La Soul / Three Feet High and Rising
Hip Hop's Flower-Power Trio, formed in 1988 in Long Island, New York. Kelvin "Posdnuos" Mercy, David "Trugoy the Dove" Jolicoeur, and Vincent "Maseo" Mason for the group while they were still in high school. They caught the attention of Producer and DJ, Prince Paul, who produced their first three albums. Prince Paul's innovative approach to sampling, pulling from many genres, mixed with the groups playful and quirky rhymes helped them standout during the time of Gangster Raps dominance in mainstream Hip Hop.
Their first album, Three Feet High and Rising, utilized comedy skits, positive and fun lyrics, and used more than 60 different samples, including from country and psychedelic rock.
In 2011, 3 Feet High and Rising was selected to be added to the Library of Congress' 2010 National Recording Registry for its historical impact.
RIP Trugoy the Dove.
Try: Me Myself and I, Eye Know, and The Magic Number
And now that you've officially changed your mind about Hip Hop, and have become the true fan I always knew you could be, here are a few more classics you should definitely dig into next:
OutKast
Try: Ms. Jackson, Roses, Hey Ya!
Beastie Boys
Try: Sabotage, Fight For Your Right, Intergalactic
Arrested Development / 3 Years, 5 Months, and 2 Days in the Life Of...
Try: Tennessee, Mr. Wendal, People Everyday
Guru / Jazzmataz I
Try: Loungin, No Time To Play