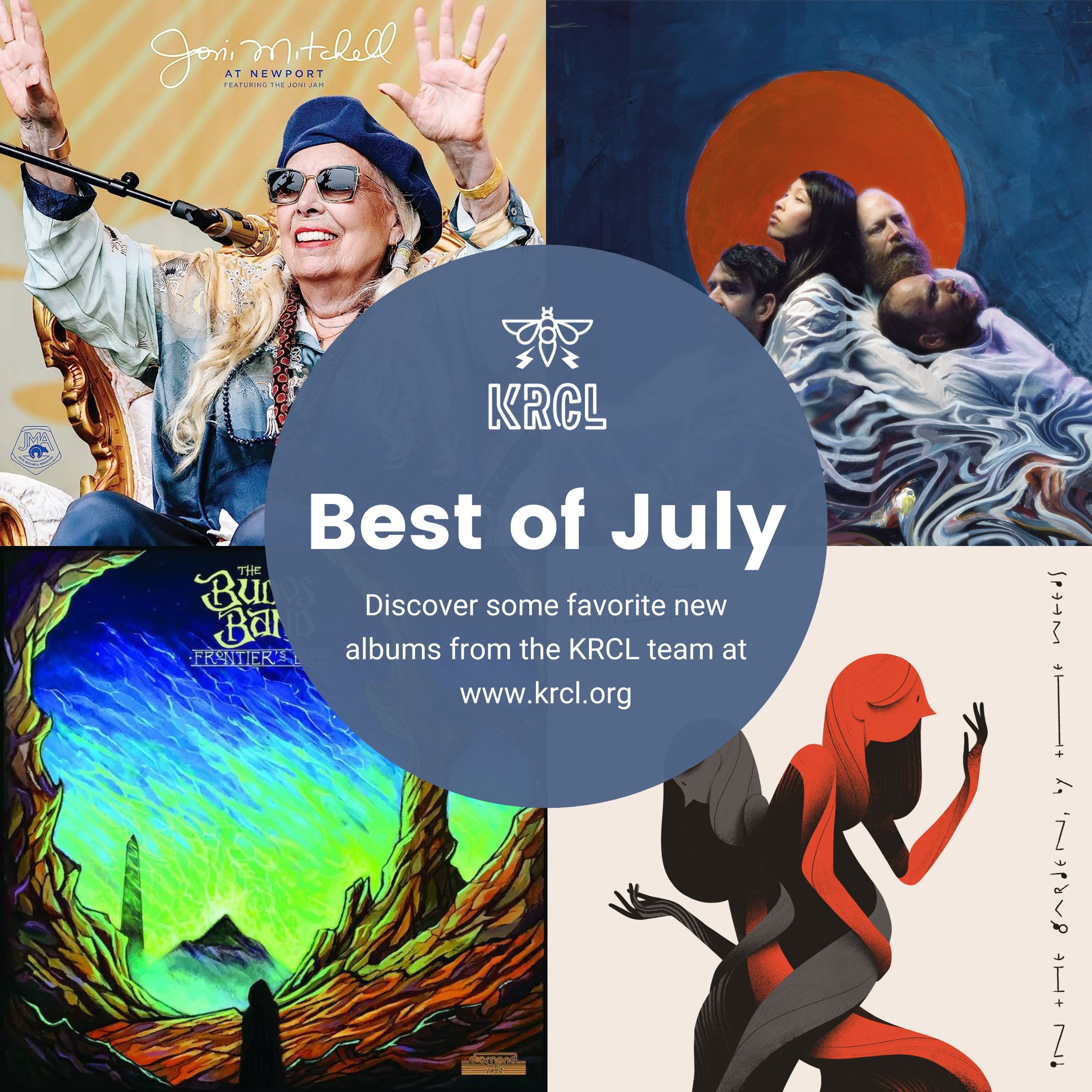 Comebacks, locals, and legends kept our ears happy this month. Here are some of our favorite releases from July!
Little Dragon / Slugs of Love
One of my favorite memories of seeing a live show was catching Little Dragon, many years ago, at Urban Lounge in Salt Lake City. It was their first time playing Utah and they weren't yet the well-known festival name that they would later become. There must have been less than 150 people at the venue when the band took the stage. We were all mesmerized the instant lead singer Yunkimi Nagano sang her first note, ending each line with a vibrato that was almost in time with the rhythm and tempo of the song. I started off the night in a booth in the back (as I often do) and ended up lost in the music at the front of the stage by the shows finale.
The Grammy-Nominated Swedish Band are back with their 7th album Slugs of Love. Lead by the amazing, and instantly recognizable vocals of Yukimi Nagano. The 11-tracks on Slugs of Love bring their signature blend of Soul, R&B, and Electronic music, with guest features from JID and Damon Albarn. - Ebay Hamilton
Check Out: Tumbling Dice, Disco Dangerous, and Kenneth
Joni Mitchell / Live at Newport
In 2015 Joni Mitchell was found unconscious in her home after suffering a brain aneurysm that left her unable to walk or talk. No one expected her to ever return to the stage, let alone perform an entire concert. Last year she surprised us all when she not only took to the stage, but performed an unexpected full set of music featuring some of her greatest songs, backed by a group of all-star musicians and friends. Her journey back to the stage all started in 2019 when music legends like Elton John, Paul McCartney, Herbie Hancock, and others, invited by friend Brandi Carlile, started having "Joni Jams" in the living room of her home in Laurel Canyon. The jams seemed to really help her health as well as lift her spirits. She had regained her ability to talk again, shortly after the aneurysm, but hadn't yet sang or played guitar and would have to relearn how to do both. She said in an interview that she would watch old videos of herself playing guitar so she could "see where I put my fingers" while playing her own songs.
Then, on July 24th, 2022, during Brandi Carlile's closing set of the Newport Folk Festival, Joni Mitchell took to the stage and surprised the world with her first concert in nearly two-decades, and her first time playing the Festival since 1969.
The concert was recorded and has now been released (excluding a few of the covers she performed) sharing this legendary songwriters remarkable return to the stage. Set aside some time to listen to the whole thing, and keep the tissues close by just in case. -Ebay Hamilton
Check Out: A Case of You, Big Yellow Taxi, and Both Sides Now
The Budos Band / Frontier's Edge EP
After delivering six previous albums and two previous EPs across two decades, The Budos Band return with Frontier's Edge, released on their own Diamond West label, run by saxophonist Jared Tankel and guitarist Tom Brenneck. You could call the smokin' hot new EP horny funk, or psychedelic soul, or even afrobeat metal, just don't call Budos late for dinner. Last time I saw The Budos Band live was literally the LOUDEST concert I've ever witnessed on a Monday. Crank up your speakers and let The Budos Band eat! - Gavin Dahl
Check out: Crescent Blade, Devil Doesn't Dance, Frontier's Edge, Curled Steel
Josaleigh Pollett / In the Garden, By the Weeds
Salt Lake City based singer, songwriter Josaleigh Pollett has been on our radar since the early days of the pandemic with the release of their album, No Woman is the Sea and we clutched to the song Craiglistless. Pollett has just delivered a dreamy new record, In the Garden, By the Weeds with more great songwriting and a beautiful fuzzed out sound. NPR's All Songs Considered called out the record recently, and we were sure it was because Bly Wallentine of Little Moon contributed winds, bowed banjo, and pump organ on "Empty Things" and "Earthquake Song." But, it was all thanks to Twitter (or X). Music journalist Anne Powers heard about Pollett from a tweet from Chris Walla producer and former member of Death Cab for Cutie who was also raving about the record. Cheers to good news from social media and great music from Salt Lake City's Josaleigh Pollett. - Eugenie Hero Jaffe
Check out: YKWIM (You Know What I Mean), July, Empty Things
CloZee / Microworlds
CloZee, aka Chloe Herry, relocated from Toulouse, France to Denver, Colorado during the pandemic to create a new studio and take the next step in her career as an in-demand EDM beatmaker. The move led to collaborations with Griz and other big names in electronic music, and turned the legendary Red Rocks Amphitheater into her hometown stage. Judging by the rapt crowds at that majestic venue when I attended her appearance there in October of last year, and with one rave festival headlining appearance after another, her American relocation has been a success. Now the 30-year old queen of world bass has shared her third album. If glow sticks and face paint aren't your thing, skip it. For those of us who prefer a bone-rattling bass frequencies vibe, Microworlds is an instant classic. - Gavin Dahl
Check out: Tomboy, Childhood, Microworlds, Antares
Other Notable Releases in July:
Blur / The Ballad of Darren
Bethany Cosentino / Natural Disaster
Anohni & The Johnsons / My Back Was a Bridge for You to Cross
PJ Harvey / I Inside The Old Year Dying
Lukas Nelson & Promise of the Real / Sticks and Stones
Aphen Twin / Black Life Recorder 21f
Balkan Bump / Desert Drip
K!mmortal / Shoebox
Listen in: