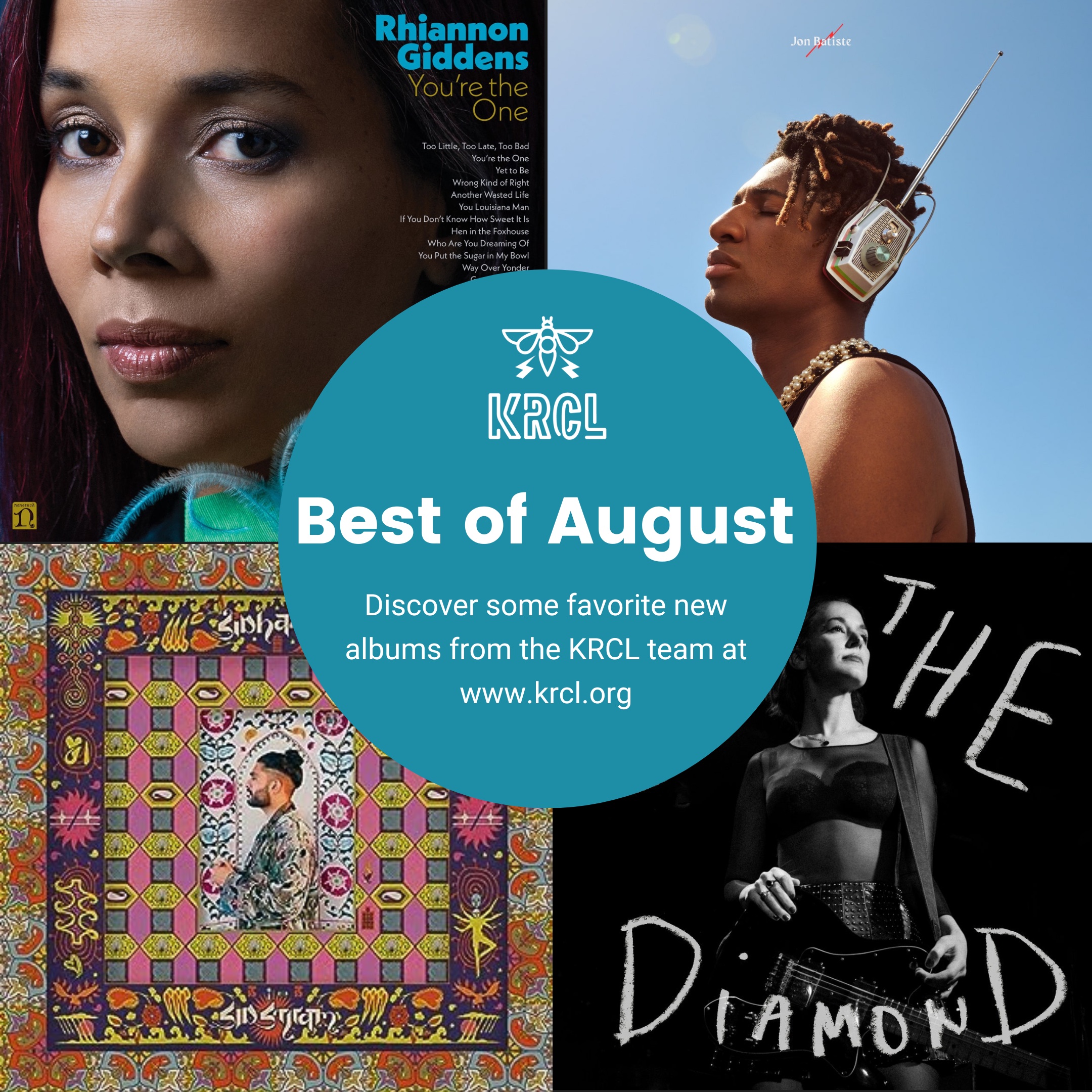 We finished up a hot summer with some albums that we will definitely carry into the fall. Check out some of our favorite releases from this month and add them to your collection!
Jon Batiste / World Music Radio
I truly believe that when Jon Batiste wakes up in the morning, his first thought is "How can I make the world a better place today." It seems to be his life's mission to spread joy and positivity in everything that he does.
His new album, World Music Radio, is a bit of concept record hosted by an interstellar being called Billy Bob Bo Bob. BBBB is hosting a radio show exploring the music of earth. Jon touches on some world influences on this record, especially World Pop and AfroBeats, but the latter half of the album gets back to his Jazz/Soul roots, and features many unexpected guests like Kenny G, Lana Del Rey, and Lil Wayne who raps and takes a guitar solo on the song Uneasy.
Supposedly Jon recorded close to 100 songs while working on this album. Maybe we'll get a chance to hear some of the ones that didn't make the cut sometime down the road. For now, enjoy this album as a continuous listen. World Music Radio works best when you listen to it as a whole work and not a collection of individual songs. -Ebay Hamilton
Check out: Calling Your Name, Butterfly, and Uneasy
Sid Sriram / Sidharth
Sid Sriram was born in Tamil Nadu, India. His family moved to the Bay Area in California when he was still a baby. At a very young, his mother, who was a music teacher in San Francisco, began teaching him traditional Carnatic Music. Growing up in the Bay Area also introduced Sriram to R&B/Soul, and Hip Hop music. Sid Sriram later attended Berklee School of Music where he graduated in Music Production and Engineering.
All of these experiences come together beautifully on Sid Sriram's debut album for Def Jam Records called "Sidharth." Mixing traditional Carnatic influences with Indie Soul and great production, this is a wonderful listen front-to-back. -Ebay Hamilton
Check out: Do The Dance, Dear Sahana, and The Hard Way
Rhiannon Giddens / You're the One
Calling Rhiannon Giddens a genius isn't hyperbole. She has won a Pulitizer Prize, 2 Grammys, a McArthur "Genius Grant" and has an impressive body of musical work from delving into historical Black folk music with Carolina Chocolate Drops to reclaming the banjo with the supergroup Our Navitve Daughters, to composing opreas and writing scores for ballets and films.
With all of her accolades, Giddens' new album is the first time in six years she's created an album of all orginal songs. Her booksmart approach always yelds beautiful songs, but with this record she decided that she just wanted to have some fun. It's a collection of uptempo songs and she channels some of her favotie musical icons in the process. You can hear an Aretha Franklin swagger in 'A Little Too Late Too Bad,' a Dolly Parton sass in 'If You Don't Know How Sweet It Is,' and a Nina Simone call-to-justice-anthem with 'Another Wasted Life.' She brings along her friend, Jason Isbell for a duet in 'Yet to Be.' If you've never heard Giddens before this is a great place to start. If you're a long-time fan, you'll be happy to have this record in your collection. -Eugenie Hero Jaffe
Check out: A Little Too Late Too Bad, Another Wasted Life, Yet To Be
Margaret Glaspy / Echo The Diamond
It was seven years ago that Margaret Glaspy caught our attention with her song Emotions and Math. Her vocals and guitar were raw and her lyrics were totally unique. Glaspy continues to deliver that rocking vulenerability on her third album Echo The Diamond where she shares producing credits with her partner and guitarist/composer Julian Lang. Mirroring her New York City environment, her gritty sound and raw voice feel a little dangerous while putting your senses on high alert, in a good way. -Eugenie Hero Jaffe
Check out: Act Natural, Get Back, Female Brain, Irish Goodbye
Aaron Childs / No Rewrites EP
Some records sound exactly like summer. The nostalgic vibe on No Rewrites, the new EP from Aaron Childs, is all smooth surfaces and warm analog. The singer grew up in the green rooms of smoky LA jazz clubs, tagging along with his father Billy Childs, Grammy winning jazz pianist and composer. On his third release he teams up with producers Chris Keys (Lizzo) and Mars Today, mashing up funky synths, jazzy guitar, and soulful vocals. -Gavin Dahl
Check out: Sunshine, U Got Time, No Rewrites
Pale Jay / Bewilderment
A futuristic throwback to some lost time period in soul music's dustbin, Bewilderment showcases the soothing falsetto of Pale Jay amidst his own stripped down productions. The LA artist is always photographed in a balaclava and his Bandcamp has for years pointed to a headphone session after a bicycle crash leading him to discover his own distinct sound. But he remains a somewhat elusive figure. The bright red vinyl from Colemine Records imprint Karma Chief looks good enough to taste. With just 8 songs included on the LP, Pale Jay leaves us wanting more like a single scoop of ice cream on a late summer day. -Gavin Dahl
Check out: By The Lake (feat. Okonski), Don't Forget That I Love You, My Dirty Desire
Other notable releases in August:
Jungle / Volcano
Cautious Clay / Karpeh
Hozier / Unreal Unearth
Buck Meek / Haunted Mountain
Hiss Golden Messenger / Jump For Joy
Old Crow Medicine Show / Jubilee
Girl Ray / Prestige
Noname / Sundial
Gregory Alan Isakov / Appaloosa Bones
Les Imprimes / Reverie
Silver Cup / Songs From a Broken Laptop