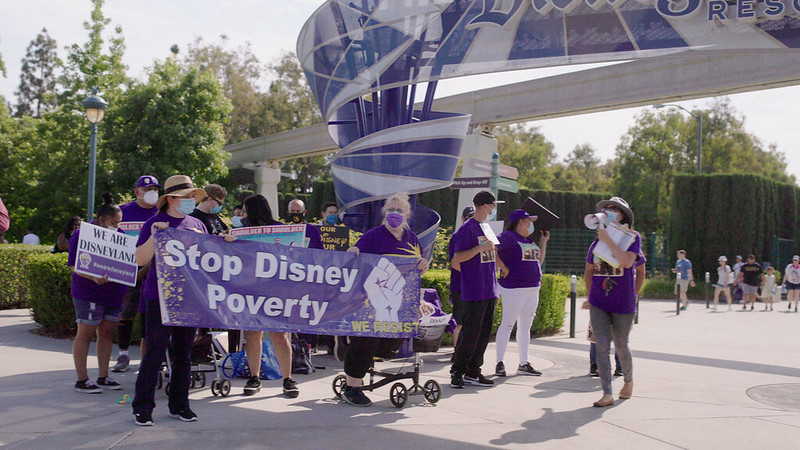 "The American Dream and Other Fairytales" is a wake-up call to the 1%. Will they listen?
My guess is no. But its an important endeavor nonetheless. Abigail E. Disney, the granddaughter of co-founder Roy Disney, has a history of speaking out in support of the millions of Americans who cannot make ends meet no matter how hard they work. She has ruffled some feathers by taking to social media, television and even the legislative floor for the United States House of Representatives to demand that those reaping the financial rewards of massively successful corporations pay the taxes that align with their income as well as advocate for increases in minimum wages. She even reached out to Bob Iger, the CEO of Disney, who made $65 million in 2018 alone (1,424 times the average Disney employee's salary), in an effort to encourage him to demonstrate leadership the way her grandfather and uncle did and pay his employees better.
In the documentary "The American Dream and Other Fairytales" Disney reveals that Iger sent her to HR. So, she decided to make a film with co-director Kathleen Hughes to shine some light into just how poorly Disney employees are treated. Disney explains early on that she has inherited her wealth from stocks and shares while admitting that she has no say in how the company is run. But that doesn't stop her from trying.
"The American Dream and Other Fairytales" introduces us to four Disneyland custodians in Anaheim, California who make $15 an hour and have lived below the poverty line for years while trying to make a more lucrative career at the park through dedicating themselves to their jobs as "cast members." Through interviews with Disney, we quickly learn that their dedication doesn't mean much in the bigger picture — at least not if they continue to think that being able to afford to live in Southern California is important.
Disney does not shy away from showing viewers the ways in which the company seems to care less about whether its employees make enough money to live in a home, pay for medical care or afford basic essentials like food. A history of the creation of the Disney company shows us that the founders believed that their success was determined by the happiness of their employees, and they made sure to keep their employees happy by giving them fair wages and helping them feel like they were part of the Disney family.
The film has plenty of academic experts and authors to weigh in on the plight of the lower and middle classes in America and the ways in which the middle class is essentially disappearing as the rich get richer. We learn that the pandemic has somehow made billionaires and millionaires even more wealthy while others, like the Disneyland park employees, have experienced hardships such as layoffs, uncertainty and fear for what's to come.
Overall, it's nice to see that there is someone like Disney advocating for fair treatment of employees within these massive companies. But it is also pretty depressing to be reminded that the "American Dream" really is not for every American. And, it feels pretty unlikely that will change any time soon because, as Disney says in the beginning of the film, "the dynamics of wealth are similar to the dynamics of addiction." Why would you want to share?