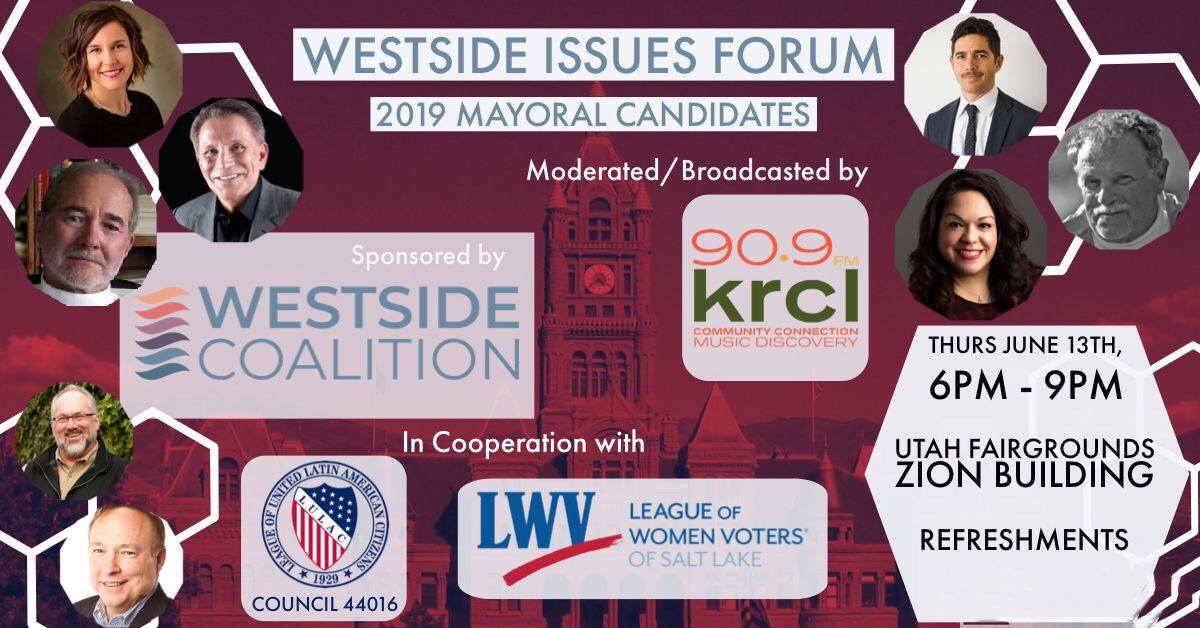 The Westside Issues Forum: 2019 SLC Mayoral Candidates included all 8 registered candidate for Salt Lake City Mayor in the 2019 election. Hosted by the Westside Coalition, in partnership with the League of Women Voters of Salt Lake, LULAC Quetzalcoatl YA 44016 and KRCL RadioActive
Listen to the entire broadcast here:
Each candidate was given 3 minutes each to answer 3 predetermined questions:
DISCUSS YOUR UNDERSTANDING OF THE ISSUES IMPACTING THE WEST SIDE & YOUR PLANS FOR ADDRESSING THEM.
HOW WILL YOU ADDRESS THE CONFLICT BETWEEN IMPROVING AIR QUALITY AND PROMOTING GROWTH & ECONOMIC DEVELOPMENT?
The City has sued the State over the control of the Inland Port. AS MAYOR WOULD YOU ACTIVELY PURSUE THIS LAWSUIT? SHOULD THE CITY PREVAIL WHAT WOULD YOU DO DIFFERENT THAN THE STATE?
The Westside Coalition , is made of leaders from the community councils on the westside of Salt Lake City and residents

KRCL 90.9FM's Billy Palmer from KRCL RadioActive was the moderater for the evening.

Candidates (in alphabetical order by last name)
Jim Dabakis for Mayor
Luz for Mayor
David Garbett
Goldberger For Mayor of Salt Lake City
Christian Harrison for Salt Lake City Mayor
David Ibarra for Mayor
Erin Mendenhall for SLC Mayor
Stan for Mayor