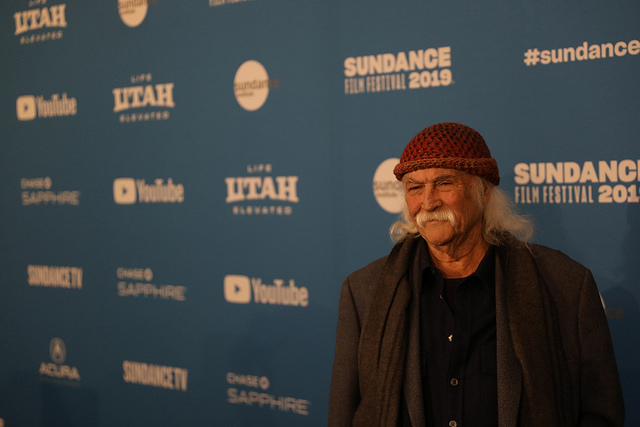 I was nervous about being on time to the press check-in for the "David Crosby: Remember My Name" red carpet. I was certain that because the film's publicists ignored all three of my email requests for an in-person interview that the press coverage would be jumbled and chaotic. I mean, it's David Crosby. And to top that off, Cameron Crowe (you know, the guy whose autobiography inspired "Almost Famous," who is a legend in music journalism, who directed "Say Anything") was one of the producers of the documentary. Yeah, this was going to get crazy. 
Imagine my surprise when I check into the press line with three other journalists — two of which did not know who David Crosby was. Huh? Truth be told that more journalists arrived and that I was actually quite early to the check-in. But this was not the zoo of reporters that I expected. And with the exception of a couple of reporters, most everyone else on the red carpet was geeking out just as much as I was. We all had our reasons. 
Everyone cheered when David Crosby stepped out. He sported a red beanie, his white moustache and a long coat. He gave a smile followed by some sarcastic remarks. He was ready to talk. His publicists had to keep bringing him back to the start of the red carpet so that the photographers could get the photos. First thing's first on these red carpets: photos. Once the professional photos were done, Crosby, Crowe and director A.J. Eaton walked the press line. I spoke briefly with Eaton about his thoughts on David Crosby and why he chose to make this documentary. Turns out that Eaton was not super familiar with Crosby's music and did not consider himself a fan before working with him. He is now. 
I couldn't resist asking Crowe questions relating to music journalism and how journalists can tell authentic stories about musicians. I wanted to hear what he said about going beyond the superficial elements of being a rockstar and getting to the heart and soul of the person behind the music. He said that we should start by asking real questions and to keep asking them. 
I felt the pressure when it was time to talk to Crosby. He was charming and authentic. The film was about to start screening. My unexpected moment happened when Crosby admitted that Crowe and others working on the film did not hold back. They asked him questions that he had never been asked — questions that made him cry. As he revealed this to me, his eyes brimmed with tears. I wanted to go where his mind had wondered. I knew he was feeling vulnerable in that moment and I appreciated that he shared it with me. 
I was unable to attend the screening, but I ran into one of the journalists from the red carpet later that day. She was a huge Crosby fan. She told me that after the film screened that he was completely silent. He put it all out there, as he said, for better or for worse. I am hoping that the film gets picked up and that I will be able to watch it to make sense out of that moment with Crosby on the red carpet. Until then, hear for yourself what he had to say about exposing his vulnerability to the world. 
Listen In:
Photo above courtesy of Sundance Institute | photo by Azikiwe Aboagye