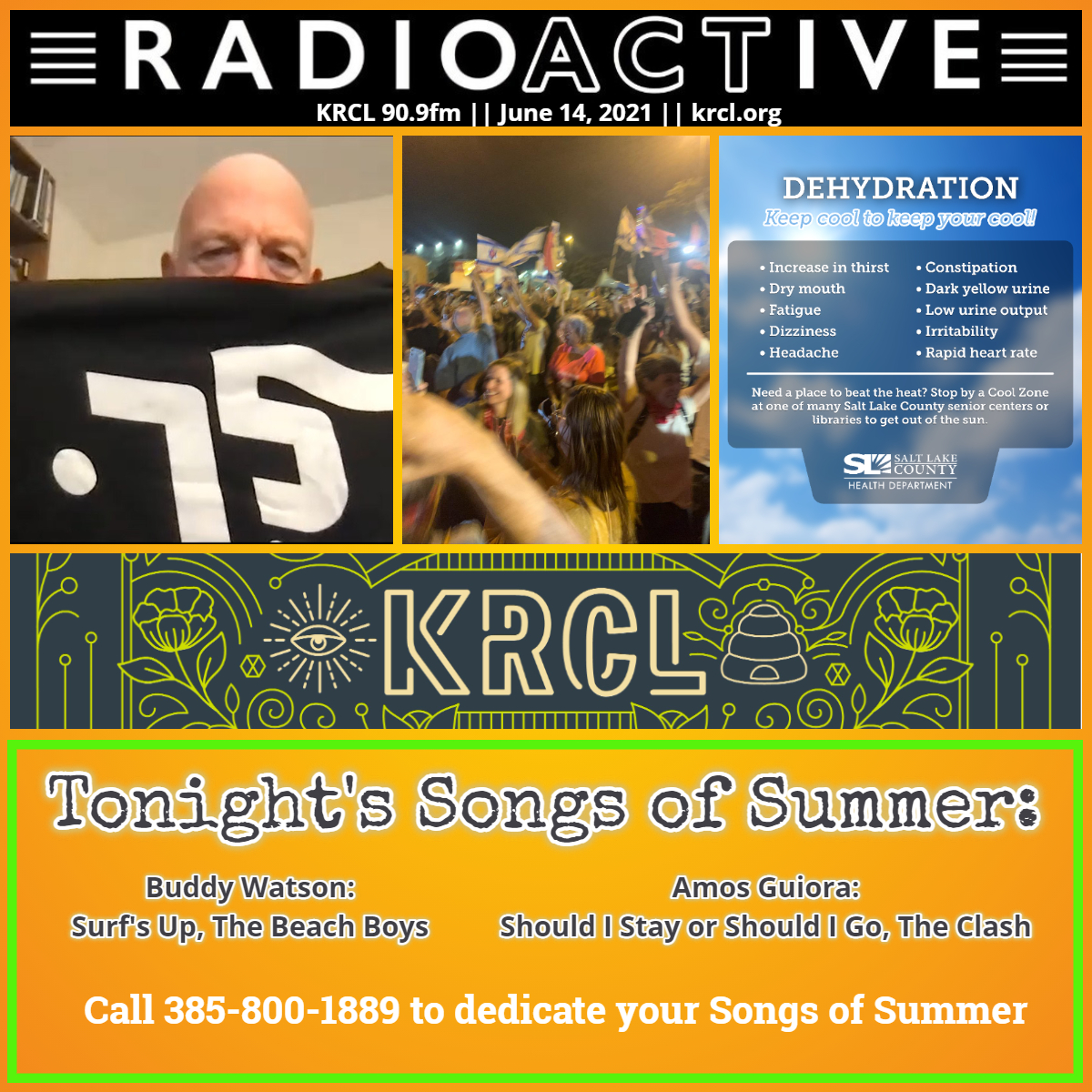 Cool zones and a hot Knesset.
Tonight, on RadioACTive's Summer Break:
Debut of RadioACTive's Songs of Summer:
RadioACTive listener Buddy Watson launched our Songs of Summer tonight. In a couple of emails, Watson said: "I understand y'all are going thru quite a change, but hopefully a great one! Can't wait to see pics of the studios!!! And I hope and pray this summer is one of rebuilding.....a lot of things! Communities, Laws, and just plain love of "folks"!!! You know? We got to get it all together and get it on down! (sorry, showing my 60s...) I love music, call me crazy, I love KRCL." Thanks, Buddy, and backatcha! Watson's song of summer, dedicated to the whole RadioACTive band — "stay groovy until the band is back together" — was Surf's Up by The Beach Boys.

Call 385-800-1889 to dedicate your Songs of Summer — a song to someone in your life, a nonprofit or cause you support, or just a shout out of musical inspiration. Be sure to include your first name and neighborhood. Suggestion: If you're headed out on a hike or camping trip, tell us where you're headed and share a song from the playlist you use to get ready to climb or hit the road!
Afton January of Salt Lake County Aging Services, which has a Google map of cool zones throughout the county. It shows you different county buildings -- libraries, recreation centers, government buildings -- where you can get out of the heat if your place is getting too hot.
Use this media player to hear what Afton has to say about signs of dehydration due to extreme heat:
Professor Amos Guiora, S.J. Quinney College of Law at the University of Utah. Guiora is in Israel on his annual summer break. He served for 19 years in the Israel Defense Forces as Lieutenant Colonel (retired) and held several senior command positions, including legal advisor to the Gaza Strip and commander of the IDF School of Military Law. RA Executive Producer Lara Jones spoke with him via Zoom about yesterday's historic changes. After 12 years in power, Benjamin Netanyahu no longer is Prime Minister and, for the first time in Israel's history, an Israeli Arab party will be part of the government. Use this media player to hear Prof. Guiora — admittedly, not a fan of BB — explain:
Guiora also dedicated a song of summer — Should I Stay or Should I Go by The Clash — to Netanyahu (that's basically the message on his sweatshirt in the show photo).
>>>>>>>RadioACTive Listener Survey: While we're off, we're not idle. The RadioACTive team is thinking of ways to make the show even better and more local. Click here to answer 10 questions and share your thoughts on KRCL's show for grassroots activists and community builders.
Views, thoughts or opinions shared by guests are their own and do not necessarily reflect those of the board, staff or members of Listeners' Community Radio of Utah, 90.9fm KRCL. Tonight's RadioACTive Summer Break was produced and hosted by Lara Jones.
###
###