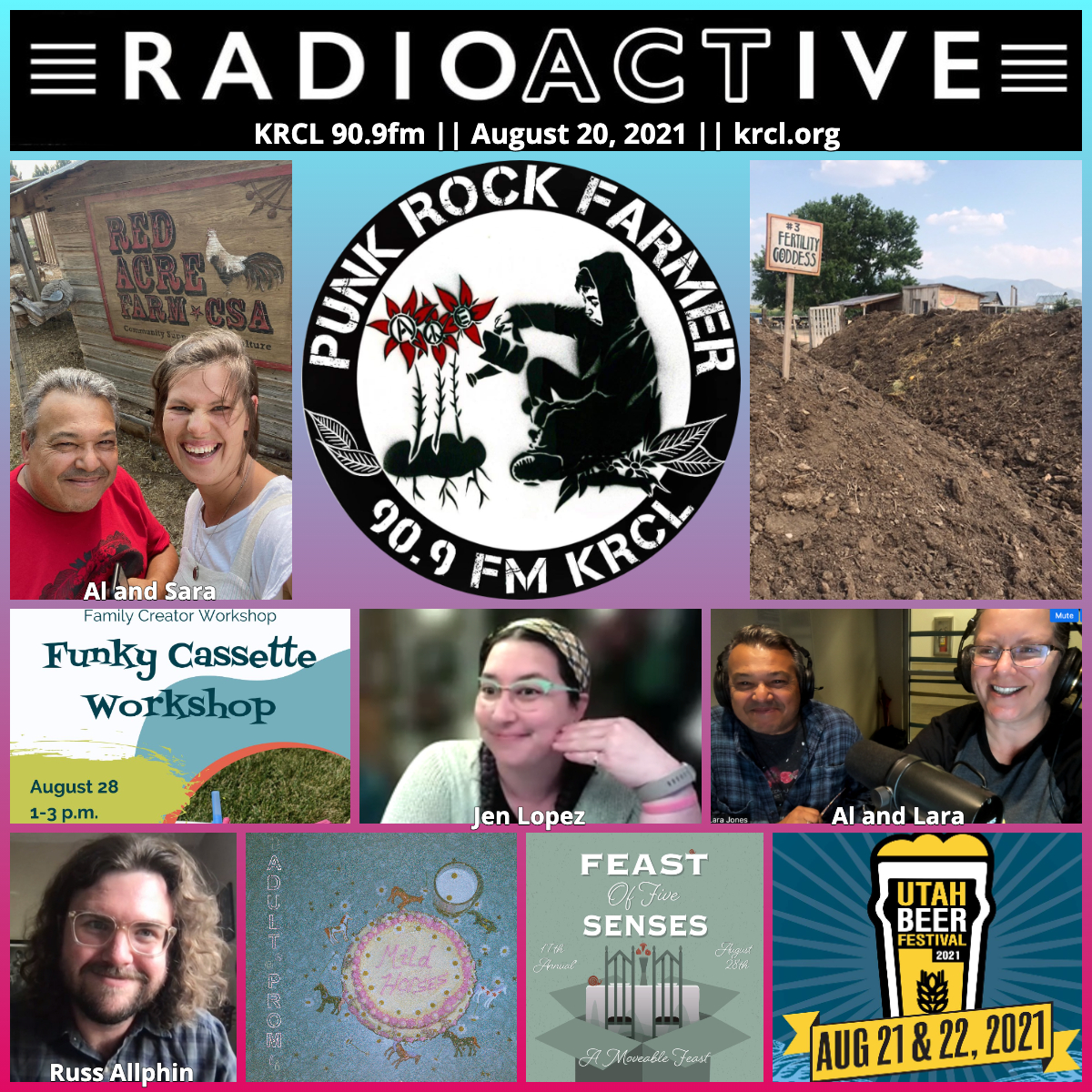 #PunkRockFarmer visits Red Acre Farm in Cedar City. Fresh, homegrown music from Adult Prom. Launch of KRCL Craft Collective. SkyWatcher Leo T's skylore. Feast of 5 Senses part 2. Utah Beer Festival.
Tonight's show:
Fresh, homegrown music from Adult Prom, which is Russell Allphin. To get your copy of the new album "Mild Horses," click here.
KRCL Craft Collective launches with a Funky Cassette workshop at Clever Octopus Creative Reuse Center in South Salt Lake. Clever Octopus Co-Founder and Program Director Jen Lopez shared the details of this first event and Aldine dropped the word "obtainium."
Aug. 28: KRCL Craft Collective's Funky Cassette Workshop, 1:00-3:00 p.m. at Clever Octopus Creative Reuse Center, 2250 S. West Temple, South Salt Lake. As part of the Family Creator workshops at Clever Octopus Creative Reuse Center, we invite you to a funky cassette workshop. Make one for you and KRCL, which is launching its new craft collective with this workshop. RadioACTive's Lara Jones and Jen Lopez of Clever Octopus will show you how to upcycle donated cassettes into a desktop holder for pens, pencils and other office supplies. Add your own flair with spray paint, bling and other materials on hand at the center. Cost: $25. Masks: Required. Workshop conducted outside at Clever Octopus. Visit cleveroctopus.org to reserve your spot today!
Feast of Five Senses part 2, with Kim Angeli of Slow Food Utah and Brooke Woffinden of Urban Pioneer Foods. Make your reservation for the Aug. 28th moveable feast by midnight this Monday!
Featuring 1 of 10 local restaurants/chefs combos, Feast of Five Senses invites you to pick up a 4-course tasting menu, gather your inner circle and recreate the feast from your kitchen. Proceeds support Slow Food Utah's microgrant program, a fund dedicated to local food-related projects, especially small-scale food growers and producers, community innovators, and educators.
11th Annual Utah Beer Festival -- Aug. 21-22 at The Gateway -- with festival organizer and City Weekly Associate Publisher Michael Saltas and two beer makers:
SkyWatcher Leo T explores the skylore of India while on a stargazing trip. Love the night sky? Wonder what's going on up there? Follow SkyWatcher Leo T.
Aldine's Urban Farm Report, featuring a visit with Sara Patterson at Red Acre Farm CSA in Cedar City. Farming for 12 years and only in her 20s, Patterson grows year-round at 5,900 feet in the beautiful red dirt of southern Utah. You can even stay there! For a calendar of farm classes and dinners, click here.
Views, thoughts or opinions shared by guests are their own and do not necessarily reflect those of the board, staff or members of Listeners' Community Radio of Utah, 90.9fm KRCL. Tonight's RadioACTive Summer Break was produced and hosted by Lara Jones and Aldine Strychnine, KRCL's Punk Rock Farmer.
###