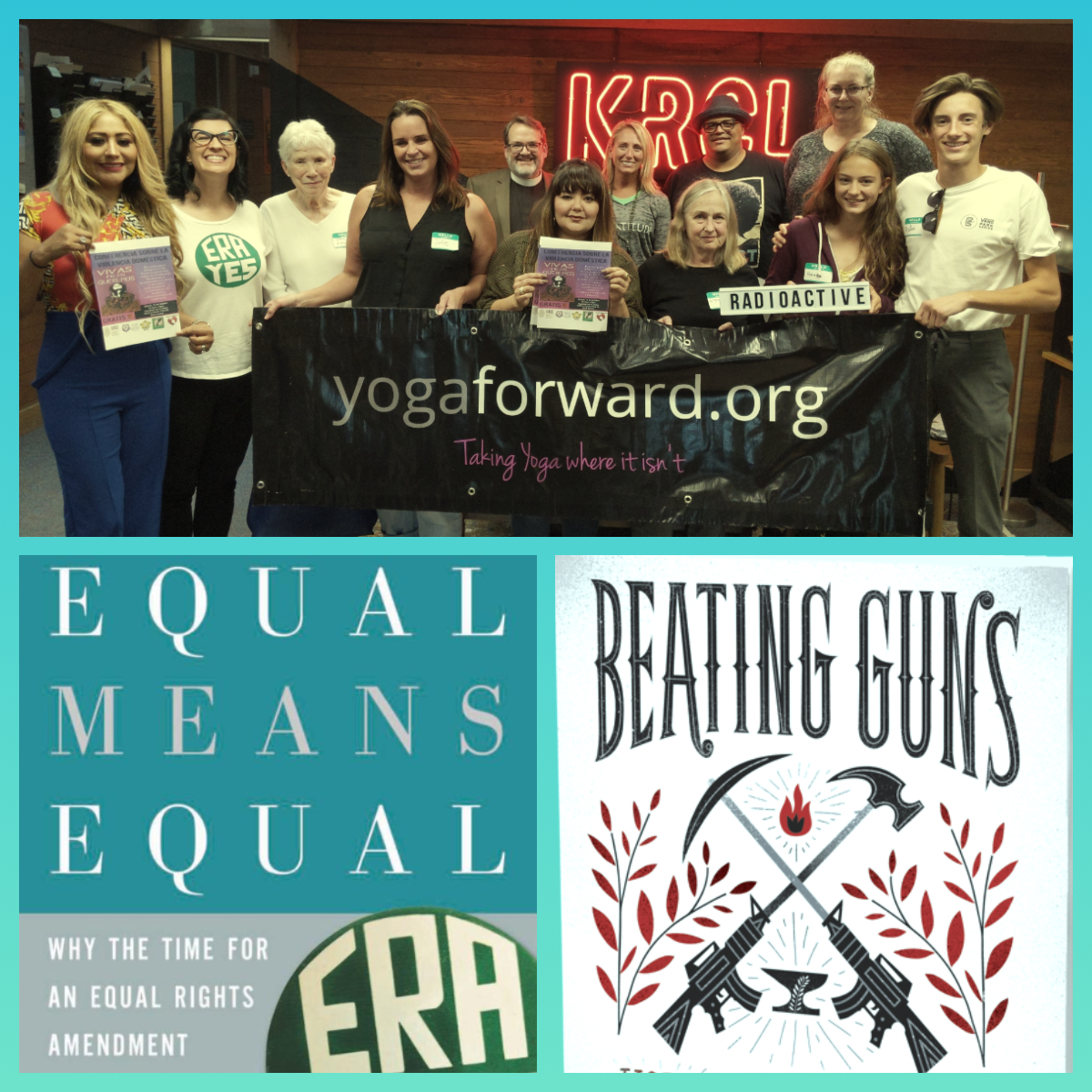 Vivas No Quermos, Muni Project, Swords To Plowshares, March For Our Lives, Gun Violence Prevention, Yoga Forward, World Contraception Day
Tonight's Lineup:
Kerry Galloway, of Planned Parenthood of Utah, Announced September 26th as World Contraception Day and encouraged people to start out conversations with their contraception of choice to help normalize conversations about family planning.
Kate Kelly, from Equality Now talked about the event Equal Means Equal Book Club with author Jessica Neuwirth who will speak on her book, answer questions on ERA, and sign copies for sale at the event. Neuwirth will be joined by Kate Kelly, Esq. and Rep. Steven Andersson to discuss the continued need for ratification. Friday, September 27, 2019
Yoga Forward's, Denise Druce talked about her life's work in taking yoga where it is'nt, including the program she started, training women in prison to teach yoga as a transformative to practice.
Mundi Project's Executive Director, Ruby Chou and noted Violinist Sean Riley talked about upcoming events that will take music out of the box and introduce innovation and science. Riley talked about a 3D printed 6 string violin he will be performing with and one of the event's. Workshop's and a concert are planned for October 4th and 5th:
Swords to Plowshares:
Vivas No Quermos:
Ma Black of KRCL's Night Estereo, along with Nadia Walker and Abby Razo talked about an event focusing on addressing domestic violence in Spanish speaking communities:
Vivas No Quermos, October 12, 5:00 to 8:00 p.m. Hampton Inn Suites, 3923 W center Park Dr. West Jordan
Got a story you'd like to share on the show or an issue you'd like us to cover? Record a voice memo on your smart phone, then email it to radioactive@krcl.org. Keep it under 3 minutes and be sure to include a name and phone number in the message.
Views, thoughts or opinions shared by guests are their own and do not necessarily reflect those of the board, staff or members of Listeners' Community Radio of Utah, 90.9fm KRCL. Tonight's RadioACTive team included:
Exec. Producer/Host: Lara Jones
Assoc. Producer/Host: Billy Palmer
Volunteer /Producer: Sarah Thacker
Intern: Isabella Sabala