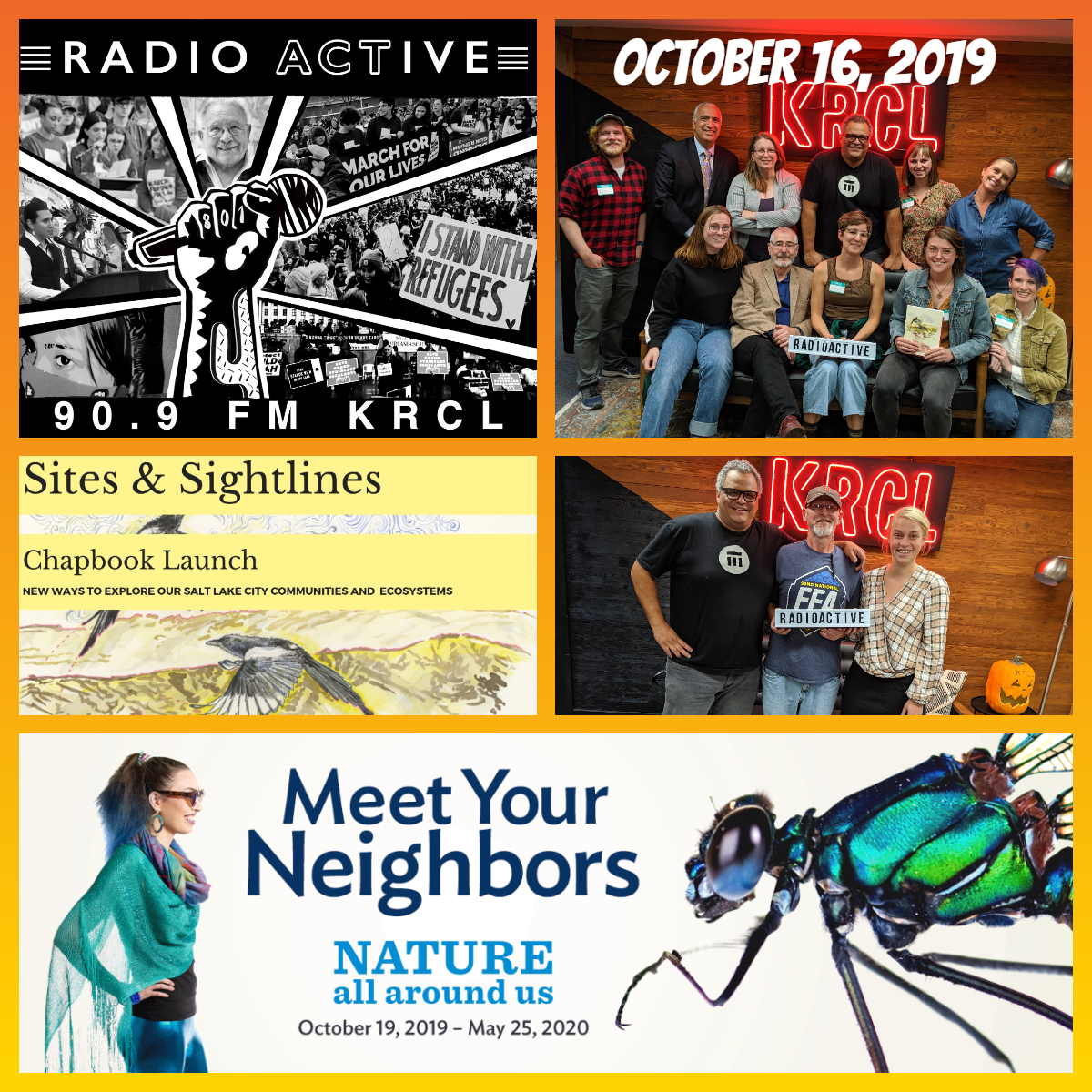 Natural History Museum's Nature All Around Us, Coal Country Conversations, 3rd District Court Changes with SL County DA Sim Gill
Tonight's Lineup:
Moab Mayor, Emily S. Niehaus, talked about the a joint resolution unanimously approved by The City of Moab, Town of Castle Valley and Grand County opposing off road vehicles in Utah's natural parks.
Rebecca Ray, Citizen Scientist and INaturalist Celebrity, on the Natural History Museum of Utah's Nature All Around Us Opening Celebration, Saturday, October 19, 2019
Lindsey Bebee on the Utah Sierra Club Fall Harvest Party | Coal Country Conversations with guest speaker Scott Shoupe. October 17th, 2019 from 6:30 to 9:00 p.m. Pierpont Place 163 W Pierpont Ave, Salt Lake City, UT
Scott Shoupe, is a fifth-generation coal miner who spent 22 years mining coal in Eastern Kentucky. After contracting black lung and experiencing other health problems, Scott participated in a six-month job retraining internship focused on solar panel installation and weatherization. He has since opened a business as an energy consultant for residential and commercial clients.
Torrey House Press artists, editors and contributors talked about the Sites & Sightlines Chapbook Launch, 7:00 p.m. Thursday, October 17, 2019, Ken Sanders Rare Books. Our guests included:
Taylor Cunningham (editor and contributor)
Claire Taylor (cover artist and contributor)
Michelle Wentlin
Open phones with Salt Lake County District Attorney, Sim Gill,
Got a story you'd like to share on the show or an issue you'd like us to cover? Record a voice memo on your smart phone, then email it to radioactive@krcl.org. Keep it under 3 minutes and be sure to include a name and phone number in the message.
Views, thoughts or opinions shared by guests are their own and do not necessarily reflect those of the board, staff or members of Listeners' Community Radio of Utah, 90.9fm KRCL. Tonight's RadioACTive team included:
Exec. Producer/Host: Lara Jones
Assoc. Producer: Billy Palmer
Community Co-Host: Nick Burns
Volunteer:Sarah Thacker, Isabella Sabala
###