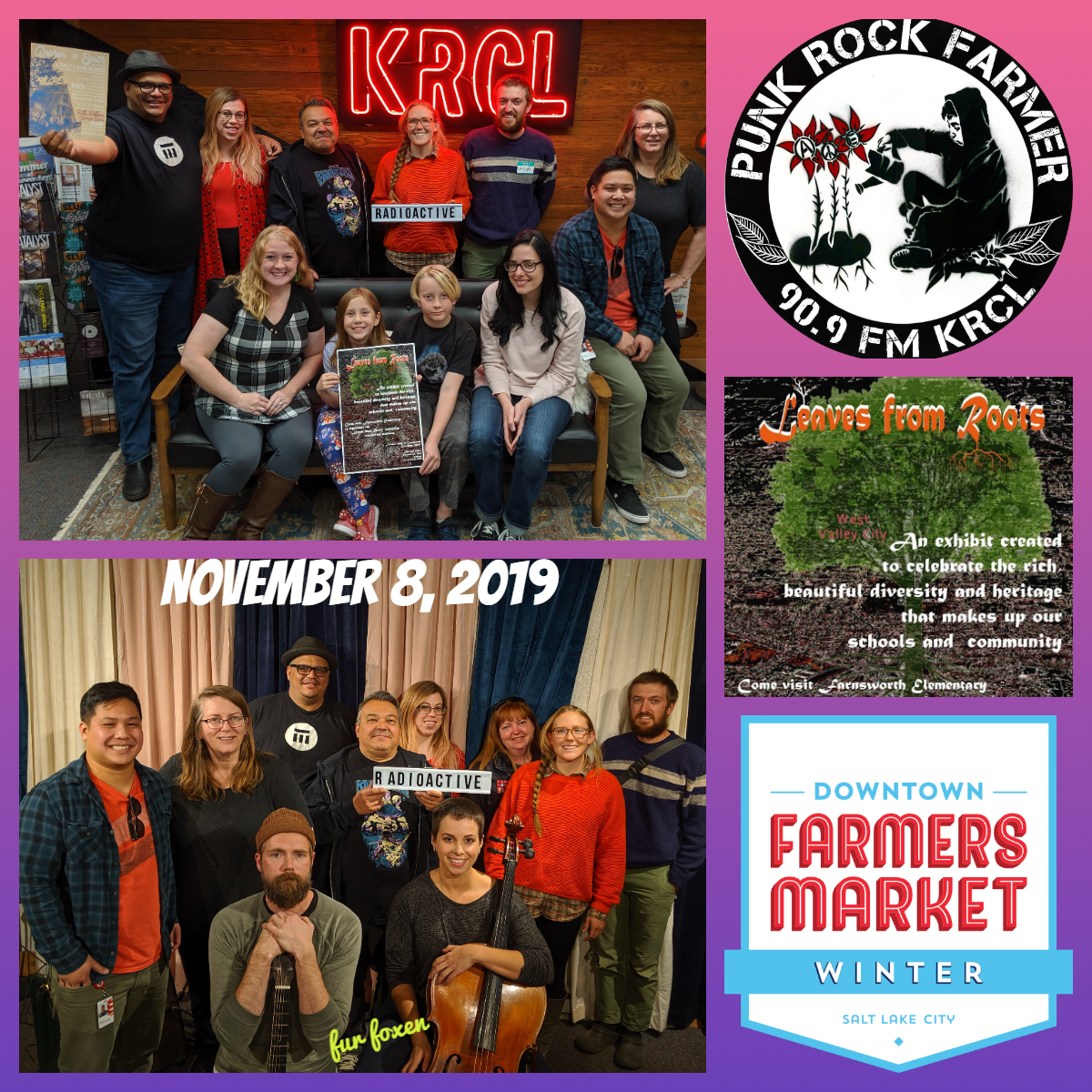 Live music from Fur Foxen, #UrbanFarmReport with the Winter Farmers Market and Top Crops SLC, SkyWatcher Leo T, Anchor and Earth, Leaves from Roots, Slay Lake City
Tonight's lineup:
Live, homegrown music from Fur Foxen, a two-piece whiskey drenched folk band from Salt Lake City. Look for them at the Anchor & Earth fundraiser later this month.
Hillary McDaniel of Rock Camp SLC, which will open applications for its annual Slay Lake City at 11:11 a.m. on 11/11. Both campers and volunteers are needed for this 3-day event for women, transgender and gender-expansive adults (formerly Rock Camp for Womyn). Slay Lake City is a fundraiser in support of Rock Camp SLC's summer camps for youth.
Feb. 17, 2020: Slay Lake City camper showcase, 7:00 p.m. at The Depot, SLC. SAVE THE DATE!!!
Art Teacher Britt Black and students Cordelia and Walter Miller on Leaves From Roots, an art exhibit fundraiser Nov. 12 at Farnsworth Elementary, 3751 S. Sunnyvale Dr., WVC. Students have been making leaves to celebrate the rich diversity and heritage of their school and community.
SkyWatcher Leo T with a Celestial Report, featuring Mercury Transit, Taurids and Leonids meteor showers, and a sky legend from Chile. Be sure to follow Leo T on Facebook for his next star party.
#UrbanFarmReport, featuring Alison Einerson on the Winter Market (which starts tomorrow, 10-2 at the Rio Grande Depot) and SLC Top Crops' Manda Theobald and Elliot Musgrove on what exactly farmers do over the winter.
Audrey Rutz on Anchor and Earth Presents: A Salt Lake Soirée, Nov. 16 at Missio Dei Community - Salt Lake City, 510 W. 200 N., SLC. An evening of live music, gallery, silent auction, street tacos, drinks, and all for a great cause. Anchor and Earth provides free retreat, food, and inspiration for artists. Click here for tickets, which are $35. Featuring artwork from local SLC artists and live music by Fur Foxen and Johnny Betts
Got a story you'd like to share on the show or an issue you'd like us to cover? Record a voice memo on your smart phone, then email it to radioactive@krcl.org. Keep it under 3 minutes and be sure to include a name and phone number in the message.
Views, thoughts or opinions shared by guests are their own and do not necessarily reflect those of the board, staff or members of Listeners' Community Radio of Utah, 90.9fm KRCL. Tonight's RadioACTive team included:
Exec. Producer/Host: Jones
Assoc. Producer: Billy Palmer
Community Co-Host: Aldine, KRCL's Punk Rock Farmer
Audio Engineer: Sullivan Phethchanpheng
###