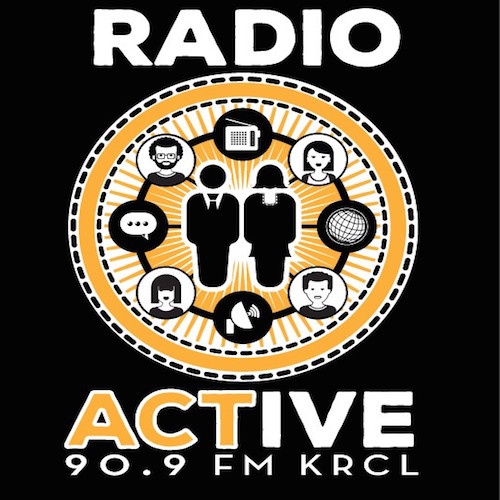 Young Leaders of the Americas Initiative and Community Caring
Tonight's show was hosted by Emily Means and Billy Palmer:
On the RadioActive Report (begins at 07:30):
Volunteer opportunities, with Eric Nelson, KRCL Volunteer Coordinator:
Jordan River Restoration Planting: NOVEMBER 5TH, 2016 AT 9 A.M.MODESTO PARK
Trees are vital not only to the health of our watersheds, but also to providing urban recreation experiences. Join TreeUtah and Salt Lake City Open Space to explore the Jordan River Corridor while planting 20 Fremont Cottonwood and Peachleaf Willow trees! It promises to be a fun and challenging day enjoying the fresh air and giving back to our local environment. REGISTRATION IS REQUIRED at www.treeutah.org

One World Humanity - Bringing Children Home: NOVEMBER 7TH, 2016 AT 7 P.M.SUGARHOUSE PARK, GARDEN CENTER, 1601 E 2100 S, SALT LAKE. We have a BIG project in the works & need volunteers. One World Humanity is producing a CONCERT on January 1st (New Year's Day) to raise funds to "Bring the Children Home". We are raising awareness of a huge worldwide tragedy--human trafficking. Did you know that children from every corner of the world, including Utah, are abducted all the time to become slaves? Their little bodies and minds are ravaged. Help us do a part in eradicating this heinous crime. We need at least 100 volunteers to assist with every aspect of creating the concert on Jan. 1. Volunteers, in return, will receive a wonderful variety of gifts (to be announced at the Kick-off meeting). Our kick-off meeting is Nov 7th, at 7:00 PM, at the Garden Center is Sugar House Park, 1601 E 2100 S. Please join us to learn more. Cookies & milk will be served!

The Dickens Festival: December 6-10. The Dickens Festival entertainment team needs volunteers Dates 12/6-12/10. There are three different places to volunteer: set up (12/6 & 12/7), during the festival (12/8-12/10), and take down (12/10). 1 admission ticket for every 3 hours volunteered. Requirements- need to be able to be on feet and walk for extended periods of time, may need to lift 20-50lbs, cheerful attitude. British accent a plus. Please send email inquiry to dickenstheaterco@hotmail.com include what you would like to volunteer for and contact info.
Young Leaders of the Americas Initiative (begins at 31:00):
Music featured on the show:
The Beatles -- Revolution
Edward Sharpe & The Magnetic Zeroes -- Better Days
The Who -- My Generation
If you have an idea -- guest, topic, something new -- for RadioActive, send an email to radioactive@krcl.org or post it to our new Facebook page.