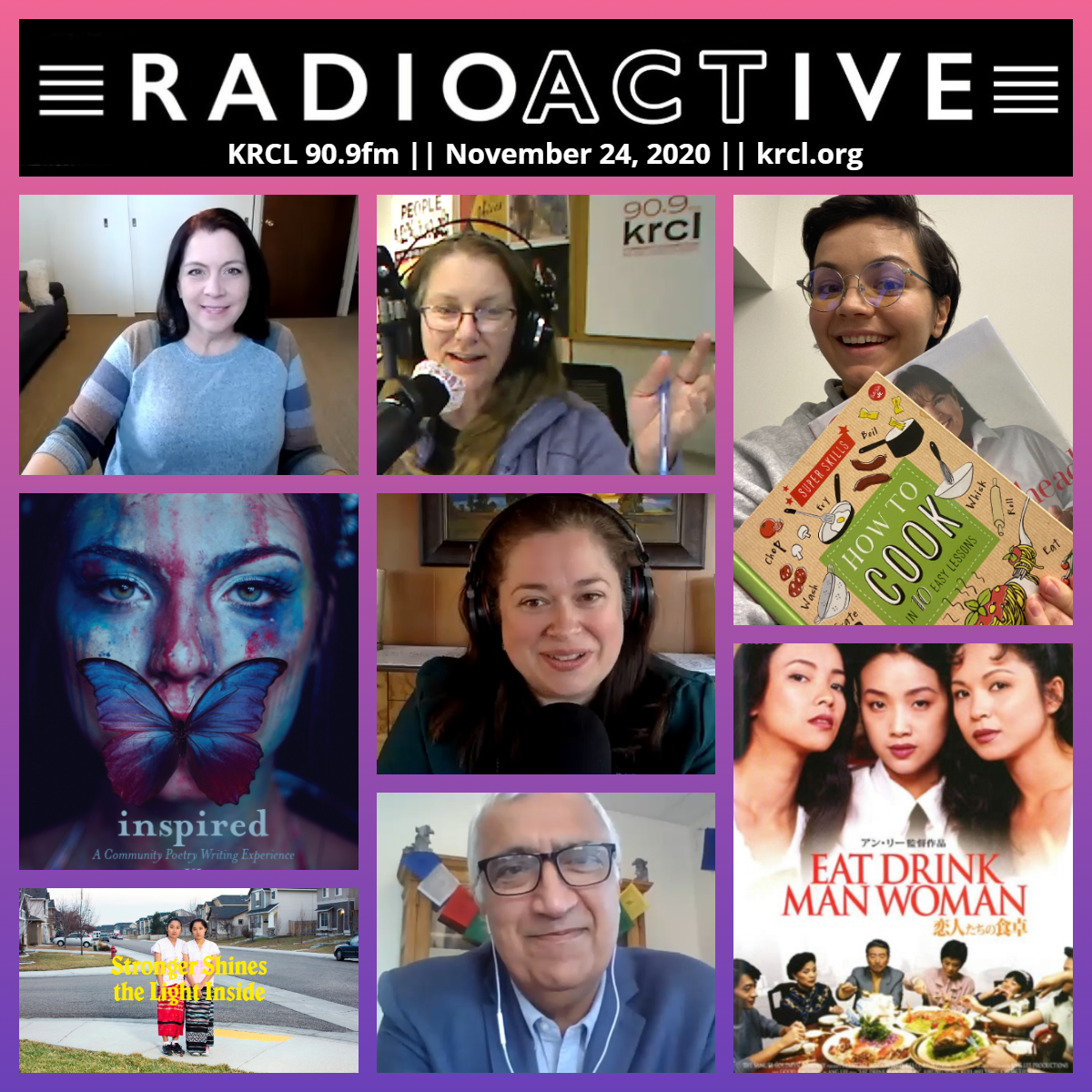 As #RoundtableTuesday takes a holiday break, RadioACTive shared a UMOCA conversation with Angie Smith of Stronger Shines the Light Inside. Plus, a legislative update with League of Women Voters of Utah and SL County DA Sim Gill, #PoetryStillHappens and SLCPL's #3QuickPicks on cooking for family.
Tonight's lineup:
A legislative update, featuring:
Emily Walsh, League of Women Voters of Utah. To watch Utah cast its votes in the Electoral College Dec. 14, Walsh advised following the Utah Elections office on social media:

SL County DA Sim Gill. Due to COVID-019, the DA won't be taking walk-in meetings with residents for the next few weeks. To set up a virtual appointment, call (385) 468-7600 to make an appointment.
#3QuickPicks with Azra Basic, adult services librarian at the Marmalade Branch, Salt Lake City Public Library. Check out (literally) Basic's picks on cooking for family:
Eat Drink Man Woman. "In this movie, Master Chef Chu is semi-retired and lives at home with his three unmarried daughters. Life at the family's house revolves heavily around preparing and eating an elaborate dinner every Sunday. The stability of these meals gives them all strength as they deal with new romantic relationships and disappointments."

Make It Ahead: A Barefoot Contessa Cookbook. "This is my personal go to cook book, Whether you're hosting a party or simply making dinner on a hectic weeknight, Ina gives you lots of amazing recipes that taste just as good—or even better!—when they're made in advance. My favorite recipe from the book would have to be a skillet brownie."

How to Cook in 10 Easy Lessons: Learn How to Prepare Food and Cook Like a Pro, by Wendy Sweetser. "From finding out how to safely hold a knife to learning how to knead a dough and whisk egg whites, this book leads the way. You will learn the 10 super skills you need to become an expert chef." Ages 8 & up.
#PoetryStillHappens, with Trish Hopkinson of Rock Canyon Poets. Trish helps us curate poetry by Utah writers for RadioACTive. Click here to find out to submit your work for consideration.
Thanks to Golda Dopp Ovalles, Visitor Services & Education at Utah Museum of Contemporary Art for sharing the museum's conversation with Angie Smith, prominent editorial photographer and founder of Stronger Shines the Light Inside. We couldn't fit the whole webinar into the show, so click here to watch it and see Smith's photographs for yourself.
Views, thoughts or opinions shared by guests are their own and do not necessarily reflect those of the board, staff or members of Listeners' Community Radio of Utah, 90.9fm KRCL. Tonight's RadioACTive team included:
Exec. Producer, Host: Lara Jones
Assoc. Producer: Billy Palmer
###