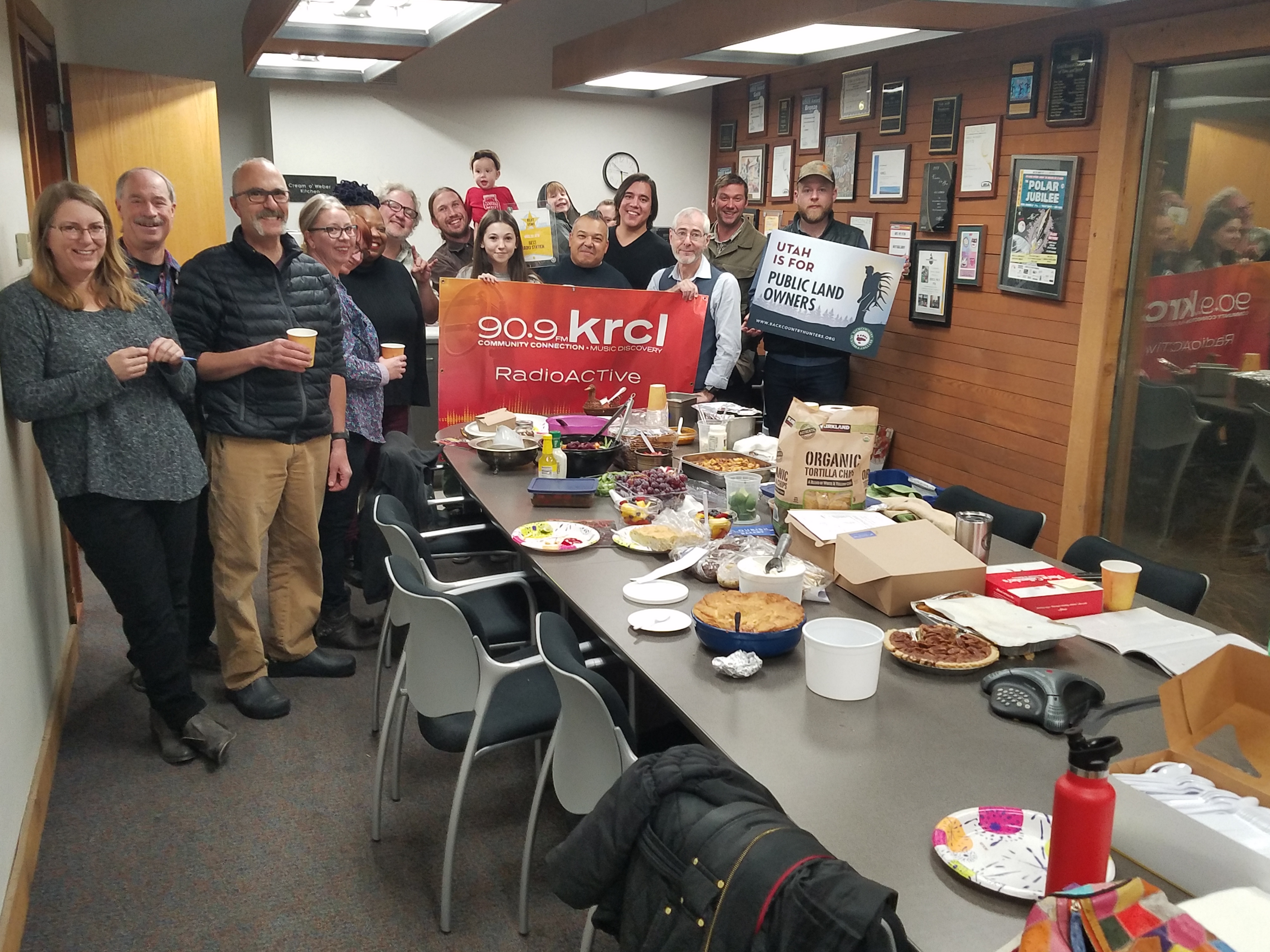 RadioACTive's 3rd Annual Thanksgrubbin' Special
For three years now, Aldine Strychnine has been hosting Thanksgrubbin', an on-air potluck celebrating the local food movement and reflecting on the year's ups and downs with guests. Tonight, we mashed it up with fellow community co-hosts Nick Burns, Tamara Stevenson, Billy Palmer and Lara Jones. Guest lineup:
Live music from Susan Bush and Phil Triolo, who volunteer their time for the Heart & Soul program. Thanks, Phil, for the Mushrooms Berkeley, and Susan for the pie! I didn't catch a piece so I'm guessing it was Mmmmm good.
Backcountry Hunters & Anglers - Utah Chapter served up a venison barbacoa for the Thanksgrubbin' table. Josh Lenart and Perry Hall gave an update on renewal of the Land & Water Conservation Fund, which is stalled in Congress. Plus, they've opened a new chapter in Logan—Backcountry Hunters and Anglers- Utah State University.
VoiceMemo: Alliance for a Better Utah's Chase Thomas on the passage of Propositions 2, 3 and 4.
VoiceMemo: Lis Sollis of The County Library, which is now offering free gun locks while they last.
An update on the work of Braidan Weeks of KRCL's Living The Circle of Life and Ute PAC and Moroni Benally, Utah League of Native American Voters and Restoring Ancestral Winds. They also shared their views on the mythical origins of the Thanksgiving holiday. Braidan, your Ute chicken and dumpling soup was awesome!
A special Thanksgrubbin' cocktail with Kestrel and Jerry Liedtke of Tin Angel Café— a locally driven, locally owned art, dining and cocktail experience in the heart of Salt Lake City. At the height of growing season, Tin Angel sources as much as 85% of what it serves from local growers and producers.
There was more food than mentioned in this lineup. Many thanks from the RadioACTive team for everyone's contributions to this year's Thanksgrubbin'
RadioACTive Non-Profit Spotlight:
Heart & Soul brings hope, healing and joy to 25,000 people each year by producing more than 1,000 live shows at convalescent homes, senior centers, hospitals, centers for children with disabilities, psychiatric facilities, and prisons.
The program was founded by Janna Lauer nearly a quarter-of-a-century ago. That first year, Heart & Soul organized seven shows. Now, H&S volunteers put on 100 shows each month.
Heart & Soul has a couple of concert series, a Hope and Healing Performance series with bands from every genre, and a Sings Program that invites residents of care communities to join the band. For Sings, Heart & Soul performers serve as the back-up band and residents are the stars. Click here for a list of volunteer performers.
Interested in volunteering your talents? Click here for more information. You will need a 50- to 60-minute set of polished and familiar material. They especially need musicians who play songs from the 1940s, 50s and 60s.
Look for the 25th anniversary Heart & Soul Stroll in June 2019.
Got a story you'd like to share on the show? Record a voice memo on your smart phone, then email it to radioactive@krcl.org. Keep it under 3 minutes and be sure to include a name and phone number in the body of the message.
RadioACTive is a production of Listeners' Community Radio of Utah. Tonight's team included:
Exec. Producer/Host: Lara Jones, who added some green stuff and fruit to the table, alongside Flourish Bakery pie and rolls
Assoc. Producer: Billy Palmer, who added spirits and his famous mac-n-cheese
Community Co-Hosts: Nick Burns, who made a pecan pie (and it's all gone now!) and Aldine Strychnine, the Punk Rock Farmer, who brought the big bird to the Thanksgrubbin's table!
Volunteer: Natalie Benoy, who enjoyed every bite
Audio Engineer: Sullivan Phetchanpheng, whose homemade salsa turned the heat up to 11!