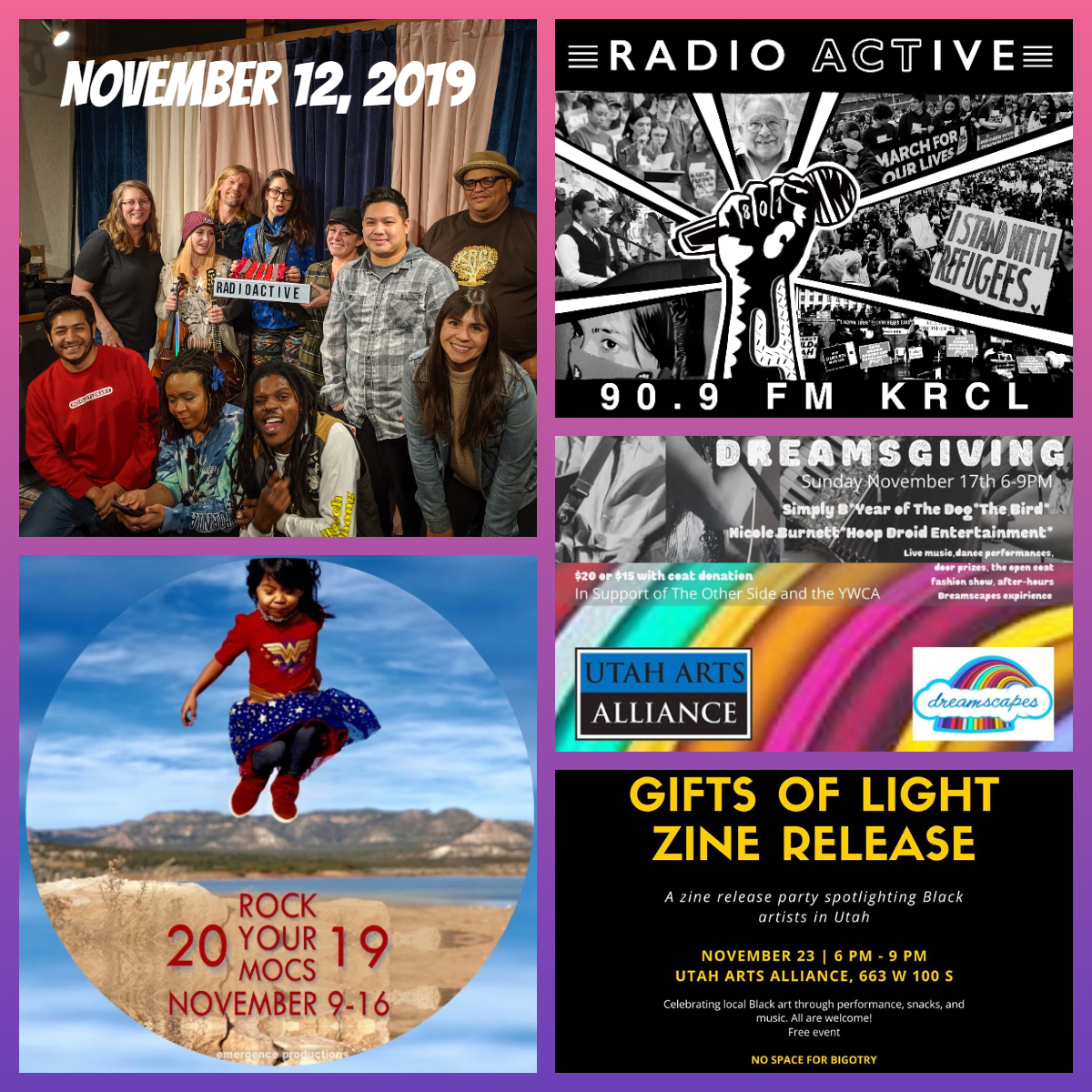 Celebrating the creative culture of SLC with Year of The Dog, DreamsGiving, Utah Arts Alliance, The Pho3nix Child, and Stef Leaks. Plus, #RockYourMocs with Living the Circle of Life, and a DACA update with Deyvid Morales.
Tonight's lineup, celebrating the creative culture of SLC:
Year of The Dog, which will play Dreamsgiving @ DREAMSCAPES Nov. 17th. Bring new and/or gently used coats and help two local non-profits, The YWCA and The Other Side Academy, keep locals in the community warm this winter. Coat donations receive $5 off admission. Click here for tickets.
Braidan Weeks on Rock Your Mocs, a worldwide Native American & Indigenous Peoples movement held annually during November, which is also National Native American Heritage Month in the U.S. A. It's easy to participate by wearing moccasins to school, to work or wherever your day takes you. Special clips from:
Stef Leaks, creator and curator of a new zine spotlighting 12 Black artists in Utah.
Sister and brother The Pho3nix Child and Martian Textilez shared their approach to hip hop and performed "Obsession," a new single. Look for them at the Gifts of Light zine release party later this month.
Deyvid Morales of DACA Scholars on today's opening arguments before the U.S. Supreme Court challenging the Deferred Action for Childhood Arrivals (DACA) policy of the Obama Administration. Check the DACA Scholars FB page, where Morales is posting updates about the case.
Sue Raia of Utah Arts Alliance talked about Dreamscapes, a pop-up, immersive art experience of physical and digital artworks. Located at The Gateway in the former Gap store location, Dreamscapes makers include more than 50 Utah artists and builders using reclaimed materials donated by local partners.
Got a story you'd like to share on the show or an issue you'd like us to cover? Record a voice memo on your smart phone, then email it to radioactive@krcl.org. Keep it under 3 minutes and be sure to include a name and phone number in the message.
Views, thoughts or opinions shared by guests are their own and do not necessarily reflect those of the board, staff or members of Listeners' Community Radio of Utah, 90.9fm KRCL. Tonight's RadioACTive team included:
Exec. Producer/Host: Lara Jones
Assoc. Producer: Billy Palmer
Community Co-Host: Amy Dominguez
###