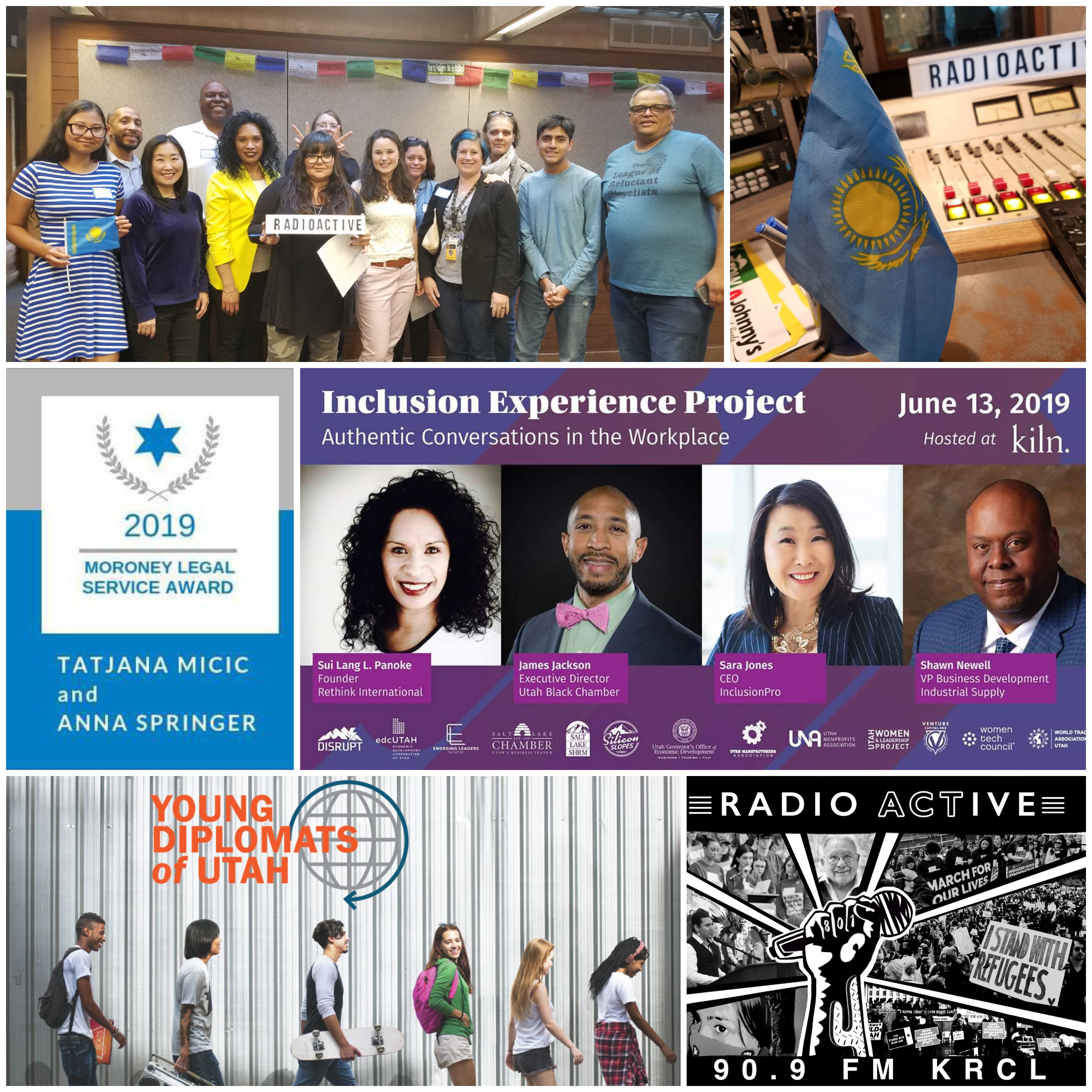 The Inclusion Experience Project is ready to get comfortable with the uncomfortable. Kazakhstan to Utah, an exchange student's story. IRC immigration coordinators honored.
Tonight's lineup:
Maribel Real, director of immigration services for Holy Cross Ministries, and Tanya Micic and Anna Springer, immigration coordinators with the International Rescue Committee-SLC and the Moroney Legal Service Awardees at this year's Holy Cross Legal Service Awards.
Extraordinary exchange students, featuring:
Aidana Smat, an exchange student from Kazakhstan, shared stories from her year in the Beehive State.

Bailey Bergstrom, youth coordinator for the Utah Council for Citizen Diplomacy, and Salar Ahmed and Bridget Raymundo of the council's Young Diplomats of Utah program. It's a certification program that empowers youth (ages 14-20) to grow as productive citizens, learn essential leadership skills, and have fun by engaging in a globally connected world through volunteerism and service projects. Questions? Email us youth@utahdiplomacy.orgor call 801.832.3275.

UCCD also seeks seeking home hosts for the Iraqi Young Leaders Exchange Program (IYLEP), July 23-Aug. 6. Click here for a host family application.

UCCD will host the World Learning Digital Young Leaders Exchange Program, which digitally connects youth to other students in the U.S., Algeria, Yemen, and Iraq. It only takes 2-4 hours a week for 8 weeks (June 24-August 18), and participants will receive a certification, possible project funding, and a $400 discount on study abroad opportunities. Not to mention it's free and a great way to build up your resume for college. Questions, email Bailey at youth@utahdiplomacy.org.
Ready to get comfortable with the uncomfortable? Then you're ready for the Inclusion Experience Project, a series of unique and intentionally designed experiences aimed to elevate the consciousness of leaders for the purpose of driving trust, stimulating growth and building a culture of inclusivity in the workplace. RadioACTive got a sneak peek with several business leaders, including Sara Jones, CEO InclusionPro; Shawn Newell, VP Business Development, Industrial Supply Co.; Sui Lang L. Panoke, Founder, Rethink International; and James Jackson, Executive Director, Utah Black Chamber.
Got a story you'd like to share on the show? Record a voice memo on your smart phone, then email it to radioactive@krcl.org. Keep it under 3 minutes and be sure to include a name and phone number in the message.
RadioACTive is a production of Listeners' Community Radio of Utah. Tonight's team included:
Exec. Producer/Host: Lara Jones
Assoc. Producer: Billy Palmer
Community Co-Host: Ma Black
###