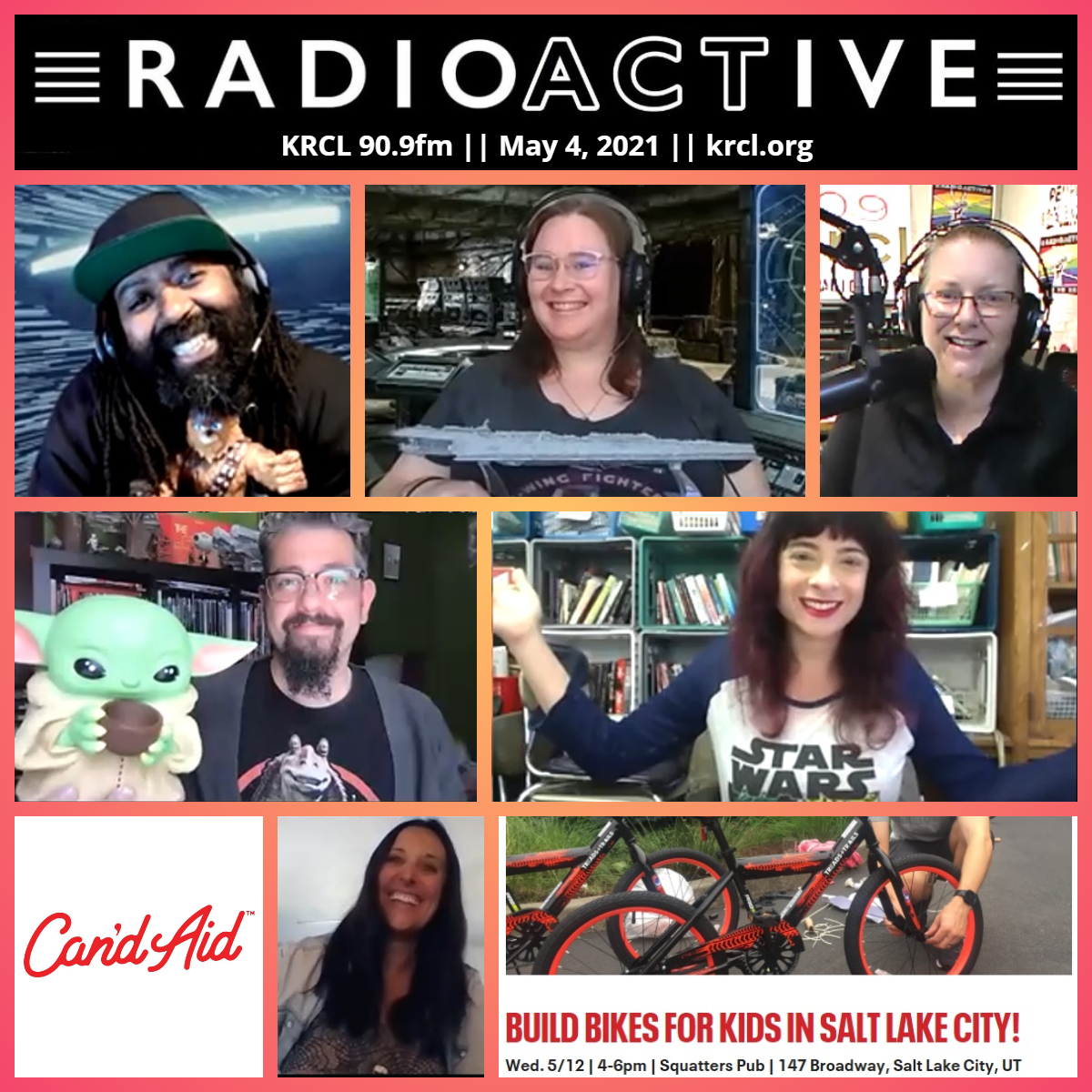 May the 4th Be With You! Celebrate Star Wars Day with Utah writer Bryan Young, host of the Full of Sith podcast; digital journalist and Star Wars Armada player Becca Green of TEA of Utah; teacher, author and writer Rachel Rear; and KRCL's own Eric Nelson, Star Wars Dad. Plus #3QuickPicks for #MayThe4th and Can'd Aid bike build for the students of Mary W. Jackson Elementary.
Tonight's lineup:
Sarah Leavitt of Can'd Aid, a nationally recognized nonprofit that rallies volunteers from all walks of life to build thriving communities.
May 12: Build Bikes for Kids in Salt Lake City, 4:00-6:00 p.m. at Squatter's, 147 W. Broadway, SLC. "Do a little good! Join Can'd Aid at Squatters Pub in an effort to build bicycles for the entire 1st-grade class at Mary W. Jackson Elementary! For many students, this will be their very first bicycle - providing a valuable opportunity to get outside. Can'd Aid will supply all necessary tools. Just come ready to jump in and help turn some wrenches! No previous bike building experience necessary." Sign up for a time slot here. Registration required.
#3QuickPicks for Star Wars Day with Vern Waters of The County Library:
By the way, Vern ran the numbers on Star Wars materials in The County Library's catalog: "1,938: that's how many Star Wars-related items we have in the library catalog. 213: That's sound recordings including soundtracks, and books on CDs, radio plays, etc. 86 Art of Star Wars books. 71 Lego Star Wars items. 61 different DVDs. 10 Star Wars Cookbooks and 7 Craft Books related to the phenomenon."
May the 4th Be With You! RadioACTive's #RoundtableTuesday edition celebrates Star Wars Day, featuring:
Views, thoughts or opinions shared by guests are their own and do not necessarily reflect those of the board, staff or members of Listeners' Community Radio of Utah, 90.9fm KRCL. Tonight's RadioACTive team included:
Community Co-Hosts: Risshan Leak
Exec. Producer/Host: Lara Jones
###