#PunkRockFarmerFriday with Aldine Strychnine, including an #UrbanFarmReport with Utah dairy farmer Lacey Papageorge, #QuarantineCocktails Ep20 with City Weekly, Ogden's Own Distillery and SLC Mayor Mendenhall, Flagstaff-grown music from Walter Salas-Humara, updates from Downtown SLC Farmers Market, Wasatch Community Gardens, The Other Side Academy and Summit Land Conservancy.
Tonight's lineup:
#QuarantineCocktails Ep20, featuring:
John Saltas of Salt Lake City Weekly, which has been showcasing the stories of local businesses and their resilience in the face of COVID-19

Steve Conlin of Ogdens Own Distillery, which not only has distilled up thousands of gallons of hand sanitizer but is also donating profits to furloughed workers in Salt Lake City and Ogden.

Ogden's Own just opened its new distillery location at 615 W. Stockman Way, Ogden. If you are a local, the building is located near the historic Ogden stockyard area off 24th Street, across from the Rooster B-Street Canning location. Stop by, grab some liquor & sanitizer and check out the new spot.
Salt Lake City Mayor Erin Mendenhall with an update on the Tip Your Server Project. To donate to this fund for furloughed bar and wait staff in SLC, click here. 
SLC City Flag Design Contest: The winning entry will be awarded a $3,000 prize and get to see their creation waving from flagpoles for years to come. Local school children, design professionals, first-time flag designers and anyone who loves Salt Lake City are invited to submit entries. Design criteria, contest entry information and more can be found at www.slc.gov/flag. Deadline: June 30, 2020.
Alison Einerson of the Downtown SLC Farmers Market, which is making changes to the way the market will work in time for opening day June 13 at Pioneer Park.
Save the Market Campaign: Harmons grocery store has offered a $10,000 matching grant. Click here to make your contribution to Urban Food Connections of Utah, the 501c3 non-profit organization that produces the nearly 30-year-old market and ensures that people have access to healthy, local produce and farmers, and that ranchers and food producers have income.
Marybeth Janerich of Wasatch Community Gardens, which held its annual spring plant sale online earlier this week. In fact, the nonprofit sold out with more than 1,500 orders in just 14 hours.
Dave Durocher, executive director of The Other Side Academy, which closed down all of its social enterprises due to COVID-19. Undaunted, they launched a construction and landscaping service to fill the voice. Durocher said The Other Side Movers and The Other Side Thrift Boutique will reopen to the public soon.
Cheryl Fox of Summit Land Conservancy, which recently received a nearly $10 million federal grant in support of its Utah Headwaters Initiative.
Over the course of five years, the Utah Headwaters Initiative will work to enhance the agricultural and environmental resources within the headwaters of the Weber and Provo Rivers by preserving lands through conservation easements, stream restoration practices and upland land management activities.
Flagstaff, AZ-grown music from Walter Salas-Humara, formerly of The Silos. While it remains to be seen when he'll hit the road, he plans to visit SLC and share the stage with KRCL's Punk Rock Farmer in the future.
Al's #UrbanFarmReport, featuring Kristi Spence of Dairy West and fourth-generation dairy farmer Lacey Papageorge of Pappys Farms, currently milking 90 registered Holsteins and a few registered Jerseys in Ogden.
Farm to Table Learning Series: How to Make Butter, with Idaho Dairy Farmer Siska Reece.

Curds + Kindness: Dairy West is matching dairy processing plants with over 1.5 million pounds of milk a week, in addition to cream, that would otherwise have been discarded. That milk is being turned into products and packaged for our communities to enjoy. Through a collaboration with Utah and Idaho Food Banks and local school districts, products will be made available at existing feeding sites across our two-state region.

This is unprecedented collaboration among dairy farmers, dairy companies, and local community partners. To get involved you can contact Dairy West directly.

Continue to check out our website and social channels for updates on the program and distribution locations at Unbottled.com, Dairy West's consumer facing brand.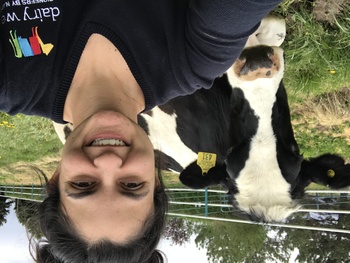 Photo: Lacey Papageorge with one of her dairy cows.
Views, thoughts or opinions shared by guests are their own and do not necessarily reflect those of the board, staff or members of Listeners' Community Radio of Utah, 90.9fm KRCL.
Tonight's RadioACTive team included:
Exec. Producer/Host: Lara Jones
Community Co-Host: Aldine, KRCL's Punk Rock Farmer
Assoc. Producer: Billy Palmer
Volunteer: Holly Lammert
###