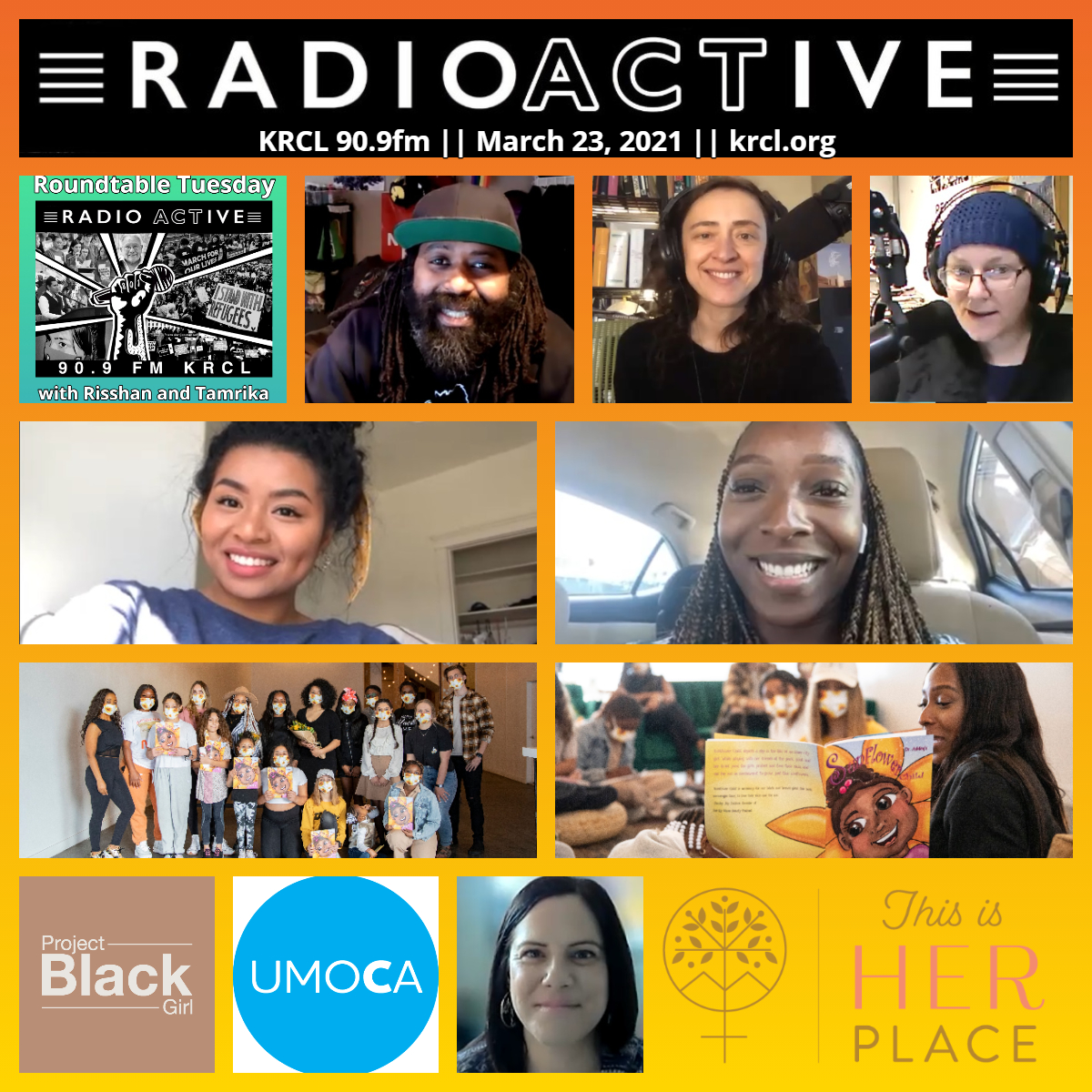 #RoundtableTuesday: Empowerment, education and care for black women and parents of black girls with Project Black Girl and SunFlower Child author Dr. Rokeshia Renne Ashley. Plus, This Is Her Place podcast, UMOCA is back and #3QuickPicks on women's history.
Tonight's lineup:
Rallies & Resources:
#3QuickPicks with Vern Waters of The County Library-West Jordan Branch. All available for online hold and curbside pickup, Water's picks on women's history included:
BOOK: Rad Women Worldwide: Artists, Piraters and Punks, and Other Revolutionaries Who Shaped History, written by Kate Schatz and illustrated by Miriam Klein Stahl. "From the authors of the New York Times bestselling book Rad American Women A-Z comes a bold new collection of 40 biographical profiles, each accompanied by a striking illustrated portrait. Featuring an array of diverse figures from Hatshepsut (the great female king who ruled Egypt peacefully for two decades) and Malala Yousafszi (the youngest person to win the Nobel Peace Prize) to Poly Styrene (legendary teenage punk and lead singer of X-Ray Spex) and Live Arnesen and Ann Bancroft (polar explorers and the first women to cross Antarctica), this progressive and visually arresting book is a compelling addition to women's history."

BOOK: Modern HERstory: Stories of Women and Nonbinary People Rewriting History, written by Blair Imani; foreword by Tegan and Sara; illustrated by Monique Le. "An illustrated and informative primer on the progressive social change movements of the last 60 years as told through the stories of 60 diverse female and non-binary people who have changed the world. From the civil rights movement and the women's movement to the LGBT rights movement and Black Lives Matter, these trailblazers come from backgrounds and communities that are traditionally overlooked and under-celebrated despite making huge contributions to the social change movements of the last century: not just women, but people of color, queer people, trans people, Muslims, and young people. Authored by rising star activist Blair Imani, Modern HERstory tells the important stories of these leaders and their movements in an easy-to-follow format appropriate for all ages, granting them the visibility and acknowledgment they deserve, and educating readers about the people changing the world right here and right now-and inspiring them to do the same."

DVD: She is Beautiful When She is Angry, from director/producer Mary Dore, is a provocative, rousing and often humorous account of the birth of the modern women's liberation movement in the late 1960s through to its contemporary manifestations in the new millennium, direct from the women who lived it."
#PoetryStillHappens, with Trish Hopkinson of Rock Canyon Poets reading her own poem, "Our Lady of Lexapro." Hopkinson is a poet and literary arts advocate. You can find her online at SelfishPoet.com and provisionally in Colorado. She co-founded Provo Poetry in 2015 to feature Utah poets in Poemball vending machines with three permanent locations in Provo and Salt Lake City (that one is at KRCL). She also curates KRCL's #PoetryStillHappens series, which you can catch up on here. Download her free Almost Famous chapbook here.
Tonight's #RoundtableTuesday panel focused on empowerment, education and care for black women and parents of black girls. Panelists included:
Stephanie Lake, co-founder of Project Black Girl. The online platform provides education, empowerment, self–care, and safe spaces for personal discovery and understanding. For more of PBG's resources, click here.

Dr. Rokeshia Renné Ashley, author of SunFlower Child. Spurred by her dissertation research, Dr. Ashley produced a children's book, SunFlower Child, that celebrates Black girlhood and provides a remedy for colorism and color caste systems. It encourages Black and Brown girls to love, care for and protect their skin.
Views, thoughts or opinions shared by guests are their own and do not necessarily reflect those of the board, staff or members of Listeners' Community Radio of Utah, 90.9fm KRCL. Tonight's RadioACTive team included:
#RoundtableTuesday Community Co-Hosts: Risshan Leak, Tamrika Khvtisiashvili
Exec. Producer, Host: Lara Jones
Assoc. Producer: Billy Palmer
###