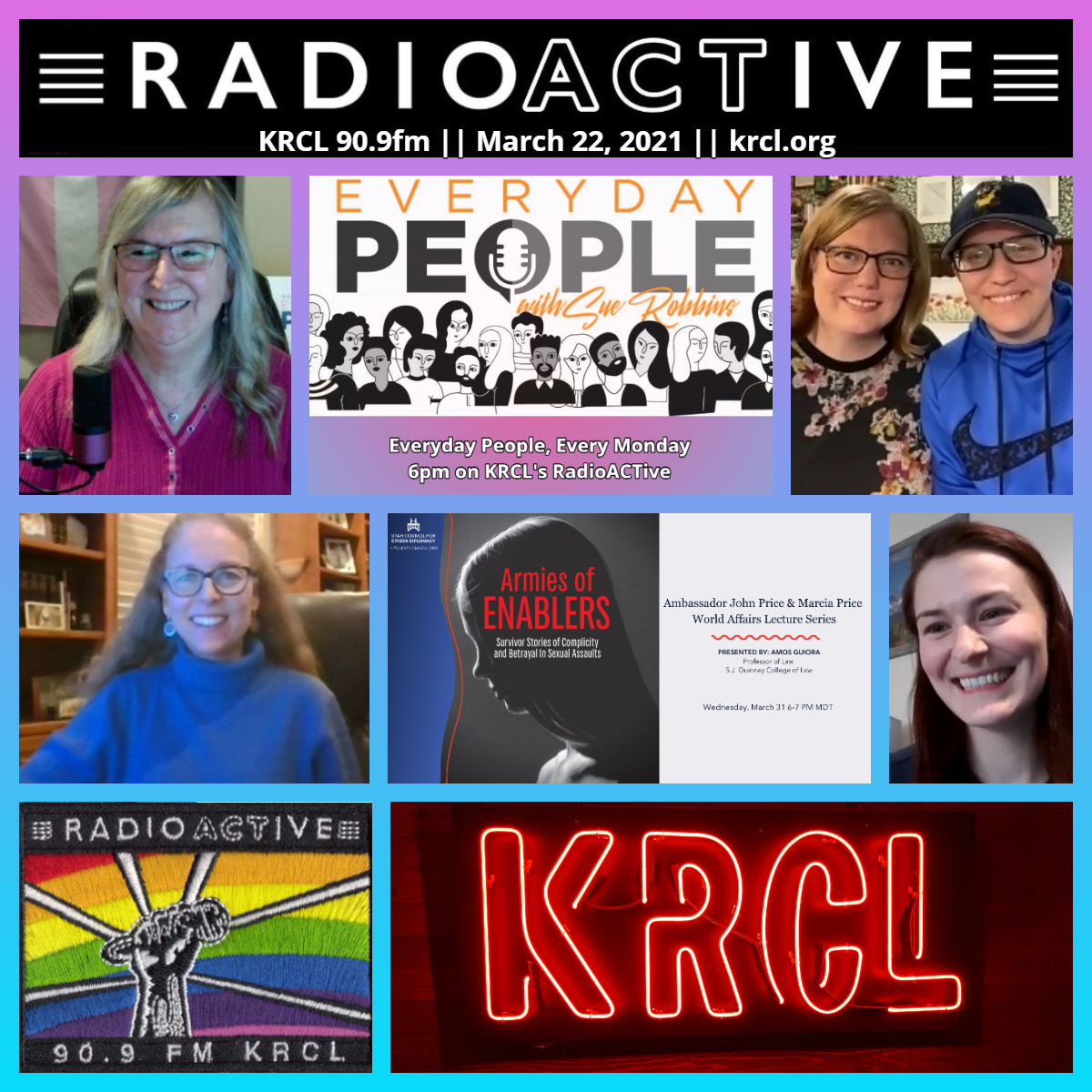 Families with transgender children step up to the mic on an #EverydayPeople edition of the show with Community Co-Host Sue Robbins. They share what it's like to watch Utah lawmakers craft bills that affect their daily lives. Plus, Utah Council for Citizen Diplomacy and UMFA reflections on Black Refractions.
Tonight's lineup:
Emma Russell of the Utah Council for Citizen Diplomacy,
March 31: Armies of Enablers: Survivors and the Crime of Complicity, 6:00 p.m. online. Event by Utah Council for Citizen Diplomacy: "Based on his book, Armies of Enablers: Survivor Stories of Complicity and Betrayal in Sexual Assaults, Amos Guiora shares the stories of sexual assault survivors from USA Gymnastics, Michigan State University, Penn State University, Ohio State University and the Catholic Church, focusing on how the institutions and individuals allowed the abuse to happen. Joined by OSU survivor Stephen Snyder Hill, they explain how expectations of protection and support from the enabler-bystander were rarely, if ever, met. Join UCCD as Professor Guiora proposes legal, cultural, and social measures aimed at the enabler from the survivor's perspective." To register and get the Zoom link for this free online event, click here.
UMFA reflection on Black Refractions, featuring Leslie D. Pippen on Moussakoo by Tom Lloyd. Don't miss your chance to see this artwork in person. Black Refractions: Highlights from The Studio Museum in Harlem is on exhibit through April 10th at the Utah Museum of Fine Arts. Click here to learn more and book tickets for your visit.
#EverydayPeople passes the microphone to community members directly impacted by anti-transgender bills and political debates. Panelists included:
Dr. Jennifer Cardinal, a psychologist with transgender youth clients
Robyn Rumsey and son Dex, 16
Kara and daughter Ava, 12, both of whom requested pseudonyms to participate in tonight's panel
Views, thoughts or opinions shared by guests are their own and do not necessarily reflect those of the board, staff or members of Listeners' Community Radio of Utah, 90.9fm KRCL. Tonight's RadioACTive team included:
Community Co-Host: Sue Robbins, Everyday People edition of RadioACTive
Executive Producer: Lara Jones
Assoc. Producer: Billy Palmer
###