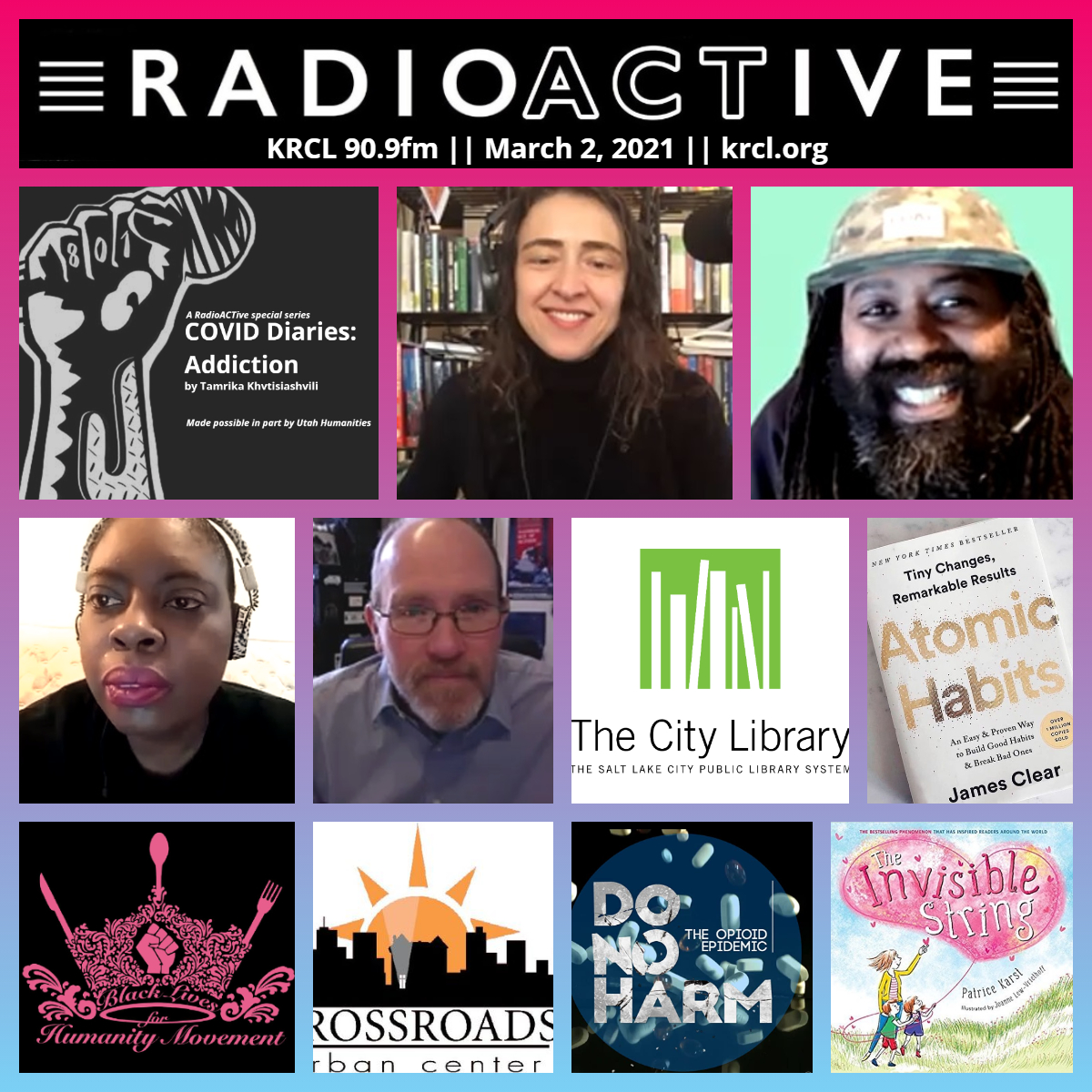 #RoundtableTuesday explores addiction during COVID, different ways to help folks experiencing homelessness with Glenn Bailey of Crossroads Urban Center and grassroots activist Ty Bellamy of Black Lives for Humanity Movement. Plus, a #3QuickPicks reading list from The City Library's Azra Basic, a legislative update from the League of Women Voters of Utah and more.
Tonight's lineup:
Claire Taylor of the Salt Lake City Arts Council, which March 3-6 presents its next Flash Project, "The Dead See Scrolls" by Alex Moya, at Finch Lane Gallery.
"Tired of endlessly scrolling online? Take a break from the digital world, and visit an art installation that takes a playful look at the blurred line between the physical and the digital. Alex Moya combines the ideas of old, analog scrolls that hold history, information, and mystical truths, to comment on our contemporary, digital scrolling through digital pages. The installation will include a projection of "scrolling" video collages and manipulations of social media that will be projected onto a paper scroll. In addition, Moya will create mixed media works on paper that feature elements of social media blended with snippets of old scrolls, blurring the lines between these digital and physical technologies."

Click here to schedule your gallery visit. Each appointment is for one group, consisting of 1-5 people. An individual can reserve the space for themselves, or bring up to four other people with them. These individuals are considered an "individual household group" as defined in state documents.
#3QuickPicks on The People's Business at the Utah Legislature with Emily Walsh of the League of Women Voters of Utah. The General Session ends Friday at midnight. Be sure to call your lawmakers to share your opinion on last minute bills and spending.
To find your lawmaker and their contact info, visit le.utah.gov.

March 3: Join the League of Women Voters of Utah at 11:00 a.m. for its last virtual lunch of the General Session of the Utah Legislature. They'll catch you up on the action and answer your questions on The People's Business.
COVID Diaries No. 5: Addiction, by Tamrika Khvtisiashvili. In this entry, Khvtisiashvili checked in with folks struggling with addiction or providing therapy and rehab services to learn how COVID has affected them personally and professionally. Voices included:
Sloane Rampton, a Licensed Clinical Social Worker with Salt City Psychology

Mary Jo McMillan, executive director at Utah Support Advocates for Recovery Awareness (USARA)

Even Done, Development Director, USARA

Jesse Rich, a peer recovery coach in USARA's Addiction Recovery Coaching in Healthcare & Emergency Settings (ARCHES)

Rachel Santizo, Recovery Outreach Specialist, Odyssey House of Utah

Randy Hannington, Division Director of Substance Use Disorder Services at Wasatch Behavioral Health

Toni Harris, Assistant Dean, Utah Valley University College of Humanities and Social Sciences

March 11: 2021 UVU Conference on Addiction, 9a-4p online. Event by UVU College of Humanities & Social Sciences: "This single-day, virtual conference--designed to meet the needs and interests of professionals, service providers, families, community members, and students--will provide information on a wide range of topics dealing with addiction, prevention, and recovery. Keynote presenter: Actress and author Mackenzie Phillips, a survivor of substance abuse and a visible, outspoken advocate for addiction awareness and education. She currently works as a director at the Breathe Life Healing Center in Los Angeles where she specializes in trauma, drug, and alcohol treatment and recovery." Free to current UVU students. Click here for tickets and a full schedule of events.
COVID Diaries is a special RadioACTive series, made possible in part by Utah Humanities. To hear other entries in this series, click here.
#3QuickPicks with Azra Basic, adult services librarian at the Marmalade Branch, Salt Lake City Public Library. All available for online hold and curbside pickup, Basic's picks on breaking the addiction cycle included:
Book/Ebook/Audio Ebook: Atomic Habits: An Easy & Proven Way to Build Good Habits & Break Bad Ones, by James Clear. "An expert on habit formation, Clear reveals practical strategies that will teach you how to form good habits, break bad ones, and master the tiny behaviors that lead to remarkable results. He draws on proven ideas from biology, psychology, and neuroscience to create an easy-to-understand guide for making good habits inevitable and bad habits impossible."

Book/DVD/eMovie: Do No Harm: The Opioid Epidemic. This title "puts the spotlight on the worst man-made epidemic in our nation's history. The film talks to leading doctors, law enforcement, and other experts while following stories from more than a dozen locations including poignant narratives from recovering addicts and families with losses."

Children's Book: The Invisible String, by Patrice Karst. "A heartwarming story that delivers a very simple approach to overcoming the fear of loneliness or separation from parents, written with an imaginative flair that children can easily identify with and remember."
#RoundtableTuesday panel connecting the dots between addiction and homelessness, exploring both the grassroots and institutional approach to helping folks. Panelists:
Crossroads Urban Center Executive Director Glenn Bailey. CUC runs food pantries, a clothing distribution site, and advocacy groups.
Views, thoughts or opinions shared by guests are their own and do not necessarily reflect those of the board, staff or members of Listeners' Community Radio of Utah, 90.9fm KRCL. Tonight's RadioACTive team included:
#RoundtableTuesday Community Co-Hosts: Tamrika Khvtisiashvili, Risshan Leak
Exec. Producer, Host: Lara Jones
Assoc. Producer: Billy Palmer
###