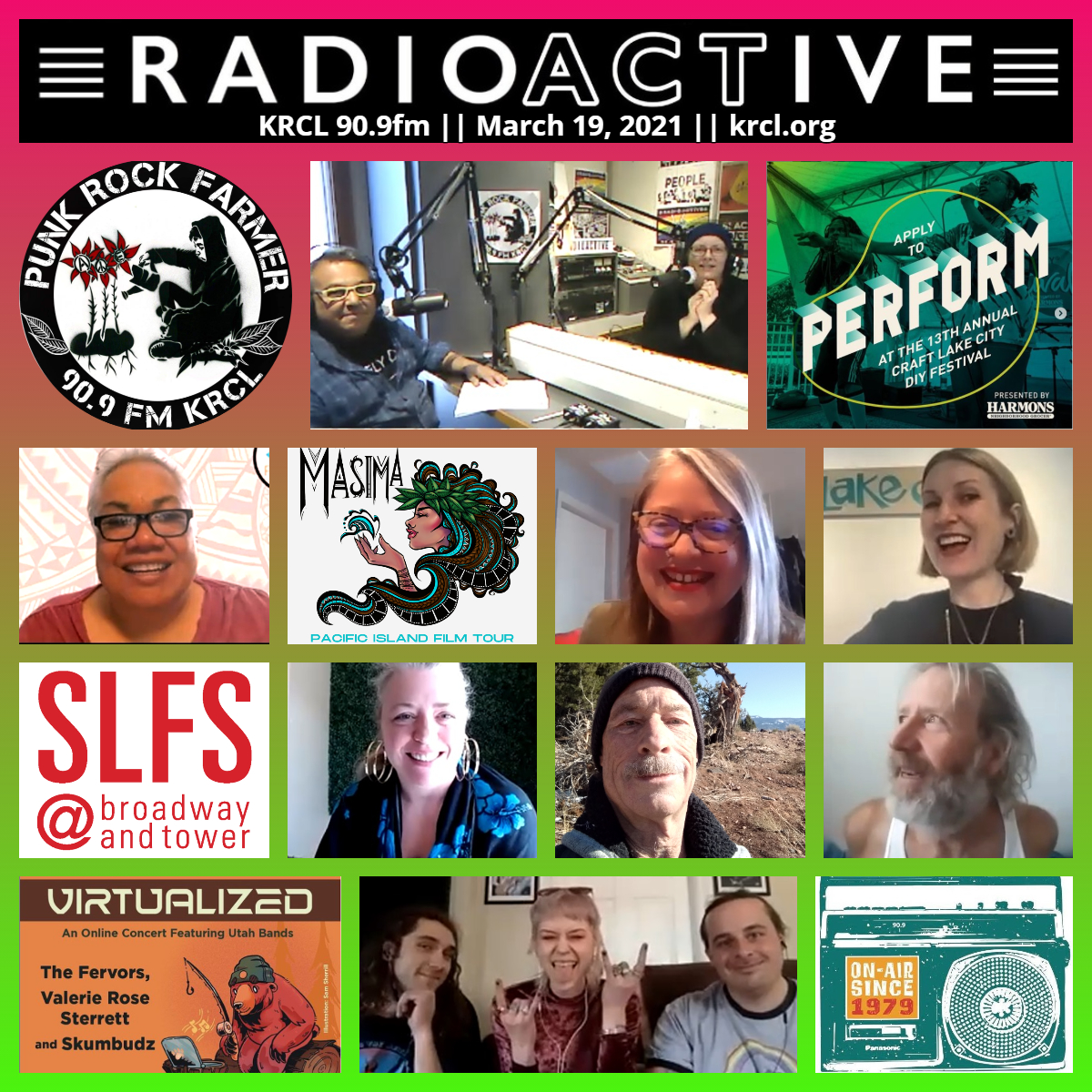 Aldine, KRCL's Punk Rock Farmer, gets cooking with Diana Law and the Beacon Food Forest. Plus, Masima Film Festival, Craft Lake City, signs of spring with SkyWatcher Leo T and Joseph Lofthouse and fresh, homegrown music from The Fervors.
Tonight's lineup:
Fresh, homegrown music from The Fervors, a Salt Lake City psych-rock band featuring Dylan Almond, Bridger Croxford and River Rose Haggerty.
Many cultures, one sky with SkyWatcher Leo T, who explained Spring Equinox, aka the "Celestial Ecliptic," and explored Polynesian navigators' use of stars and waves to sail among the more than 1,000 islands of the central and southern Pacific Ocean. He also checked in live from Torrey, Utah, where he's enjoying a dark night sky. To follow him on Facebook, click here.
Signs of Spring with seed saver Joseph Lofthouse, whose book Landrace Gardening will debut later this spring. In it Lofthouse explores the use of biodiversity and promiscuous pollination to increase food security.
Thanks to Katie Nelson of The Green Urban Lunch Box, Ma Black of Night Estéreo KRCL and Salt Laker Eliza Beth for sending us their #SignsOfSpring we shared on the show tonight!
Susi Feltch-Malohifo'ou, CEO/Director of Pacific Island Knowledge 2 Action Resources (PIK2AR) and Tori Baker of Salt Lake Film Society, who talked about their collaboration to create the first-ever film festival dedicated to showcasing Pacific Islander filmmakers and films, curated by PIK2AR's Lauren To'omalatai Ulugia.
March 26-April 1: Masima--Pacific Island Film Tour. Tickets will go on sale Monday at SLFSathome.org. "Join us for a lineup of contemporary shorts, documentaries, animation, and feature-length films telling stories from the perspective of Pacific Islanders. Here is a sampling of films from the tour:
This is the Way We Rise: Filmmaker Ciara Lacy documents Jamaica Heolimeleikalani Osorio, a Kanaka Maoli wahine poet, activist, and academic, and her continued work towards justice for Hawaii's Indigenous population.
Slow But Sure: The Story of Tuaikaepau: In 1962, seventeen men tried to sail from Tonga to New Zealand on a 51-foot sailboat named Tuaikaepau. A fateful storm blew them off course and into the Minerva Reef where they were shipwrecked and marooned in the middle of the South Pacific Ocean. An epic account of their fight for survival that lasted 101 days.
Kapaemahu: Long ago, four extraordinary individuals of dual male and female spirit brought the healing arts from Tahiti to Hawaii. The name of their leader was Kapaemahu. Beloved by the people for their gentle ways and miraculous cures, they imbued four giant boulders with their powers. The stones still stand on what is now Waikiki Beach, but the true story behind them has been hidden – until now
Angela Brown of Craft Lake City issued a call for makers and musicians, street performers, artisans and STEM folks to apply for the nonprofit's annual DIY festival.
Aldine's #UrbanFarmReport, featuring true tales from the agrihood. Tonight's special guest: Diana Law of Dianaverse School of Herbal Learning. Law is working with the Beacon Food Forest in Seattle and shared details of her work.
March 28: Diana Law cooking class for gardeners and foragers, a live virtual class. Event by Beacon Food Forest: "It's Spring and the plants are lifting their sleepy heads! Join me online as I take a stroll thru the food forest and gather some plants of the season and show you what's at the food forest; then I'll take you step-by-step thru 3 recipes. The most abundant plants at this time of year are greens, so I'll gather some up and make a massaged salad, a mess of greens, herbed rice and finish with a refreshing herbal tea as a bonus. The recipes will be posted on my website for reference @ dianaverse.org after the class." Tickets just $10 if you register by March 27th. Click here.
Views, thoughts or opinions shared by guests are their own and do not necessarily reflect those of the board, staff or members of Listeners' Community Radio of Utah, 90.9fm KRCL. Tonight's RadioACTive team included:
Community Co-Host: Aldine, KRCL's Punk Rock Farmer
Executive Producer, Host: Lara Jones
Assoc. Producer: Billy Palmer
###