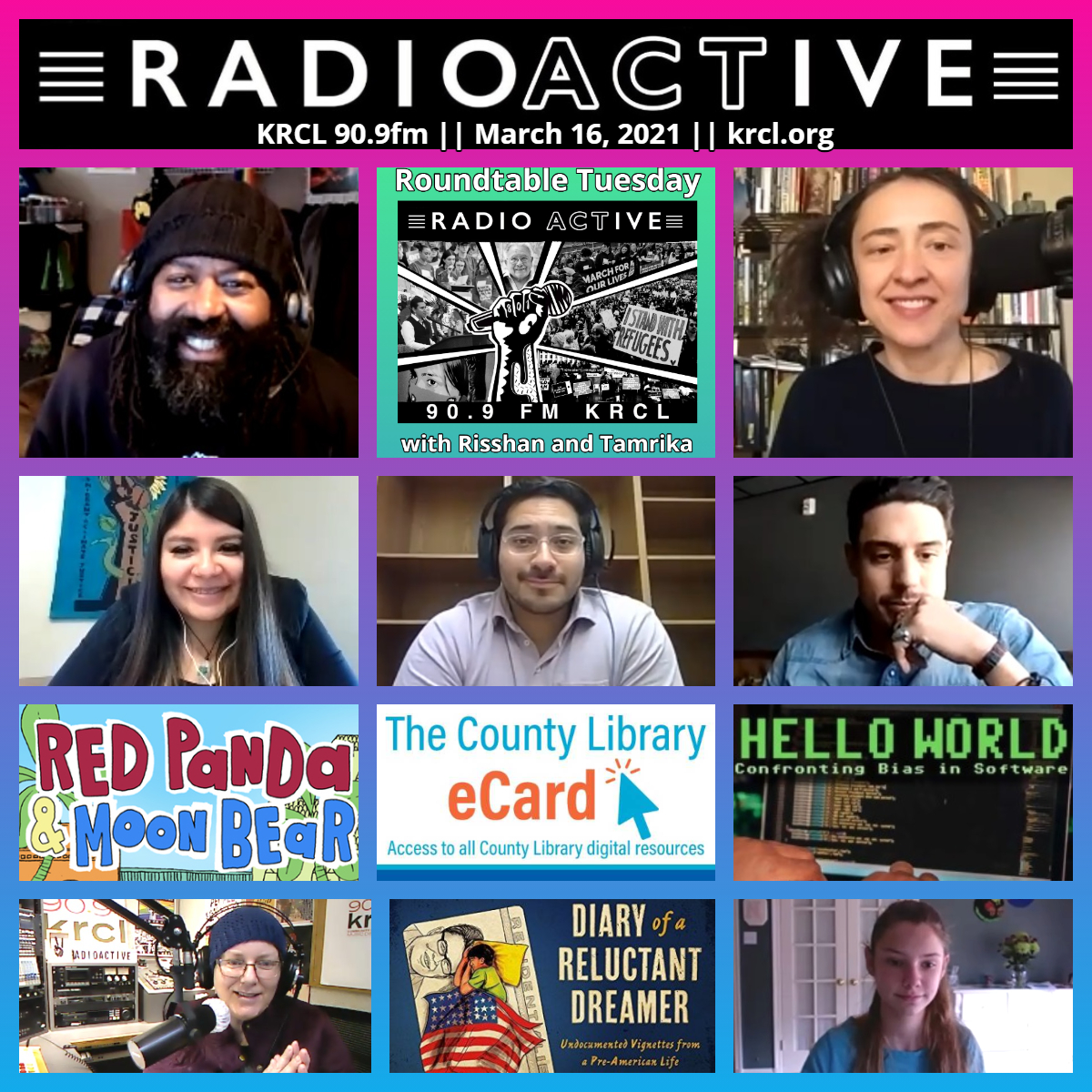 #RoundtableTuesday hosts Tamrika and Risshan pass the mic to Utah's Latinx community, including Mayra Cedano of Comunidades Unidas, Erick Pernia of Arempa's Venezuelan Cuisine and artist Pedro Hueramo Rico of Xicanx Creative. Plus, COVID Diaries, Global Climate Strike and #3QuickPicks.
Tonight's lineup:
Rallies & Resources:
#PoetryStillHappens, with Trish Hopkinson of Rock Canyon Poets.
Featured Poet: Jaqueline Balderrama, author of Now in Color (Perugia Press, 2020) and the chapbook Nectar and Small (Finishing Line Press, 2019). She serves as a poetry editor for Iron City Magazine and has been involved in the Letras Latinas literary initiative, the ASU Prison Education Program, and the Wasatch Writers in the Schools. Currently, she's pursuing her Ph.D. in literature and creative writing at the University of Utah.
COVID Diaries No. 6: Addiction, by Tamrika Khvtisiashvili. In this entry, Khvtisiashvili passed the microphone to the Latinx community. Voices included Mayra Cedano, Comunidades Unidas; Consul of México, José V. Borjón, Consul of Mexico-Utah; and Lorena Riffo-Jenson, Salt Lake County Health Dept.'s Access Vaccination Equity Team.
#3QuickPicks with Vern Waters of The County Library-West Jordan Branch. All available for online hold and curbside pickup, Water's picks on the Latinx Community included:
Graphic novel for kids: Red Panda & Moon Bear by Jarod Roselló. "Two Latinx kids battle supernatural threats to their working-class neighborhood with the power of science, magic, and a pair of very special hoodies. Red Panda and Moon Bear are the defenders of their community! Together, these brave siblings rescue lost cats, scold bullies, and solve mysteries, all before Mami and Papi get home."

Graphic novel for adults: Diary of a Reluctant Dreamer, Undocumented Vignettes from a Pre-American Life by Alberto Ledesma. "Doodling as activism -- Lunchtime sketches -- The first years -- Embracing my undocumented immigrant identity -- Assisting the reluctant dreamer -- On being an (ex)undocumented immigrant father -- The undocumented alphabet -- On the need for self-amnesty -- Deconstructing the dreamer -- Enter Trump.."

DVD: Hello World, Confronting Bias in Software. "The film delves into the history of software development that started as a woman-led industry but has evolved into a majority white male and Asian dominated industry. It tackles the tough topic of why women as well as Black and Latinx people don't pursue software careers."
#RoundtableTuesday hosts Tamrika and Risshan pass the mic to Utah's Latinx community, including
Views, thoughts or opinions shared by guests are their own and do not necessarily reflect those of the board, staff or members of Listeners' Community Radio of Utah, 90.9fm KRCL. Tonight's RadioACTive team included:
#RoundtableTuesday Community Co-Hosts: Risshan Leak, Tamrika Khvtisiashvili
Exec. Producer, Host: Lara Jones
Assoc. Producer: Billy Palmer
###