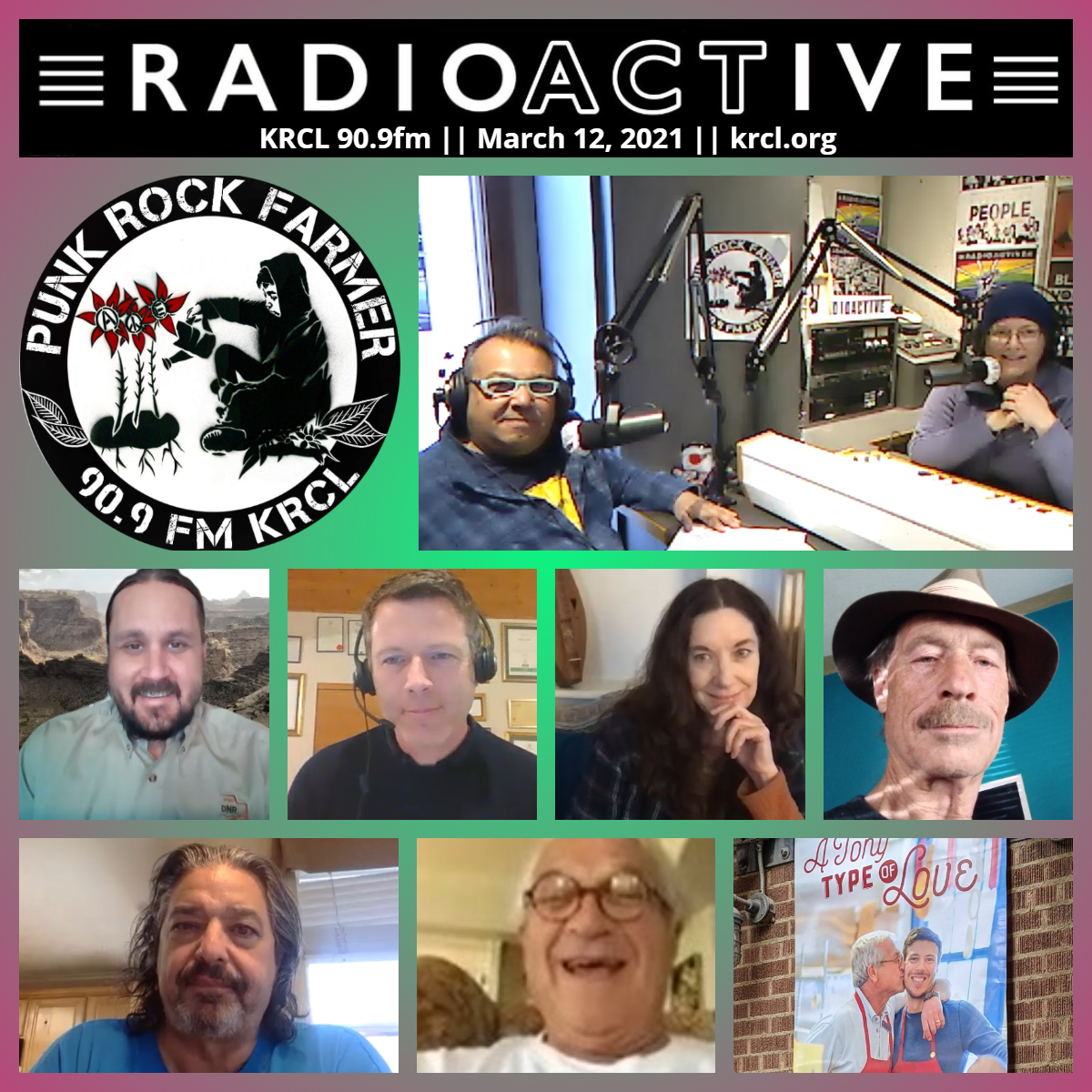 #PunkRockFarmerFriday checks in with Peter Donegan in Ireland as we celebrate a St. Patrick's Day one-year into COVID, plus Alan Bain with tips to grow your own potatoes this year. SkyWatcher Leo T. A dip into the #QuarantineCocktails vault with City Weekly to remember Tony Caputo, who passed away earlier this week. Fresh, homegrown music from Kate MacLeod.
Editor's Note: This archived edition of the show includes bonus material we didn't have time for on the air. Enjoy!
Tonight's lineup:
Fresh, homegrown music from Utah's own Kate MacLeod. She was one of the first musicians to join us in our virtual studio as COVID shut down live music on KRCL. Catch up with Kate in the following ways:
March 13: Virtual St. Patrick's Day with the Utah Hibernian Society, 11a-5p live stream event hosted by Judge Memorial: "Enjoy Irish dancing, traditional Irish bands, pipe bands, and shenanigans from the comfort of your own home. Make sure you are well supplied with libations to toast with. We will be raising glasses often and cheerfully as we celebrate St. Patrick's Day together by the magic of the internet. Click this link to join."

March 14: Sing Your Heart Out Online Sing-In, 7:00 p.m. This Sunday: St Patrick's Day Episode #1- An American-Celtic Music Experience. Streaming live online at Kate's Facebook musician page: www.facebook.com/katemacleodmusic/live/ or YouTube page: https://www.youtube.com/macleodkate. "Sing with me, or just listen in. A new list of songs will be sung each week. I'm doing this primarily to lift our spirits (including mine), so if you're in financial distress, know that tips are appreciated, but TOTALLY optional:

VIRTUAL TIP JARS:

Venmo: @Kate-MacLeod-5

March 17: Excellent in the Community Series, featuring Kate MacLeod and Shanahy, 8:00 p.m. live stream from Gallivan Plaza.
A word for the birds with Adam Brewerton, a conservation wildlife biologist with the Utah Division of Wildlife Resources. Click here for more details on the salmonella outbreak affecting birds right now, including steps to clean your birdfeeder.
#Quarantine Cocktails' In Memoriam for Tony Caputo with John Saltas of City Weekly. Caputo passed away earlier this week, so we dug into the vault to share a conversation we had with Tony back on June 16, 2020.
Many cultures, one sky with SkyWatcher Leo T. To follow him on Facebook, click here.
Aldine's #UrbanFarmReport, featuring:
Peter Donegan, Donegan Garden Designs, Ireland. Ever since his visit to SLC for the St. Patrick's Day Parade in 2017, Donegan has been a friend of Punk Rock Farmer Friday on RadioACTive. Most recently Donegan has been part of the DIY SOS on RTE in Ireland.

KRCL DJ Alan Bain with tips on growing potatoes in the high desert.
Views, thoughts or opinions shared by guests are their own and do not necessarily reflect those of the board, staff or members of Listeners' Community Radio of Utah, 90.9fm KRCL. Tonight's RadioACTive team included:
Community Co-Host: Aldine, KRCL's Punk Rock Farmer
Executive Producer, Host: Lara Jones
Assoc. Producer: Billy Palmer
###