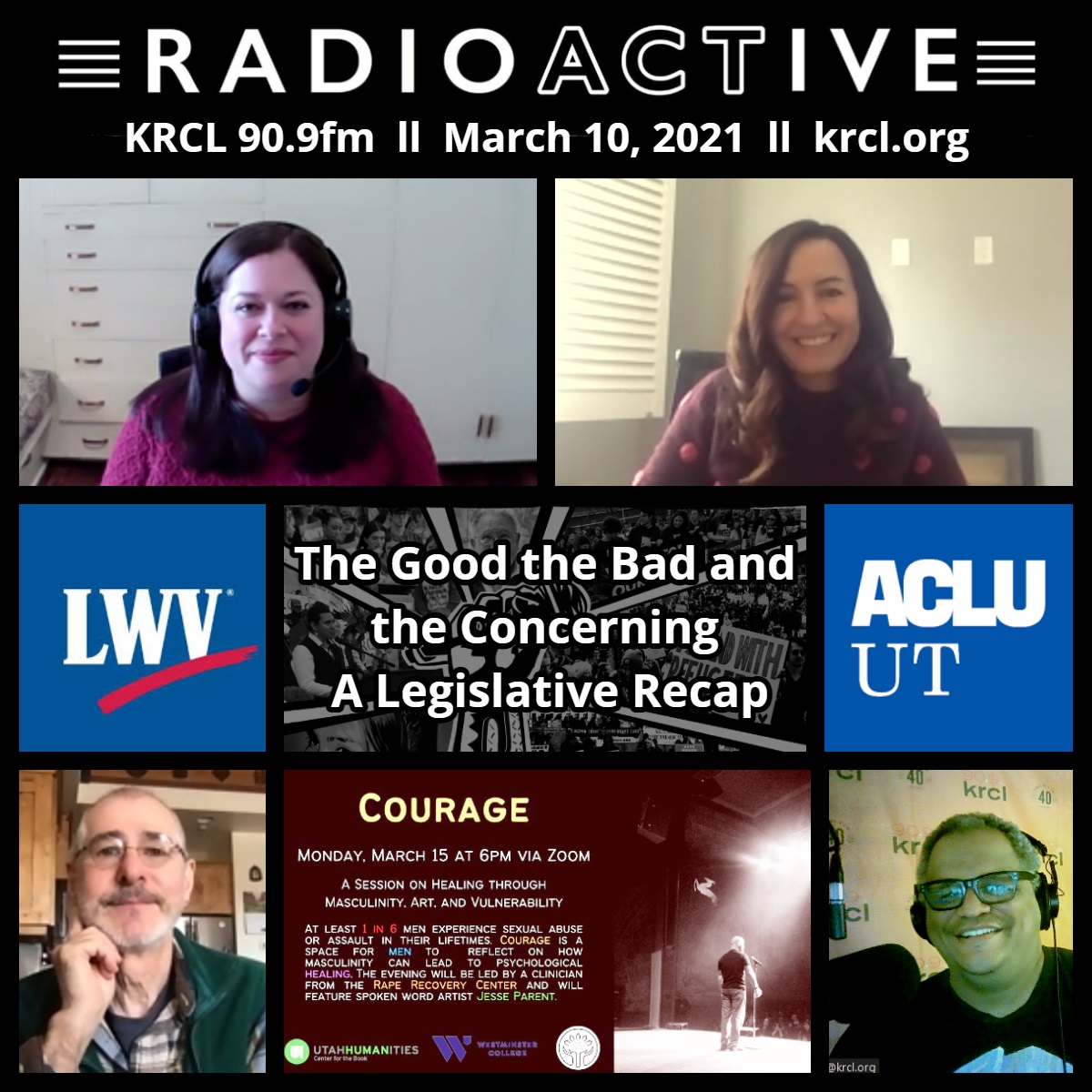 The Good, The Bad and The Ugly: A legislative recap with the League of Women Voters Utah, ACLU Utah and Alliance for a Better Utah. Plus, a session of healing.
Courage: A Session on Healing through Masculinity, Art, and Vulnerability
Carlos Palomo, LCSW of the Rape Recovery Center shared an event for male, survivors of abuse featuring renowned Utah poet Jesse Parent. Details for the event taking place Monday, March 15 from 6 to 7 p.m. are presented below from the registration website:
"At least 1 in 6 men experience sexual abuse or assault in their lifetimes. Courage is a space for men to find strength and healing through masculinity, art, and vulnerability. We invite male-identified individuals and their allies to witness the poetry of internationally acclaimed spoken word artist and survivor Jesse Parent and reflect on how masculinity can lead to psychological healing. The evening will be led by a clinician from the Rape Recovery Center, who will create a space to explore the Parent's artistic expression and passages from Under Saturn's Shadow: The Wounding and Healing of Men by James Hollis".
With an end to the 2021 General Legislative Session, we sat down with some of Utah's expert legislative advocates to talk through the bills that became law and what they will mean for Utahns. Plus a review of trending bills that are shaping legislative debate for better or worse and what citizens can do to continue staying involved year-round.
Our round table included:
Views, thoughts or opinions shared by guests are their own and do not necessarily reflect those of the board, staff or members of Listeners' Community Radio of Utah, 90.9fm KRCL. Tonight's RadioACTive team included:
Assoc. Producer/Host: Billy Palmer

Community Co-Host: Nick Burns

Executive Producer: Lara Jones
###