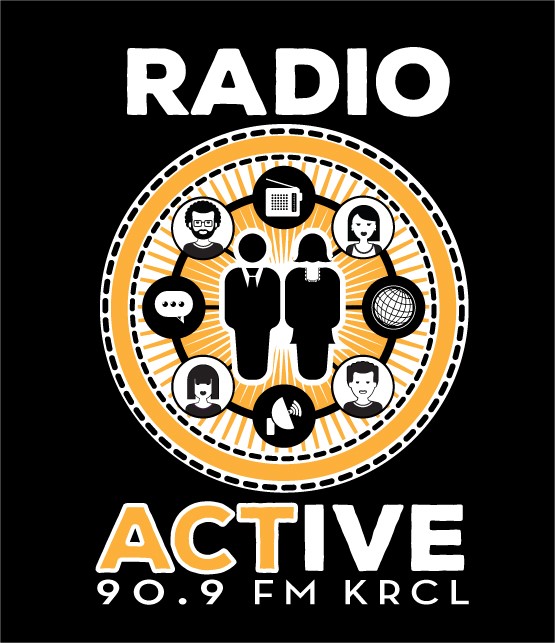 Farmers, Markets, Wey

Members of Wey, with Al and Lara from Friday night's show. L-R: Mike Sasich, Trevor Goss, Al Grossi, Spock, Eli Morrison, Lara Jones.
Hosted by Lara Jones and Al Grossi, KRCL's Punk Rock Farmer, tonight's show included information on the following events, gatherings, rallies and topics:
Arts & Culture notes with KRCL's Eric Nelson:

Free fishing day Sat., June 11. More details at Outdoor Adventure Days.
SLC Public Library's Super Summer Cinema Series at 9 p.m. Friday night, 6/10, features a free screening of Jurassic park on the east lawn. Enjoy movies at SLCPL the second Friday of the month throughout the summer.
Earth Jam, going on Friday and Saturday at Liberty Park.
Utah Asian Festival, Saturday, June 11, 10 a.m. to 7 p.m., South Towne Expo Center in Sandy.
Heart & Soul Music stroll, Saturday, June 11, 3 p.m. to dusk, along Fillmore and Atkin streets in Sugar House. See 35 different musical groups perform on porches and in yards up and down these streets, located at approximately 1530 E. 2800 S., SLC.
Ogden Arts Fest, Sat-Sun, June 11-12, at the Ogden Amphitheater.
TedX at Marmalade Branch of the SLC Public Library, starts at 7 p.m. Features: Jeri Gravlin, who took part in the Bhutan Gross National Happiness Study Exchange Program in May.
Tower Theatre Open Screen, showing locally made short films. Starts at 7 p.m. Wednesday, June 15, at the Tower, 976 E. 900 S., SLC.
Look for the Utah Blues Festival Saturday, June 18, at The Gallivan Center, 239 S. main Street, SLC.
Marybeth Janerich, Wasatch Community Gardens, on the 2016 Urban Farm & Garden Tour, which will be held June 25. Tickets and more info available here.

Jason Mathis and Alison Einerson on the opening of this year's

Downtown SLC Farmers Market

, 8 a.m. to 2 p.m. in Pioneer Park through October. 

Grace Henley on the IRC's

Sunnyvale Farmers Market

, 12-4 p.m. in Sunnyvale Park at 4013 S. 700 W., Salt Lake. Approach from 3900/4100 South. The Market offers a 1-to-1 incentive match to customers eligible to receive EBT/SNAP, WIC, SSI or those whose children are enrolled in the National School Lunch Program.

Wey

was the band in residence on tonight's show. They've recorded nine songs, which will be out on vinyl soon. The band is Spock (bass guitar/vocals), Eli Morrison (guitar), Mike Sasich (guitar), and Trevor Goss (drums).

Talking urban farms and farmers markets with (L-R) Lara Jones, Grace Henley of the IRC's Sunnyvale Farmers Market, Al Grossi, Marybeth Janerich of Wasatch Community Gardens, and Alison Einerson and Jason Mathis of the Downtown SLC Farmers Market.