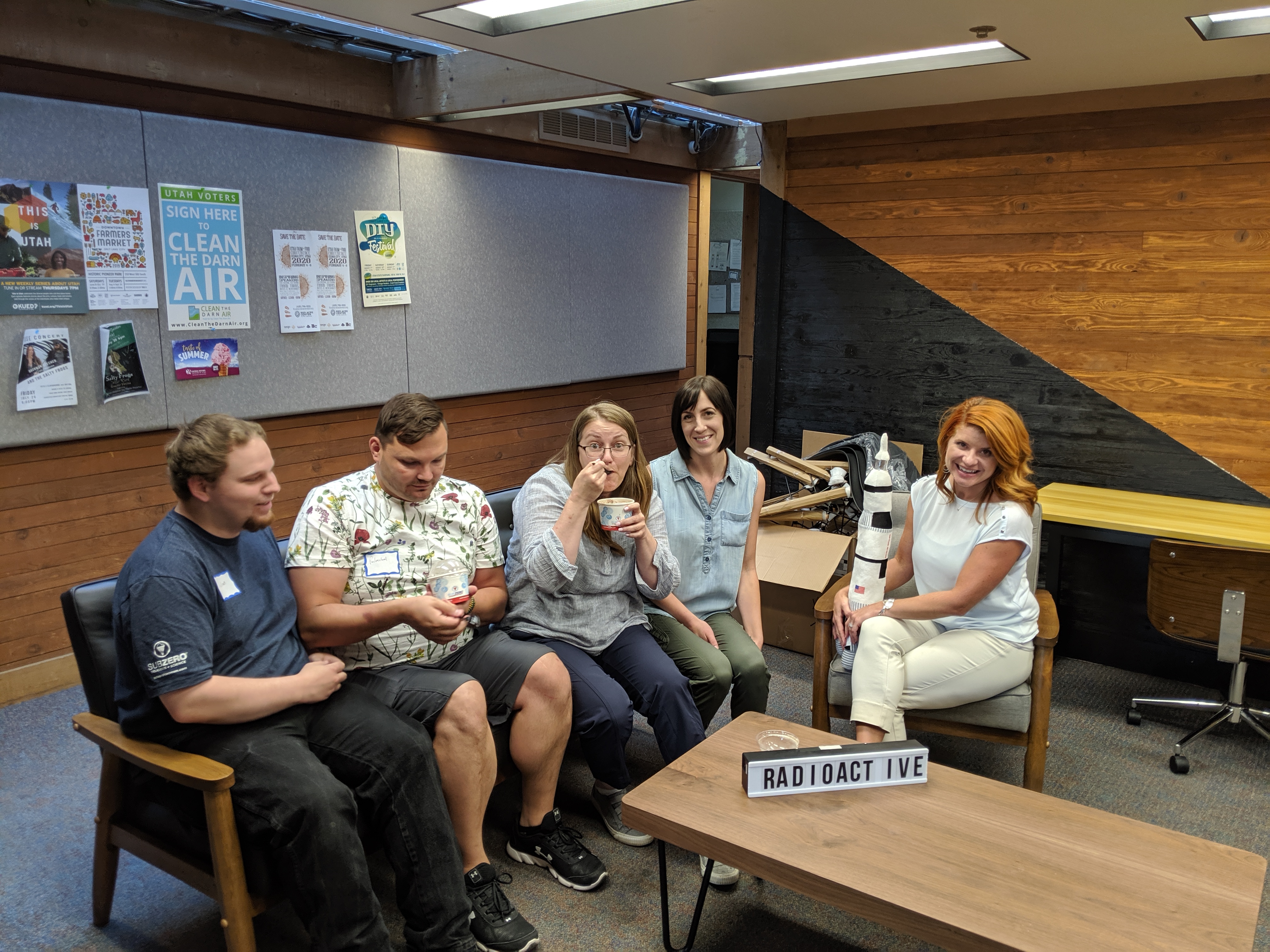 Taste of Summer, Apollo 11 50th anniversary, Bring the Funny all the way from Provo, Saturday's Voyeur preview part 2, The Road Home update
Tonight's lineup:
Taste of Summer at the Natural History Museum of Utah, with the museum's PaulMichael Maxfield and Sullivan Moreau, Sub Zero Nitrogen Ice Cream. Moreau will be leading a workshop on the science of ice cream at the two-day summer food festival, which will run July 20 – 21. For more information and to register for the workshops, click here.
Celebrating the 50th anniversary of the Apollo 11 moon landing, with Lindsie Smith, associate director of Clark Planetarium. Here's a list of the celebrations at the planetarium:
Wednesday, July 17: Jessica Vos, NASA Engineer, workshops and science demos at 11am and 2pm. At sunset, enjoy Movies in the Plaza screening of First Man. Clark Planetarium and KUED will have activities from 7:30-show time.
Friday, July 19: Clark Planetarium is participating in the Gallery Stroll from 6-9pm with Moon art on its Science on a Sphere screen, and an exhibit of the winners from the KUED Kid's Writers and Illustrators Contest. Other Moon activities and science demos to take place.
Saturday, July 20: Moon Landing Celebration, all-day activities with KUED, Hill Aerospace Museum, and other partners. Free screening of PBS' Ready Jet Go: One Small Step at 11 AM in the IMAX theater. At 7pm, lecture/presentation with Jessica Vos, NASA Engineer – "Living and Working in Deep Space."
While all events are free, some require registration. Click here for details.
Provo-based comedy sketch troupe JK Studios is competing on Bring The Funny, a 10-episode competition series for the next generation of comedy lovers. RadioACTive spoke with JK members Natalie Madsen and Stacey Harkey about the trip so far. Episodes air Tuesday nights at 9 p.m. on KSL Channel 5, the local NBC affiliate.
KRCL's Nick Burns talks with Cynthia Fleming, Salt Lake Acting Company's executive artistic director, for part 2 of our annual Saturday's Voyeur preview of this cultural favorite. This year's production runs through Sept. 1. Click here to get tickets.
Matt Minkevitch of The Road Home, which will close the downtown homeless shelter in October as the new men's shelter comes online in South Salt Lake.
Oct. 2: 33rd Annual Great Salt Lake Chili Affair, 5:30-8:30 p.m. at the Salt Palace Convention Center, 100 S. West Temple, SLC. Delicious chili from various local chefs, as well as salads, breads, desserts, live entertainment, a silent auction, and a supervised children's area. Join The Road Home in "Helping People Move Home." All proceeds benefit the people The Road Home serves through emergency shelter, supportive services, and housing programs. Click here to learn more about The Road Home.
Got a story you'd like to share on the show or an issue you'd like us to cover? Record a voice memo on your smart phone, then email it to radioactive@krcl.org. Keep it under 3 minutes and be sure to include a name and phone number in the message.
RadioACTive is a production of Listeners' Community Radio of Utah. Tonight's team included:
Exec. Producer/Host: Lara Jones
Community Co-Host: Brooke Estes
###