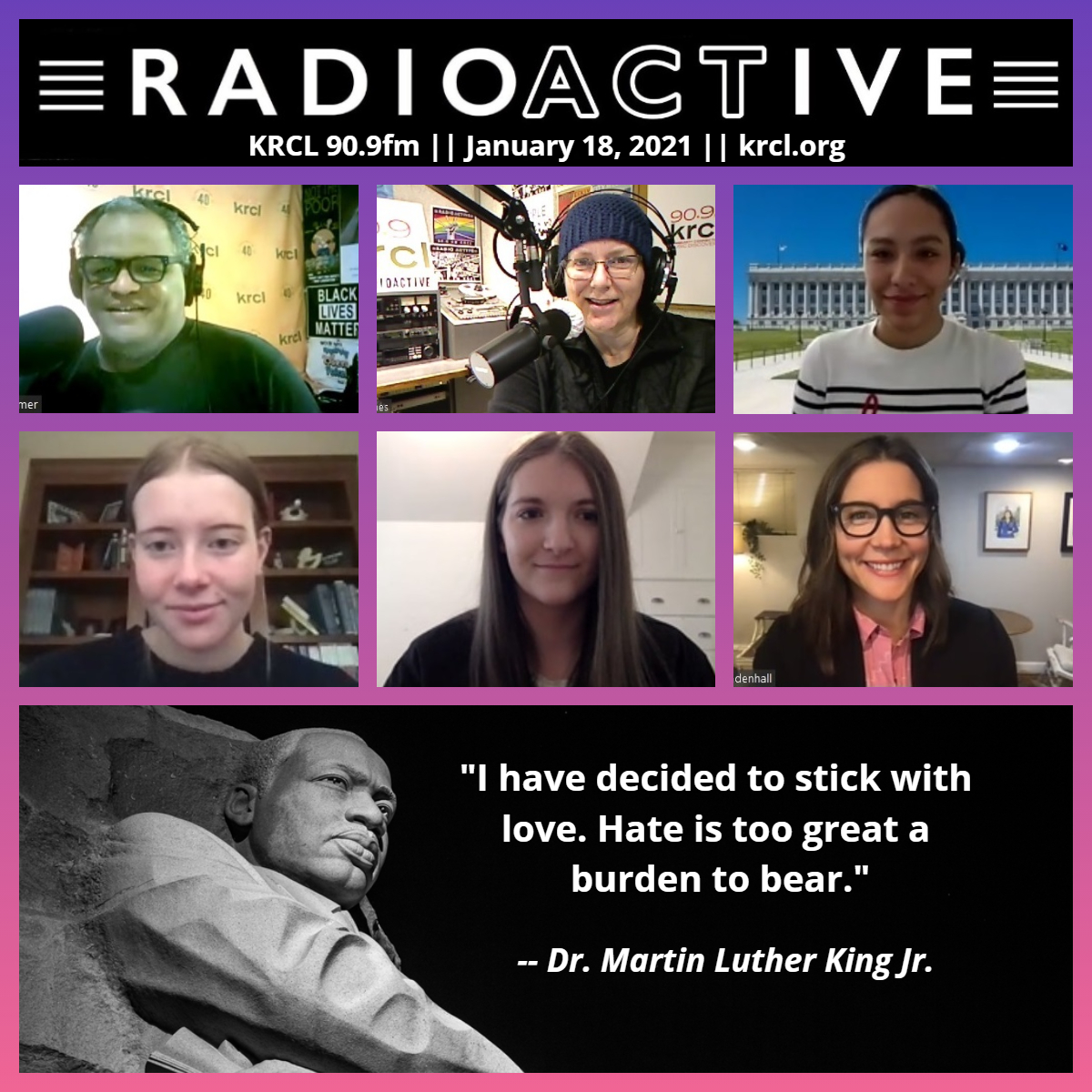 Happy Martin Luther King Jr. Day! In the first of five nights honoring Dr. King's legacy, RadioACTive presents a YouthCity special report and a conversation about human rights with SLC Mayor Erin Mendenhall.
Tonight's lineup:
YouthCity Government's Hattie Wall, Daffodil Buchert and Gregoria Alegria.
The YouthCity Government (YCG) program is an opportunity for high school students in Salt Lake City to make a difference in their community. Founded in 1994, YCG prepares students to think critically and to learn the importance of civic engagement and community involvement. YCG participants are trained to identify and address issues facing Salt Lake City.

Jan. 18-29: Fight Hunger with the YouthCity Government Virtual Food Drive for the Utah Food Bank: "Each year, in commemoration of Dr. Martin Luther King, Jr.'s dedication to service, YouthCity Government (YCG) on behalf of the Salt Lake City Mayor's Office organizes the City's annual Martin Luther King Jr. Day of Service Project. For over 19 years, YCG students, city officials, city employees, and community partners have sorted food donations and distribute food boxes to Salt Lake City's low-income seniors and people with disabilities. Due to the pandemic and to ensure we follow social distancing guidelines, YCG students will host an MLK Virtual Food Drive, Monday, January 18 - January 29, 2021. We look forward to your support and helping us meet our goal!"
Salt Lake City Mayor Erin Mendenhall. To learn more about the mayor's Human Rights Commission, click here.
---
FBI: How to Report a Hate Crime: For emergencies, dial 9-1-1 to get immediate help. If you believe you are the victim of a hate crime or believe you witnessed a hate crime:
STEP 1: Report the crime to your local police.
STEP 2: Quickly follow up this report with a tip to the Federal Bureau of Investigation (FBI).
SUBMIT A TIP TO THE FBI ONLINE OR CALL YOUR LOCAL FBI FIELD OFFICE
FBI Field Office - Salt Lake City
5425 West Amelia Earhart Drive
Salt Lake City, UT 84116

T: 801.579.1400
saltlakecity.fbi.gov
---
Views, thoughts or opinions shared by guests are their own and do not necessarily reflect those of the board, staff or members of Listeners' Community Radio of Utah, 90.9fm KRCL. Tonight's RadioACTive team included:
Executive Producer, Host: Lara Jones
Assoc. Producer, Host: Billy Palmer
###