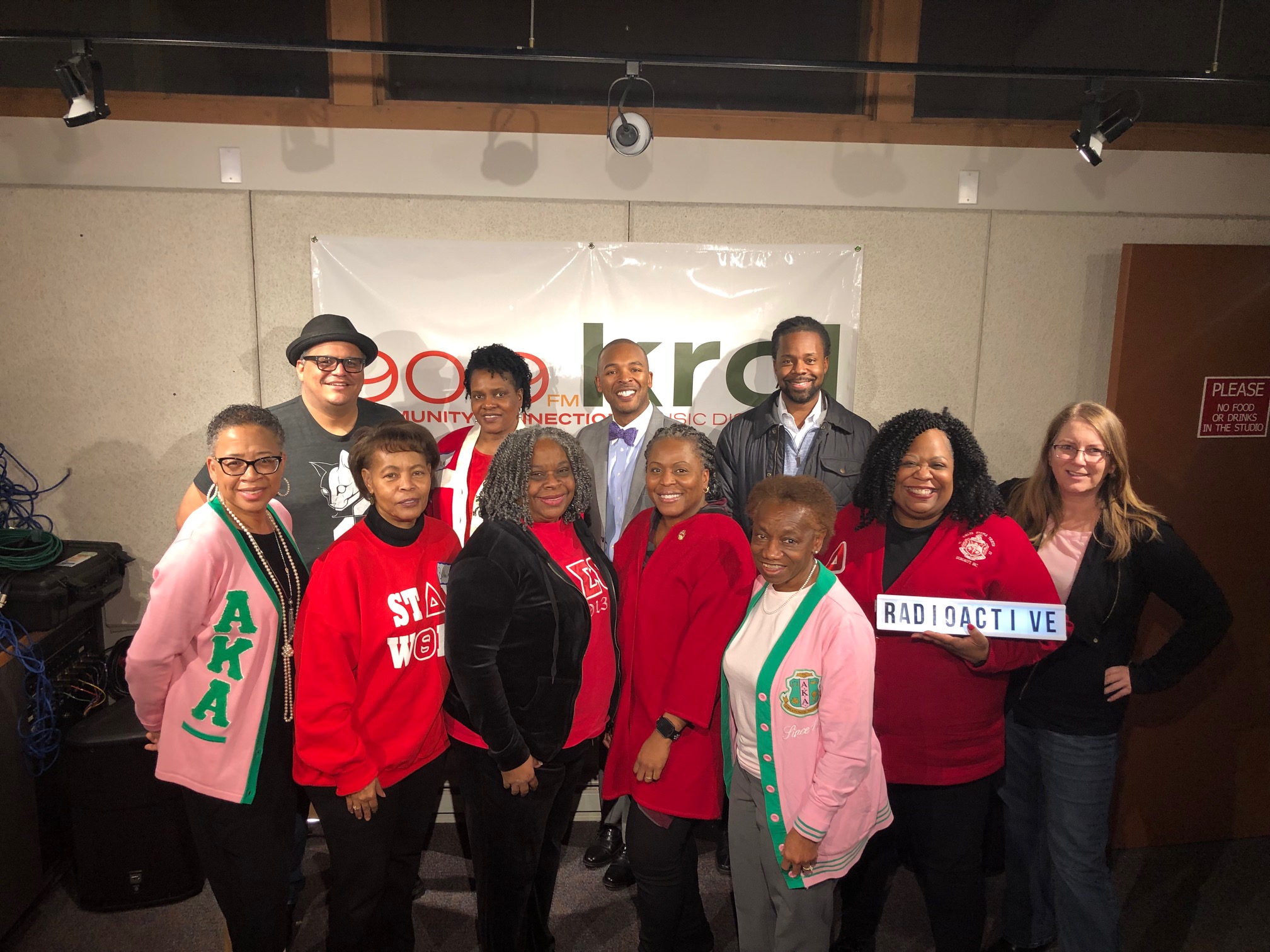 Shining the #BlackLight on Delta Sigma Theta and Alpha Kappa Alpha history in Utah. Marades, rallies and service opportunities for Martin Luther King Day
Tonight's lineup:
Details on a variety of celebrations for Martin Luther King Day, featuring:
Panel discussion on African-American sorority life in Utah, featuring members of Delta Sigma Theta and Alpha Kappa Alpha:
Bridgette Baker, Acting President/VP, DST
Kathleen Christy, DST
Bobbie Kirby, DST
Camilla Blossom, DST
Emma Houston, AKA
Frances Battle, AKA
Upcoming events related to tonight's show:
January 19:
Founders Day Brunch Celebration: Valuing the Black Woman's Experience, 12:30-2:20 p.m. at The Crimson View Room, Dr. 200 Central Campus Drive, SLC. Click here for tickets. The Greater Salt Lake City Alumnae Chapter of Delta Sigma Theta Sorority Incorporated (GSLA Utah DST) invites you to its Founders Day Brunch Celebration, honoring the 22 collegiate women who began the illustrious organization 106 years ago. This brunch is also designed to highlight the Black woman's perspective in our community and the impactful experiences she brings to the table.
Martin Luther King Jr. Saturday Service Project, 8:30a-12:00p, 11 different service projects are available for you to choose from at locations across the Salt Lake valley. Choose the one that interests you and help build a stronger community. Register at bennioncenter.org.
January 21:
January 23:
MLK Week Keynote Address: Charlene Carruthers, 12:00 p.m., U of U Union Ballroom. Charlene A. Carruthers is a Black, queer feminist community organizer and writer with over 10 years of experience in racial justice, feminist and youth leadership development movement work. Her work has been covered in several publications, and she is recognized as one of the top 10 most influential African Americans by The Root 100, one of Ebony Magazine's "Woke 100," an Emerging Power Player in Chicago Magazine and is the 2017 recipient of the YWCA's Dr. Dorothy I. Height Award.
The University of Utah's Dr. Martin Luther King Jr. Youth Leadership Awards, 2:00-4:00 p.m. at Cleone Peterson Eccles Alumni House. This annual event honors students (grades 7-12) throughout the State of Utah who demonstrate dedication to leadership in their communities and daily activities.
January 24:
Pizza & Politics: The Power of a Ballot, 12:00-1:00 p.m. at Gardner Commons 2055. Hosted by Office for Equity and Diversity, University of Utah and The University of Utah. The power of the vote is one of the many tools that communities employ for social change. But when it comes to marginalized communities, access to a ballot has been one of the most historical obstacles to the power that a vote can yield. In certain areas around the nation, calculated tactics are used to keep particular communities from voting and influencing the political climate. "The Power of a Ballot" is a conversation that will explore how communities are forced to relinquish their power to vote by being kept out of the voting booths. Panelist will also discuss the many ways that individuals can engage in civic duties and combat injustices.
Got a story you'd like to share on the show? Record a voice memo on your smart phone, then email it to radioactive@krcl.org. Keep it under 3 minutes and be sure to include a name and phone number in the body of the message.
RadioACTive is a production of Listeners' Community Radio of Utah. Tonight's team included:
Exec. Producer/Host: Lara Jones
Assoc. Producer: Palmer
Community Co-Host: Dr. Tamara Stevenson
Volunteer: Tommy Sutter