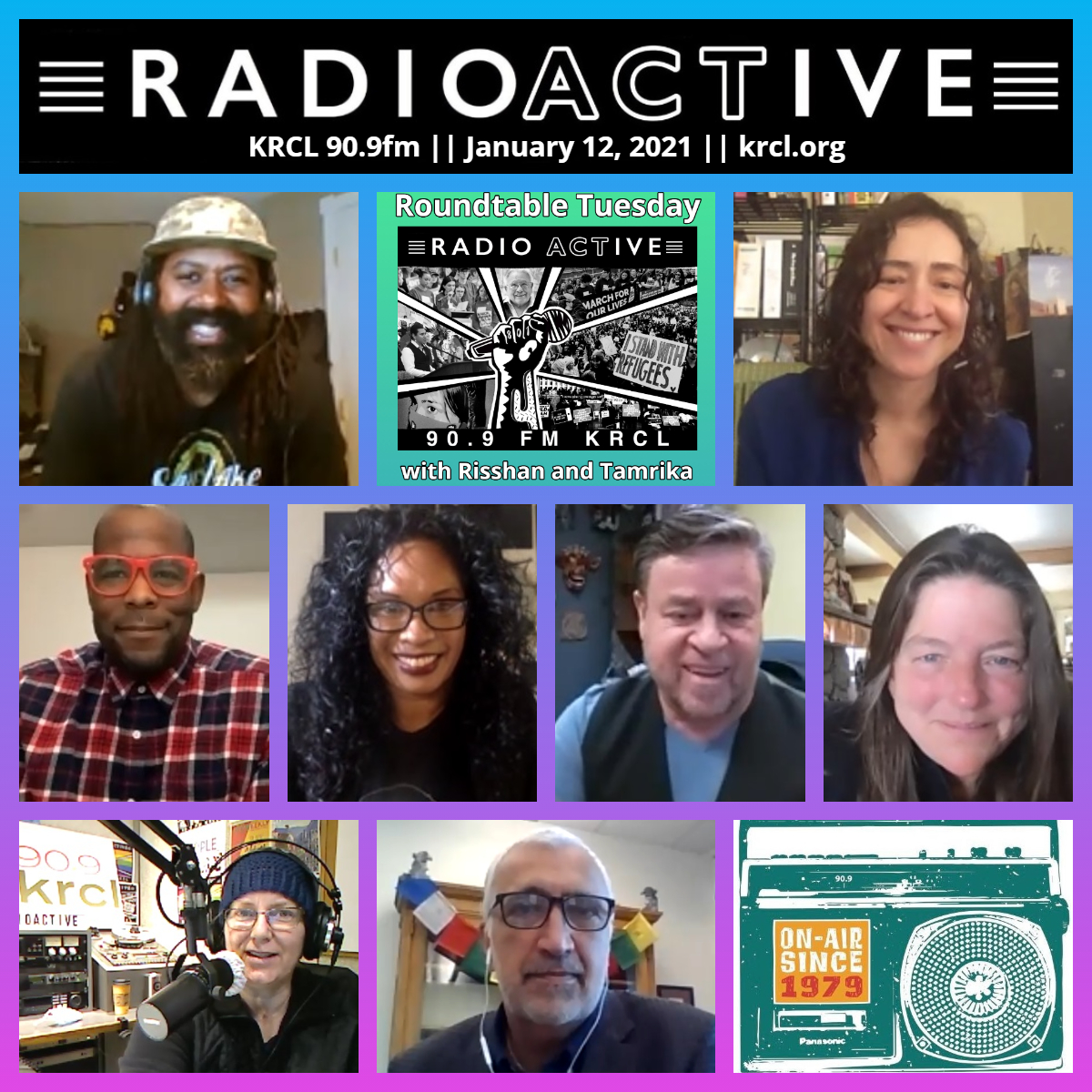 #RoundtableTuesday tackles leadership styles and consequences with Amir Jackson of Nurture the Creative Mind, Sui Lang Panoke of Rethink International, author Pam Houston, and Jorge Fiero of Rico Brands. SL County DA Sim Gill on the violent attack on our Nation's Capitol. #3QuickPicks on leadership from the SLCPL catalog.
Tonight's lineup:
Salt Lake County District Attorney Sim Gill. Last week Gill joined with more than 60 elected prosecutors from across the country to issue a joint statement condemning the violent attack on our Nation's Capital. Read the full statement and see the list of signatories here.
#3QuickPicks with Azra Basic, adult services librarian at the Marmalade Branch, Salt Lake City Public Library. Check out (literally) Basic's picks on leadership:
Good to Great: Why Some Companies Make the Leap and Others Don't by Jim Collins. "Over five years, Jim Collins and his research team have analyzed the histories of 28 companies, discovering why some companies and leaders have long term successes and others don't. Learn why being a humble leader with a strong drive is essential for greatness."
Becoming by Michelle Obama. "In her memoir, Michelle Obama invites readers into her world, detailing the experiences that have shaped her—from her childhood on the South Side of Chicago to her years as an executive balancing the demands of motherhood and work, to her time spent at the White House. Reading this book will teach you how to turn fear to respect and respect to love."
Start Now!: You Can Make a Difference by Chelsea Clinton. "What can I do to help save endangered animals? How can I eat healthy? What do I do if I'm being bullied? With real-life kids who are making a difference today and lists of ways to get involved, this book is the perfect introduction to young activists who want to make the world a better place.
The #RoundtableTuesday panel tackled leadership styles and consequences with Utahns from a variety of experiences. Panelists included:
Amir Jackson of Nurture the Creative Mind, a 501 c(3) nonprofit that empowers and establishes self-value in youth through creativity, while developing marketable skills. Responding to a request to talk about social justice issues in Ogden with a business owner he'd never met, Jackson and Wasatch Roasting Co. created three roasts to support the work of the ACLU of Utah. Click here to learn more.
Sui Lang Panoke of Rethink International, a global social enterprise and international training organization designed to challenge people to RETHINK how and what they think. Panoke recently joined Zions Bank as senior vice president of diversity, equity and inclusion.
Jorge Fiero of Rico Brand, maker of preservative-free, handmade gourmet Mexican food, available at Utah grocery and specialty food stores in Utah.
Author Pam Houston, whose latest book is Air Mail: Letters of Politics, Pandemics, and Place (Torrey House Press). "When the state of Colorado ordered its residents to shelter in place in response to the spread of coronavirus, writers Pam Houston and Amy Irvine—who had never met—began a correspondence based on their shared devotion to the rugged, windswept mountains that surround their homes, one on either side of the Continental Divide. As the numbers of infected and dead rose and the nation split dangerously over the crisis, Houston and Irvine found their letters to one another as necessary as breath. Part tribute to wilderness, part indictment against tyranny and greed, Air Mail: Letters of Politics, Pandemics, and Place reveals the evolution of a friendship that galvanizes as it chronicles a strange new world."
Jan. 19: How Do We Live Now, 6:00 p.m. online. Event by Torrey House Press: "Join Air Mail authors Amy Irvine and Pam Houston and former Colorado Senator Mark Udall for a virtual discussion on the eve of the Biden-Harris inauguration. As the world awaits a new United States presidential administration and people everywhere anticipate a vaccine, the climate and extinction crises still roil, and racial injustice and income inequality continue to crush. What kind of leadership do we need to address these daunting problems? What role can the West play in shaping a more just world? Join former U.S. Senator Mark Udall and Pam Houston and Amy Irvine, authors of Airmail: Letters of Politics, Pandemics, and Place for a riveting online discussion on inauguration eve."
Views, thoughts or opinions shared by guests are their own and do not necessarily reflect those of the board, staff or members of Listeners' Community Radio of Utah, 90.9fm KRCL. Tonight's RadioACTive team included:
Community Co-Hosts: Roundtable Tuesday's Risshan Leak, Tamrika Khvtisiashvili
Exec. Producer: Lara Jones
Assoc. Producer: Billy Palmer
###