An #EverydayPeople edition of RadioACTive, featuring LGBTQ+ Black history and legacies. #ThePeoplesBusiness with Planned Parenthood Action Council of Utah, League of Women Voters and Action Utah. Call for Queer Spectra Arts Festival. A Piece of Me's convivial debut. SLEA Red for Ed Walk-Out.
Tonight's lineup:
#ThePeoplesBusiness, a report from community partners about the actions of lawmakers and lobbyists during the 45-day general session of the Utah Legislature — which ends March 12. Tonight's report featured:
Karrie Galloway, Planned Parenthood Action Council of Utah
Emily Walsh, The League of Women Voters of Utah
Andrea Himoff, Action Utah
John Arthur, teacher at Meadowlark Elementary, with a voicememo on why he will walk out of class at 1:00 p.m. this Friday for the SLEA Walk For Students. Rally starts at the Federal Building, 125 S. State St., SLC. 
Call for queer artists with Aileen Norris, co-founder of the Queer Spectra Arts Festival.
The festival is looking for LGBTQIA+ identified artists from all disciplines to submit their works for consideration for the second annual festival, which will be held on May 23, 2020, in Salt Lake City, Utah. This year's theme: "The Risk of Representation." Visit www.queerspectra.com/2020-call-for-submissions/ for the full application.
Ginger Tolman and Chelsie Richter, two of the artists behind a new art installation commissioned by 801 Creative Women, which commissioned the one-night-only, interactive art piece.. Dubbed "A Piece of Me," the installation begins with the premier screening of the documentary and culminates with the offering up of an edible mountain. 
Feb. 26:A Piece of Me, 6:00-9:00 p.m. at Ember SLC, 623 S. State St., SLC. Ginger Tolman and her film crew capture Chelsie Richter's process of making metaphorical mountains, bite-sized. A multi-sensory, multi-media event with food as the ultimate storyteller. (Yes, you can eat it.) A convivial evening of women, art, and food. Click here to RSVP to this free event. 
An #EverdayPeople panel on LGBTQ+ Black history. Moderated by Sub Robbins, guests included:
Karnell McConnell-Black, Dean of Students at Westminster College and Utah Pride Center board member
Beverly Stoddard, Utah Realtor and entrepreneur
Tanya Hawkins, ARUP, Utah Multicultural Civic Council and Utah Pride Center board member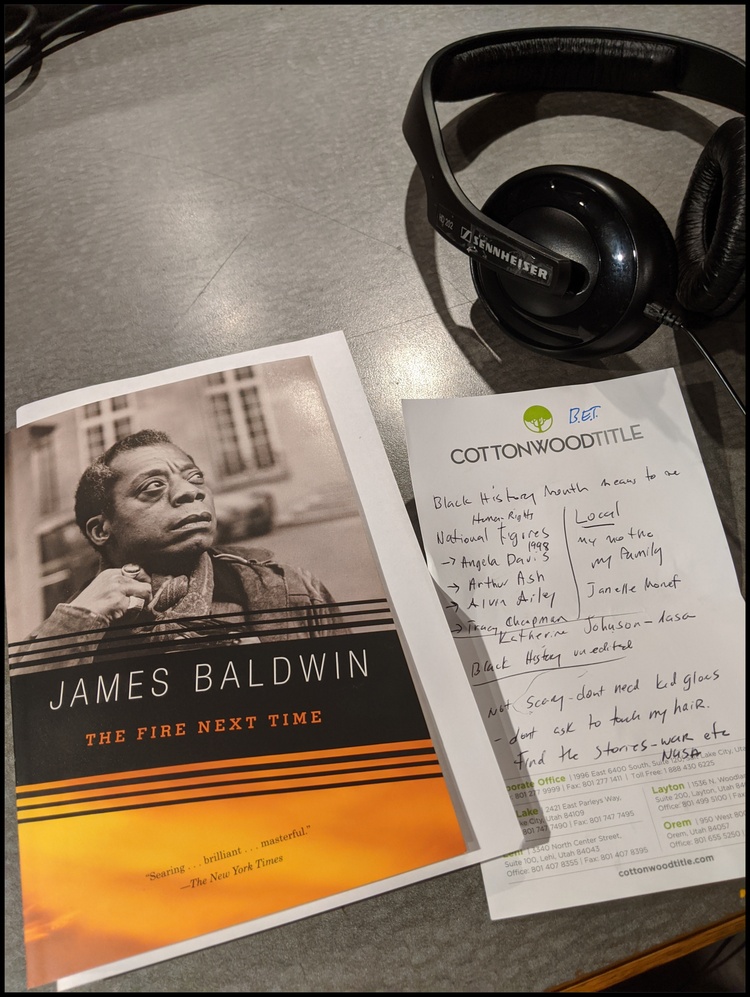 Got a story you'd like to share on the show or an issue you'd like us to cover? Record a voice memo on your smart phone, then email it to 
radioactive@krcl.org
. Keep it under 3 minutes and be sure to include a name and phone number in the message.
Views, thoughts or opinions shared by guests are their own and do not necessarily reflect those of the board, staff or members of Listeners' Community Radio of Utah, 90.9fm KRCL. Tonight's RadioACTive team included:
###