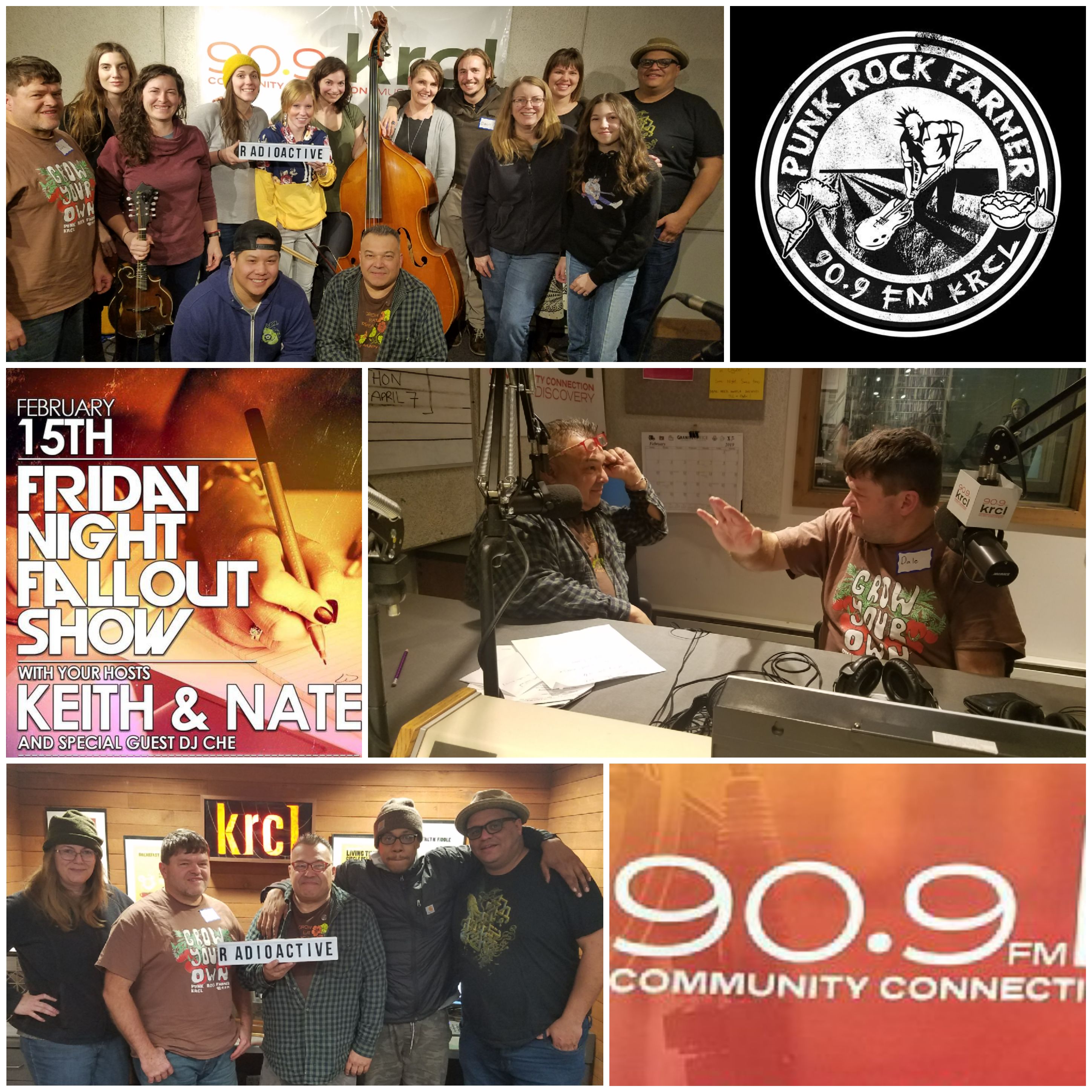 Live music from Mama LongLegs, Rights of Nature, #UrbanFarmReport on permaculture in Rose Park, seed swap report, #FoodFreedom bills, Friday Night Fallout pen pals
Tonight's lineup:
Live, homegrown music from Mama LongLegs. From Northern Utah, the folk band consists of vocalist/guitarist Allie Harris sharing the lead with mandolin/vocalist Megan Simper, with Julie Taquin on Violin, Kendall Becker on Double Bass, and Emily Densley on Drum Kit. Want to see Mama LongLegs in action? Check them out march 1 at WhySound Venue in Logan; March 2 at Beaver Mountain.
Hillary McDaniel on Slay Lake City, a rock camp for women, transgender, non-binary, and gender non-conforming adults. After 3 days of learning an instrument, forming bands, writing original songs, campers will perform live Monday, Feb. 18, in a Slay Lake City Camper Showcase, 6:30-8:30 p.m. at The Depot, SLC.
Keith McDonald of The Friday Night Fallout Show - KRCL, Utah's longest running Hip-Hop show, talked about the letters he gets from listeners who are incarcerated in jails or prison. Except for one letter that arrived damaged and the return address was illegible, McDonald has replied to every letter sent to the show.
The Rights of Nature: A Global Movement, a documentary at the center of next week's series on Global Indigenous Rights and Nature's Rights at Weber State University. RadioACTive shared part of an interview with filmmaker and Weber State University Professor Hal Crimmel and Chris Finlayson, former New Zealand Attorney General and Minister for Treaty of Waitangi Negotiations. Finlayson was part of the successful effort to secure personhood status for New Zealand's Whanganui River.
Public screenings of the documentary will be held Feb. 19 at noon in WSU's Shepherd Union Wildcat Theater, and Feb. 20 at 7 p.m. in the Hurst Center Dumke Legacy Hall.
In addition to film screenings, discussions about the Rights of Nature will take place throughout the week of Feb. 19-22. International guests include Chris Finlayson, former New Zealand attorney general and Minister for Treaty of Waitangi Negotiations, and Kirsti Luke, chief executive of Tuhoe Te Uru Taumatua, Ngai Tuhoe's Tribal Authority, New Zealand. Click here for the full list of events.
Seed swapping with Dale Thurber of Delectation of Tomatoes, a provider of nearly 3,000 varieties of heirloom seeds from all around the world
Urban Farm Report, featuring:
Got a story you'd like to share on the show? Record a voice memo on your smart phone, then email it to radioactive@krcl.org. Keep it under 3 minutes and be sure to include a name and phone number in the body of the message.
RadioACTive is a production of Listeners' Community Radio of Utah. Tonight's team included:
Exec. Producer/Host: Lara Jones
Assoc. Producer: Billy Palmer
Community Co-Host: Aldine Strychnine, KRCL's Punk Rock Farmer
Audio Engineer: Sullivan Phetchanpheng of Lights & Sound Studio
Volunteer: Sarah Thacker
###