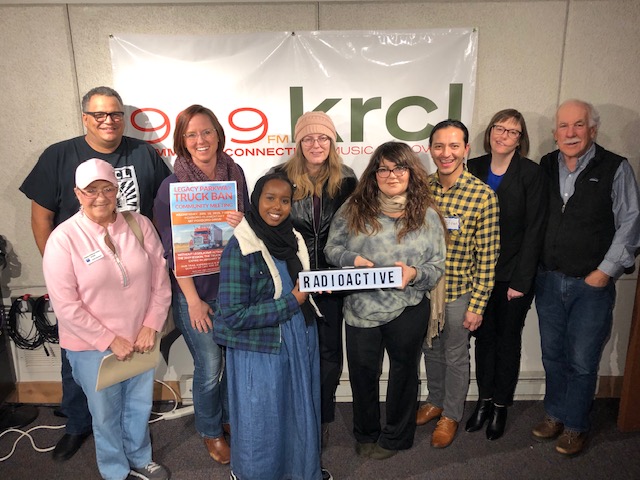 Grassroots groups report on lawmakers' actions at The People's House, HB93 County Formation Amendments, a dancer's immigration story, and the debut of a new single by The Midnight Babies
Tonight's lineup:
Today was Day 16 of the 2019 General Session of the 63rd Utah Legislature. Several grassroots groups stopped in with updates from The People's House, including:
Vickie Samuelson of The League of Women Voters of Utah. Each Wednesday during the session, the League meets at 11:30 a.m. in the Seagull Room next to the Senate Cafeteria. Tomorrow, the league celebrates its birthday. Bring your lunch, they'll bring the cake. Special guest: Mallory Bateman from the Utah Data Center at the University of Utah's Gardner Institute of Public Policy on the importance of the 2020 US Census.
The debut of Heaven and Hell, a new single from The Midnight Babies. The Salt Lake City-based trio says its "roots lie in the Ramone's mixed with Blondie, if Blondie wrote Zen hymns."
Click here to name your price and download the new single, Heaven and Hell.

Listen to The Midnight Babies this Sunday on KRCL's Sagebrush Serenade.

See The Midnight Babies March 2 at the HandleBar SLC, 751 N. 300 W. Showtime: 7:00 p.m.
Dust. Breath. Place. It's the name of an autobiographical dance being choreographed by Efren Corado, who immigrated from Guatemala at the age of 11. Corado will debut the work in May as part of Repertory Dance Theatre's Link Series.
Got a story you'd like to share on the show? Record a voice memo on your smart phone, then email it to radioactive@krcl.org. Keep it under 3 minutes and be sure to include a name and phone number in the body of the message.
RadioACTive is a production of Listeners' Community Radio of Utah. Tonight's team included:
Exec. Producer/Host: Lara Jones
Assoc. Producer: Billy Palmer
Community Co-Host: Ma Black
Volunteer: Saida Dahir
###