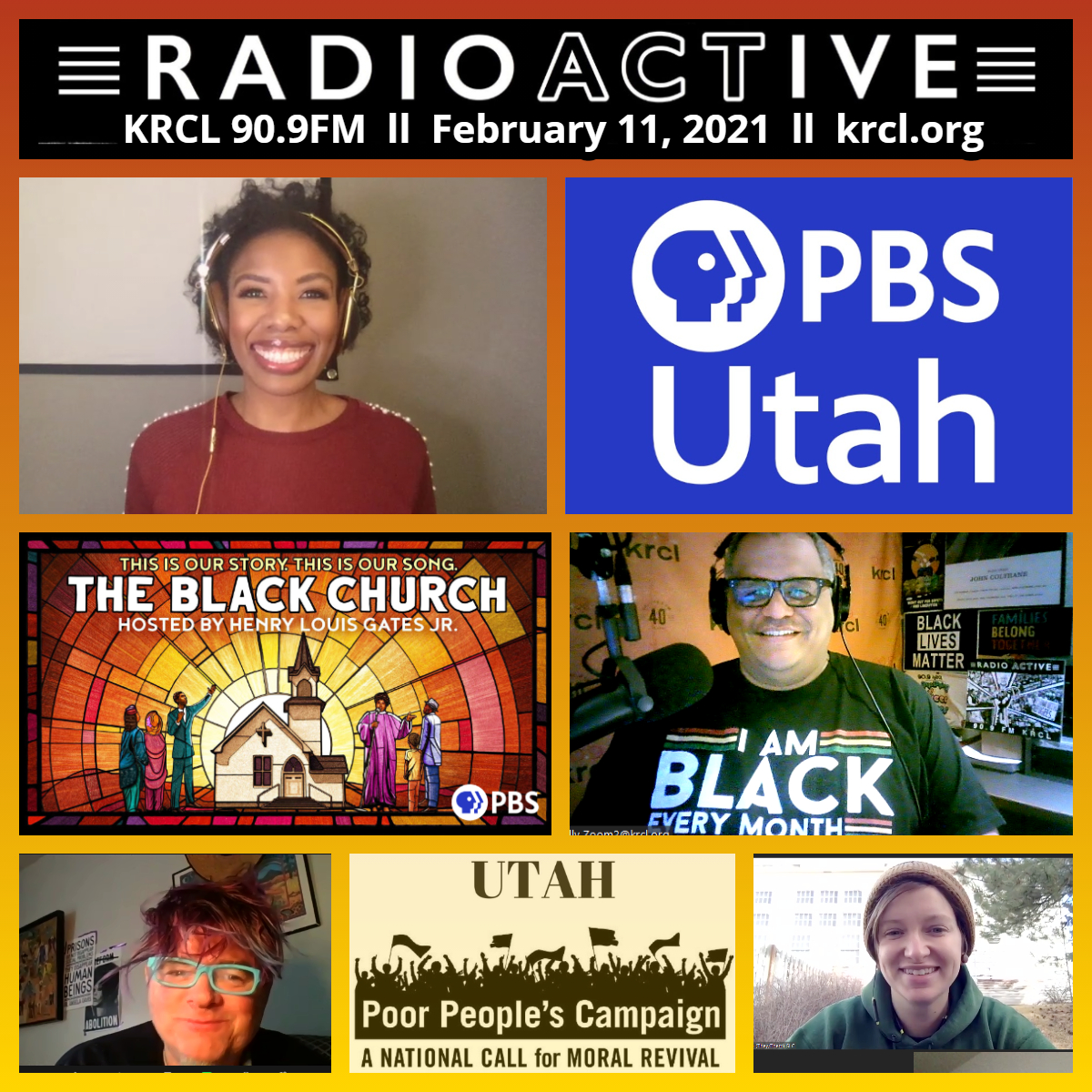 PBS Utah Presents 'The Black Church: This Is Our Story,' This Is Our Song, with a virtual screening and panel discussion featuring religious leaders here in Utah, plus the Utah Poor People's Campaign on their 14 demands for the Biden/Harris Administration.
Utah Poor People's Campaign's Pegasus Blaise Page-Collonge and Cale Carthey provided an update about the national PPC organizing effort to push for 14 demands that they believe can be accomplished in the first 100 days in the Biden/Harris administration.
The Black Church: This Is Our Story, This Is Our Song, PremiringTuesday, February 16 and Wednesday, February 17, 2021 - 8:00 pm
Liz Adeola talked about the role of black churches in American black history and featured a panel conversation that she moderated with black religious leaders here in Utah.
Liz Adeola is an Emmy Award-winning journalist at PBS Utah. Liz is the host and producer of two PBS Utah series, This Is Utah and Utah Insight. She spent more than a decade producing, reporting and anchoring television news at stations around the country. Born and raised in Mesa, Arizona, Liz earned a Bachelor of Arts Degree in Broadcast Journalism from the Walter Cronkite School of Journalism and a Master of Science degree in Communication with dual concentrations of Advertising and Public Relations from Purdue University. Liz has lived in Arizona, Nevada, Texas, Illinois, Ohio, Indiana, and now Utah. Liz is happy to return to her storytelling roots especially since her very first television job was working for Arizona PBS, then known as KAET.
The Black Church: Virtual Screening and Panel Discussion included:

Oscar T. Moses, Pastor Moses' formal education includes a Doctor of Ministry degree from United Theological Seminary, a Masters of Arts in Theological Studies from McCormick Theological Seminary and a Bachelor of Science in Criminal Justice from Southern Illinois University, Carbondale Illinois. Prior to accepting the call to pastor Calvary, Reverend Moses served for seventeen years as the 17th Pastor of the Mt. Hermon Missionary Baptist Church of Chicago, where his grandfather, the late Reverend Joseph A. Allen also served as pastor for 41 years.
Corey Hodges, Corey J. Hodges is the Lead Pastor of The Point Church, a multicultural community, located in Salt Lake City. He is also the Chaplain for the NBA Utah Jazz team, and the first vice-president of the Utah Idaho Southern Baptist Convention. Hodges serves as the chair of the Salt Lake County Council on Diversity Affairs (CODA), and is a member of the Utah State Ethics Commission, appointed by Governor Gary Herbert. - Hodges was a weekly columnist for the Salt Lake Tribune's Faith section for five years. He was also a regular co-host of the television program "This Week in the Word," which aired weekly on Utah's KTMW Channel 20. Hodges has a Bachelor of Arts in Marketing from American Intercontinental University and a Master of Arts in Practical Theology with a concentration in Church and Ministry from Regent University.
Robert Burch, Robert Burch was born in Atlanta, GA. After leaving Talladega College, he served in the U.S. Navy, touring the Caribbean, South America, and the Mediterranean Sea. He works at Park City Group in Salt Lake City in corporate compliance and food safety. Robert is President of the Utah Chapter of AAHGS, a board member of the Sons and Daughters of the U.S. Middle Passage, and Family History Director of the LDS Genesis Group. He's involved in the Utah Memorial Columns lynching project and the Utah Juneteenth Committee. He is a member of Omega Psi Phi Fraternity, Inc. and the Utah Black Roundtable.
Brenda Hector, Rev. Brenda Bresha Hector is the widow of the late Rev. Dr. Percel E. Hector. She is the mother of one son, grandmother of two, and nurturer of many stepchildren, step-grandchildren, and a Christian woman who loves the Lord. A native of Omaha, Nebraska, she went through school and graduated from Central High School in 1967. She went to work for Union Pacific Railroad and became the first female Special Agent hired by any major railroad. With God by her side, she proudly fought the myriad of battles against the "isms" of race and sex. She retired in June 2009 after 32 years of service.- Although she retired, Rev. Brenda continues to work as a soldier in God's army. She has been a foster parent for over 30 years and has provided loving homes and guided the lives of over 100 teenagers, ages 12-18, in Nebraska, Kansas, Wyoming, and Colorado, many of which have been African American females from abusive homes and/or homeless. Rev. Brenda's chosen ministry is with incarcerated prisoners. She volunteers as a facilitator of Bible Studies and workshops on coping and dealing with prison life for men and women inside the prisons
Views, thoughts or opinions shared by guests are their own and do not necessarily reflect those of the board, staff or members of Listeners' Community Radio of Utah, 90.9fm KRCL. Tonight's RadioACTive team included:
Assoc. Producer/Host: Billy Palmer

Executive Producer: Lara Jones
###