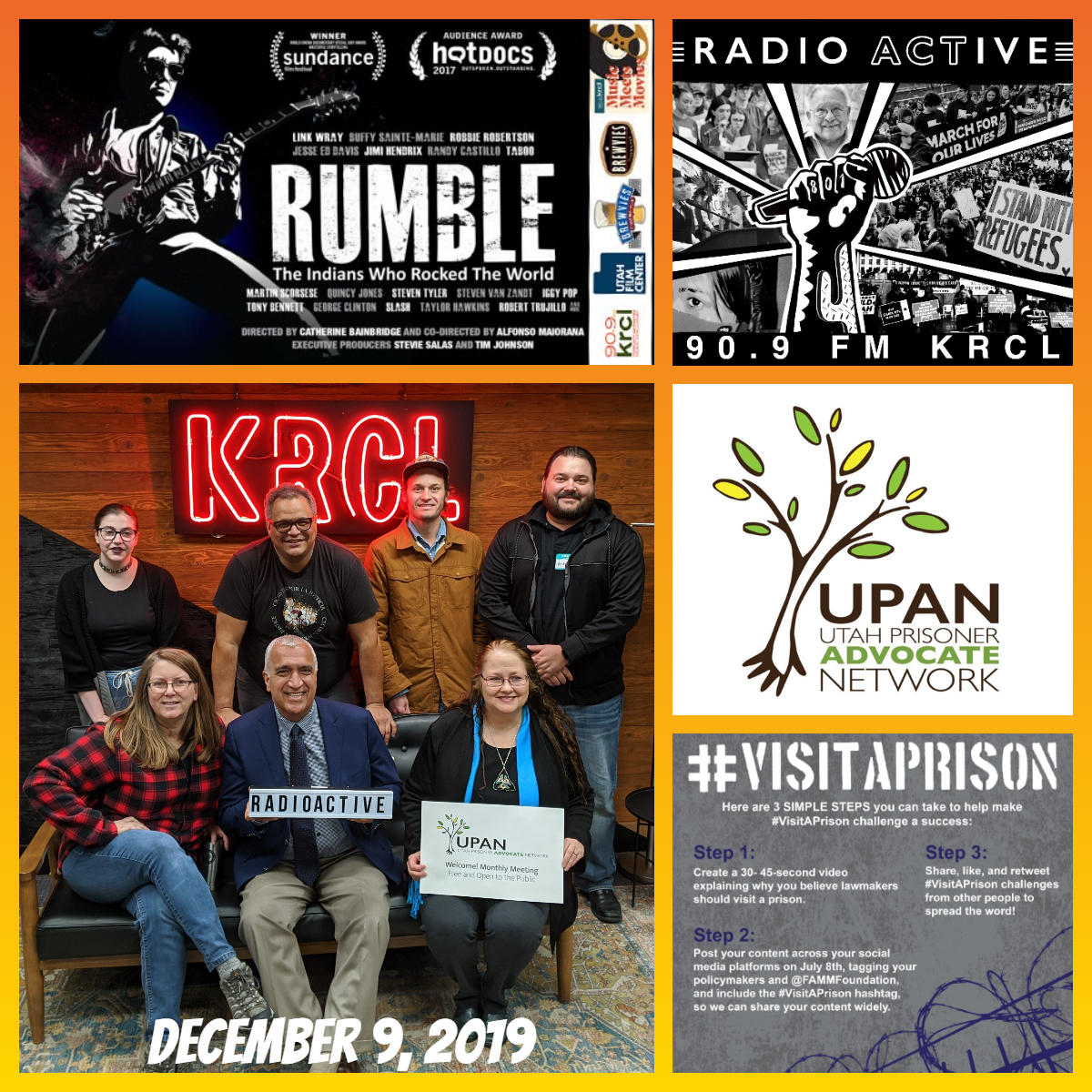 #OpenPhones with SL County DA Sim Gill and Utah Prisoner Advocate Network. Plus, remembering Joe McQueen, and #MMMRumble
Tonight's lineup:
Holiday PSA, featuring Courtney from Patagonia in Sugar House, 2292 S. Highland Dr., SLC. Patagonia is accepting new and gently used coats this month. Drop off a coat and get a discount on an in-store purchase. The store is also offering Saturday fix-it clinics if you need help repairing a coat you'd like to keep wearing. If it's a Patagonia coat and they can't fix it, they'll send it to a company repair shop free of charge.
Remembering Joe McQueen, who passed away over the weekend at the age of 100. The jazz legend put down roots in Ogden in 1945. He shared some of his story with RadioACTive for this 2013 profile on KRCL:
Rumble: The Indians Who Rocked the World is this Thursday's feature for #MusicMeetsMovies at Brewvies in SLC and Ogden. Digging into the RadioACTive vault a second time, we shared some of our Sundance 2017 interview with Rumble co-director Alfonso Maiorana. Click here for #MMM ticket information.
Open phones on understanding incarceration, featuring:
Salt Lake County District Attorney Sim Gill, who just last month joined 38 elected prosecutors from across the country and committed to personally visit the correctional facilities in which individuals prosecuted by their offices are placed. Gill said that more than 100 prosecutors will be visiting the Utah State Prison as well as the jail and juvenile facilities in Salt Lake County in the coming year.
The pledge is part of the #VisitAPrison challenge from Fair and Just Prosecution, whose mission is to create a more fair and effective justice system that respects American values of individual accountability and dignity while keeping communities safe.
FAMM launched a new map to visually track policymakers who have taken the challenge. Don't see your state or federal representative? Challenge them today!
Molly Prince and Shane Severson of Utah Prisoner Advocate Network, a nonprofit and all-volunteer grassroots community outreach organization that aims to simplify the incarceration process for the inmates' supporters—while also advocating for better conditions inside Utah jails and prisons.
Jan. 13: Free screening of Untouchable, 6:00-9:00 p.m. at Salt Lake City Public Library, 210 E. 400 S., SLC. Free and open to the public. The film interweaves intimate portraits of men and women who have been branded sex offenders with the heartbreaking stories of those who have suffered sexual abuse.

Feb. 18: 5th Annual Transformative Justice and Abolition Criminology Conference, 10a-5p at Salt Lake Community College. Topics to include penal abolition, retributive justice abolition, academic abolition, punitive justice abolition, prison abolition and abolition criminology. Further, this conference is looking for work on alternatives to incarceration such as transformative justice, healing justice, community circles, environmental justice, anarchism, and decolonizing justice.
Got a story you'd like to share on the show or an issue you'd like us to cover? Record a voice memo on your smart phone, then email it to radioactive@krcl.org. Keep it under 3 minutes and be sure to include a name and phone number in the message.
Views, thoughts or opinions shared by guests are their own and do not necessarily reflect those of the board, staff or members of Listeners' Community Radio of Utah, 90.9fm KRCL. Tonight's RadioACTive team included:
Exec. Producer/Host: Lara Jones
Assoc. Producer/Host: Billy Palmer
Volunteer: Tommy Sutter
###