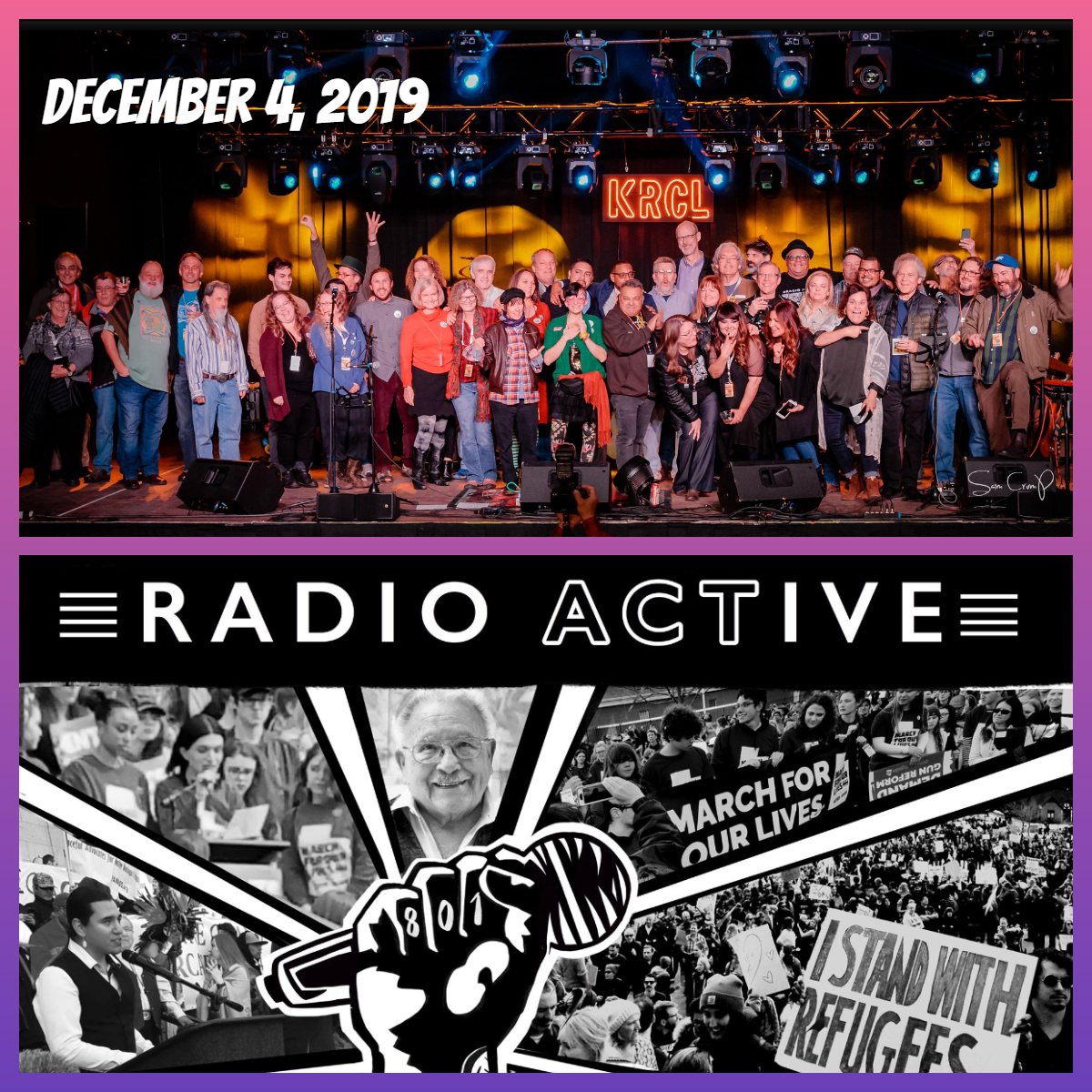 RadioACTive on the road from KRCL's 40th anniversary concert at The Union Event Center
Tonight's lineup:
Founding Father Stephen Holbrook and KRCL General Manager Tristin Tabish on the past, present and future of Listeners' Community Radio of Utah.
Evelyn Terranova charted KRCL's future with a reading of our astrological signs.
Braidan Weeks on the 40-year legacy of Living the Circle of Life, hosted by weeks every Sunday from 7:00-10:00 a.m. on KRCL.
RadioACTive started a new holiday tradition featuring local nonprofit organizations talking about the work of the last year, where they're headed in the new year, and how you have and can continue to help them. Tonight: Alastair Bitsoi of Utah Diné Bikéyah.
Emily Walsh of the League of Women Voters of Utah and Salt Lake City Public Library's Peter Bromberg—two partners who have helped RadioACTive pass the microphone into the community.
Poetry Happens, RadioACTive's monthly visit with local poets, with our guide Trish Hopkinson of Rock Canyon Poets. Plus, poet and writer Nic Contreras and, via recording, rising slam poetry star Chelsea Guevara.
Stories from KRCL Volunteers Sue Gerber, #RedWhiteandBlues host Brian Kelm, Alison Einerson and Night Estéreo KRCL host Ma Black.
Got a story you'd like to share on the show or an issue you'd like us to cover? Record a voice memo on your smart phone, then email it to radioactive@krcl.org. Keep it under 3 minutes and be sure to include a name and phone number in the message.
Views, thoughts or opinions shared by guests are their own and do not necessarily reflect those of the board, staff or members of Listeners' Community Radio of Utah, 90.9fm KRCL. Tonight's RadioACTive team included:
Exec. Producer/Host: Lara Jones
Assoc. Producer: Billy Palmer
Community Co-Host: Nick Burns
Volunteer: Natalie Benoy
Audio Engineers: Bill Ramsay
###