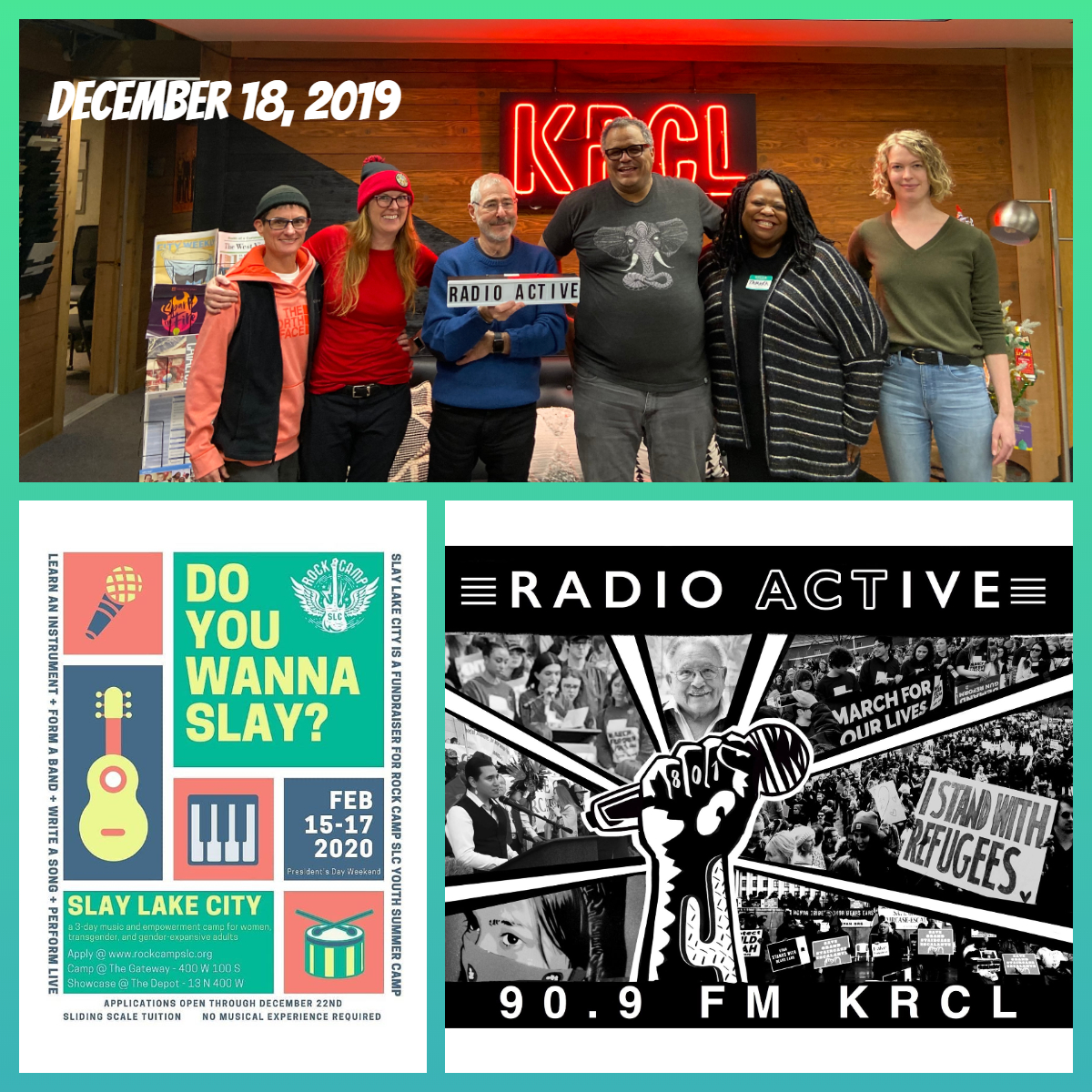 MLK Commemorative Series, YWCA talks taxes, Slay Lake City with Rock Camp SLC, a VOA Holiday #WishList, state-wide solar survey
Slay Lake City is back for another year through Rock Camp SLC and sign ups are available through December 22nd. The rock camp for adults helps to fund the Rock Camp for youth each year. With guests:
Erin Kleven, Program Director
Talon Gardner, a former camper and current volunteer
Kim Fuller, a former camper and current volunteer
Erin Jemison, Director of Public Policy, YWCA talked about SB 2001 Tax Restructuring Revisions and their advocacy for statewide policy changes including:
State-based Earned Income Tax Credit (EITC) – included in the final legislation applies specifically to families designated by the state as being impacted by intergenerational poverty.
Tax relief for some social security beneficiaries – included in the final legislation, although it applies to a smaller group of seniors than we have advocated for with past proposals.
Removal of sales tax on menstrual products – included in the final legislation.
Restoration of full sales tax on groceries – included in the final legislation, which the YWCA opposed. A grocery tax credit was also included to help offset this increased cost for low-income families, but we remained opposed to this policy change.
Kate Bowman, Utah Clean Energy's Solar Program Coordinator talked about a State-Wide Solar Study Underway for the Value of Solar in Utah:
Sign up for the Solar Study on RMP's website here
Dr. Tamara Stevenson, Westminster's Interim Vice President of Diversity, Equity, and Inclusion & Chief Diversity Officer gave a preview of Westminster's upcoming Martin Luther King Commemorative Series and live Radio Active Broad Cast on January 16th
We shared a Holiday PSA by the Volunteers of America Utah with Kathy Bray, CEO, VOA, Utah.
Got a story you'd like to share on the show or an issue you'd like us to cover? Record a voice memo on your smart phone, then email it to radioactive@krcl.org. Keep it under 3 minutes and be sure to include a name and phone number in the message.
Views, thoughts or opinions shared by guests are their own and do not necessarily reflect those of the board, staff or members of Listeners' Community Radio of Utah, 90.9fm KRCL. Tonight's RadioACTive team included:
Exec. Producer: Lara Jones
Assoc. Producer/Host: Billy Palmer
Community Co-Host: Nick Burns
Volunteers: Natalie Benoy, Isabella Sabala
###