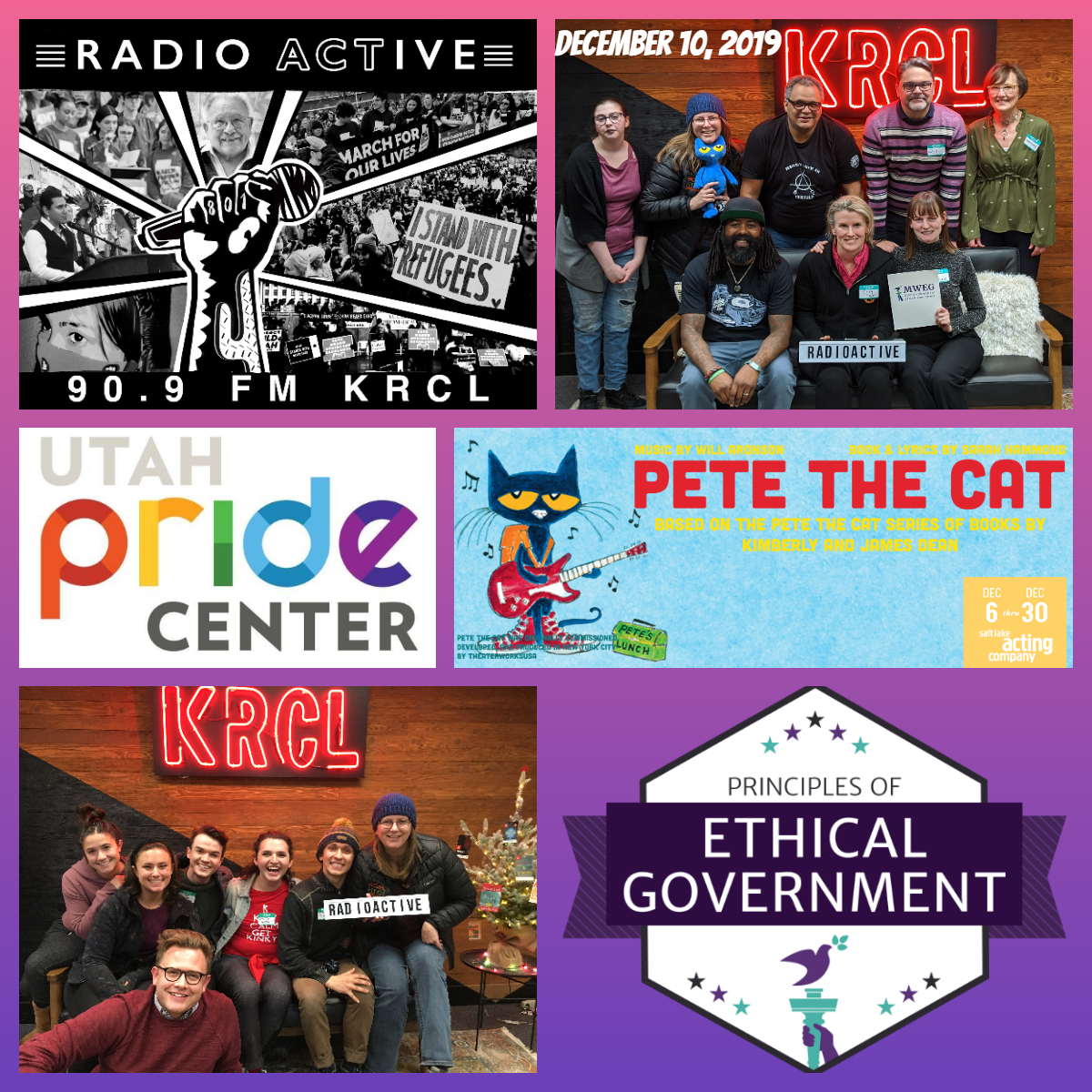 MWEG's principles of ethical government and 6 rules of peace-making. Utah Pride Center responds to proposed federal Fairness for All Act. League of Women Voters of Utah on the upcoming special session on tax reform. Craft Like M.A.D. with DRAC Utah, and a deep dive into Pete the Cat with Salt Lake Acting Co.
Tonight's lineup:
League of Women Voters of Utah's Emily Walsh with details on this week's special session of the Utah Legislature to address tax reform. The Utah House and Senate will meet in special session this Thursday beginning at 5:00 p.m.
Karolyn Campbell, Disabled Rights Action Committee's new executive director. Grassroots activists formed DRAC in 1993 to fight for the civil rights of people with disabilities in the state of Utah.
Dec. 14: Craft Like M.A.D., 11a-3p at SLC ARTS HUB - Utah Arts Alliance, 663 W. 100 S., SLC. DRAC and four other organizations will host this opportunity to customize Medical and Adaptive Devices (wheelchairs, walkers, canes, crutches, grabbers, etc.) to show that folks with disabilities can be seen as beautiful, strong, unique, and fashionable. All too often, medical and assistive devices are made with attention to function without any thought given to form. Join them for an afternoon of snacks (provided by Laziz) and crafting mayhem! Bring your own medical equipment and use DRAC's supplies and artistic experts to help customize, decorate, or create functional works of accessible art. $10 charge for full access to all craft supplies.

Don't have any Medical or Adaptive Devices? No worries. The National Federation of the Blind has donated a number of white canes and the folks at Utah Assistive Tech Program are donating extra M.A.D.s as well. If you have extras, please bring them!
ACCESSIBILITY INFORMATION: The SLC Arts Hub is ADA accessible with an ADA ramp (and parking) in the rear of the building. Inside we will have ample seating and accessible art stations. There will be main floor, accessible bathrooms directly adjacent to the event space. Please call Karolyn Campbell with any specific ADA questions or requests.
TRANSPORTATION: The closest public transit line to the SLC Arts Hub is the Old GreekTown Blueline TRAX stop (550 W. 200 S.) From that stop, it is a 0.3-mile walk. Turn right at 600 West (west-side sidewalk is in better repair than east side of street). At 100 South turn left and follow to 657 West. The Arts Hub is the last building on the south side of 100 South. Go through the parking lot and around to the far northwest end of the parking lot.
If needed, we can arrange shuttle service from the Trax station to the SLC Arts Hub. Call (801)685-8214 to arrange.
Today is International Human Rights Day. Rob Moolman, executive director of the Utah Pride Center, stopped by RadioACTive to share his reaction to the Fairness For All Act H.R. 5331, a federal bill introduced last week by Utah Congressman Chris Stewart that he says aims to balance LGBTQ rights and religious liberties.
What is ethical government? At a time when ethical leadership is needed at all levels of government, Mormon Women for Ethical Government has released its own set of guiding principles on the subject. RadioACTive spoke about it with MWEG's Wendy Dennehy, Tracy J. Nuttall and Emily de Schweinitz Taylor.
Salt Lake Acting Company launched its second decade of professional children's theatre earlier this month with Pete the Cat, a musical based on the popular children's book series. RadioACTive took a deep dive with SLAC's Joshua Black and the cast of Pete the Cat, including Jacob Weitlauf (Pete the Cat); Joseph Paul Branca (Jimmy Biddle); Shelby Andersen (Mom, Mrs. Creech, Grumpy Toad, Mona Lisa, Shark); Trayven Call (Dad, Gus the groovy platypus, Barnaby); and Cameron Aragon (Olive Biddle, Cat Catcher, Eloise, Astronaut).
Dec. 6-30: Salt Lake Acting Company presents Pete the Cat. When Pete the Cat gets caught jamming after bedtime, the cat-catcher sends him to live with the Biddle family to learn his manners. There he meets young Jimmy Biddle, the most organized second grader on planet Earth. Together, they set out on a mission to help Jimmy conquer second grade art, and along the way, they both learn a little something new about inspiration. Click here for tickets. If you go, expect bubbles!
Got a story you'd like to share on the show or an issue you'd like us to cover? Record a voice memo on your smart phone, then email it to radioactive@krcl.org. Keep it under 3 minutes and be sure to include a name and phone number in the message.
Views, thoughts or opinions shared by guests are their own and do not necessarily reflect those of the board, staff or members of Listeners' Community Radio of Utah, 90.9fm KRCL. Tonight's RadioACTive team included:
Exec. Producer/Host: Lara Jones
Assoc. Producer: Billy Palmer
Community Co-Host: Risshan Leak
Volunteer: Gigi Earnest-Stippich
###