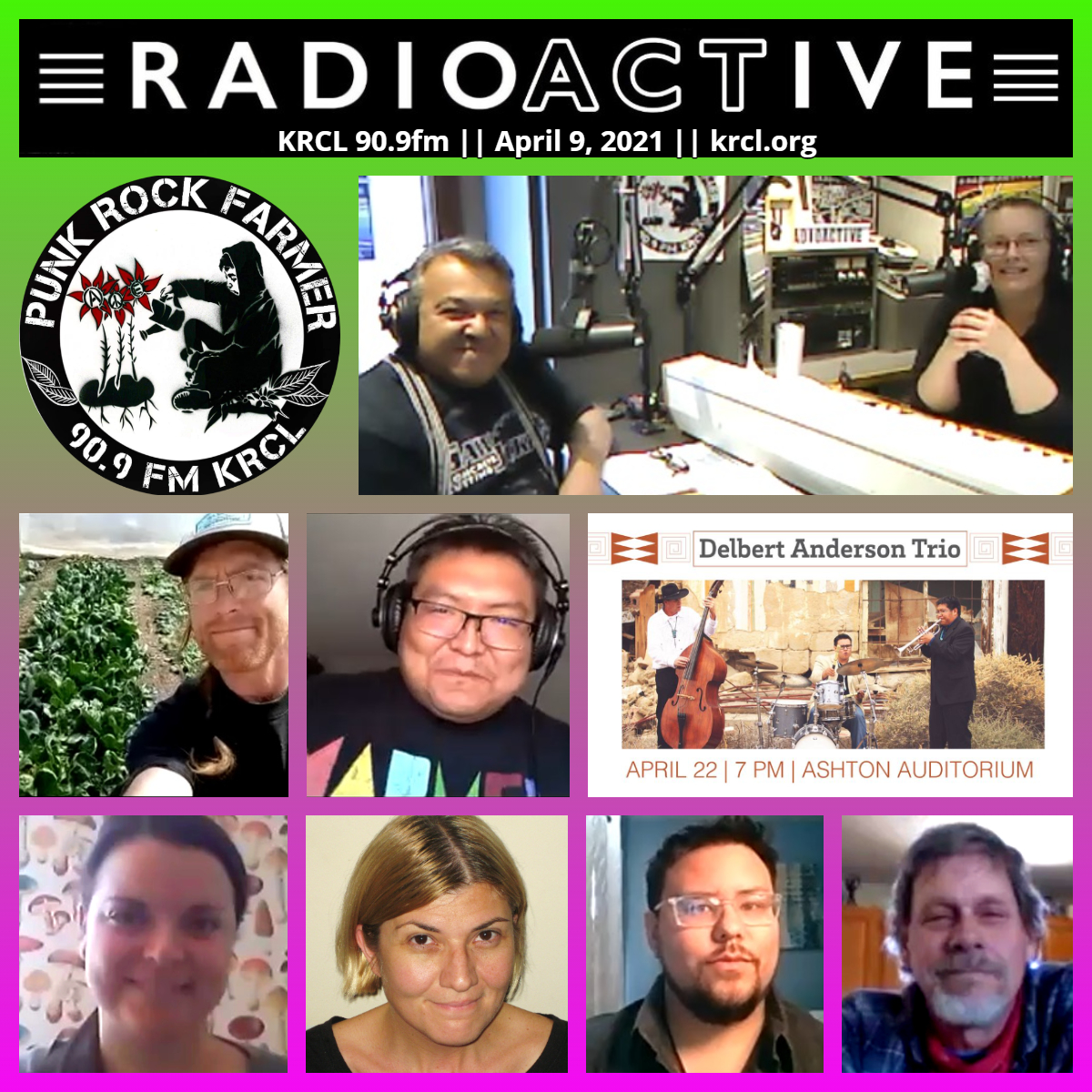 #PunkRockFarmerFriday digs into Community Supported Agriculture with Stagl Organics and Fungal Focus on Al's #UrbanFarmReport. Plus, music from the Delbert Anderson Trio, which will be at the Orem Library for Earth Day, #PoetryStillHappens with Cindy King, SkyWatcher Leo T, and fiber artist Jeanne Akita.
Tonight's lineup:
Music from the Delbert Anderson Trio, well known in the Four Corner's area as being one of the tightest, fiery, funky and most exciting instrumental groups to hit the Southwest Scene. The band was formed by award-winning jazz trumpeter Delbert Anderson and features Nicholas Lucero on Drums and Mike McCluhan on bass.
April 22: Delbert Anderson Trio, 7:00 p.m. at the Orem Public Library - Ashton Auditorium, 58 State St., Orem, for Earth Day. Supported in part by grants from OnStage Utah, Western Arts Alliance Advancing Indigenous Performance Touring Fund, the Andrew W. Mellon Foundation, WESTAF, and Utah Arts and Museums. Tickets for this show are required but FREE. To reserve your seats, click here!
Many cultures, one sky with SkyWatcher Leo T, featuring a Pink Super Moon, Dark Skies Month, spotting Jupiter and Saturn, and the Greek interpretation of the constellation Draco, the Dragon!
Felt fiber artist Jeanne Akita, whose work will be featured April 24-May in Smithsonian Craft Optimism, a celebration of creative ideas for responding to climate change. The sponsors are the Smithsonian Women's Committee and Honoring the Future.
April is National Poetry Month. In our ongoing series #PoetryStillHappens with Trish Hopkinson of Rock Canyon Poets, we featured "Mama Garde Manger" by Utah Poet Cindy King. Look for her book Zoonotic from Tinderbox Editions later this year. More of King and her poetry also may be found on Mapping Literary Utah.
Al's #UrbanFarmReport shines a light on the role we play in keeping punk rock farmers alive through Community Supported Agriculture. Featuring:
Shad Stagl, Stagl Organics. From the beginning of May to around the end of October, Stagl Organics provides a box of freshly grown vegetables and fruit. Click here to sign up and support this local grower!
Views, thoughts or opinions shared by guests are their own and do not necessarily reflect those of the board, staff or members of Listeners' Community Radio of Utah, 90.9fm KRCL. Tonight's RadioACTive team included:
Community Co-Host: Aldine, KRCL's Punk Rock Farmer

Executive Producer, Host: Lara Jones

Assoc. Producer: Billy Palmer
###